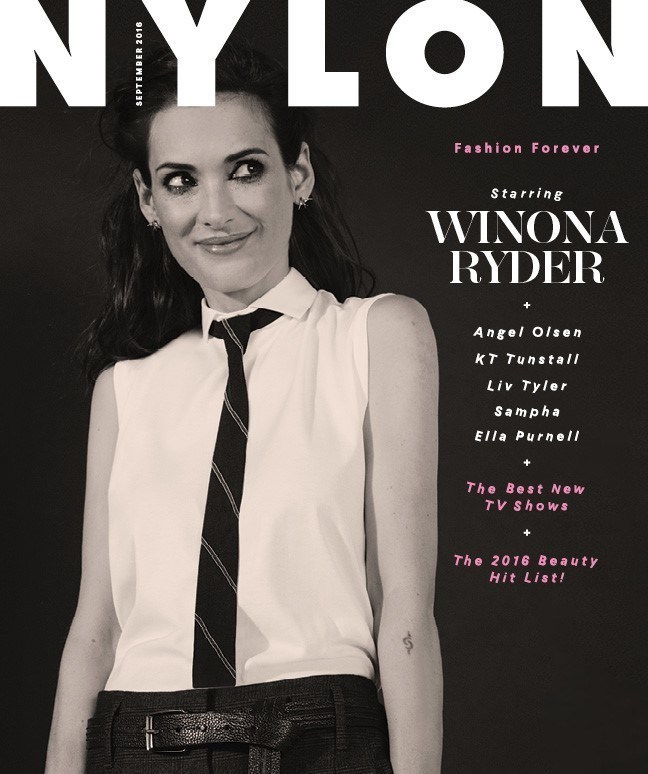 NYLON's annual September fashion issue featuring actress, model, and fashion icon Winona Ryder hits newsstands in two weeks.
The publication is giving a first look inside the interview with the "Stranger Things" Netflix star who reflects on her 20 years in the spotlight and her Hollywood career.
The issue also features their annual Beauty Hit List and a look at the upcoming TV slate for fall.
See select highlights from Ryder's interview below and read the full story, now live on www.nylon.com.
Winona Ryder's thoughts on being a goth icon:
"I feel kind of proud, I guess, but I can't take full credit," she says. "It's flattering to me. It was a long time ago, but I've always felt sort of attached to that time ['90s goth]. I was listening to The Cure's 'Pictures of You' because I have these old mixtapes that I don't know what to do with—I'm like, 'How do I transfer them?' I still have a tape deck."
On tricks of the trade:
Laying her hands on her lap, palms up and open: "If you put your hands up, you feel vulnerable. It's the little things. I learned that from Jennifer Jason Leigh when I was just starting out."
On being drawn to different periods of history:
"I think actors, on some weird level, feel like displaced souls," she says. "I have a lot of conversations about this, and part of it just may be from steeping ourselves in the history of film and the things we're drawn to, like period pieces."
NYLON's September 2016 issue is on sale August 23, 2016.