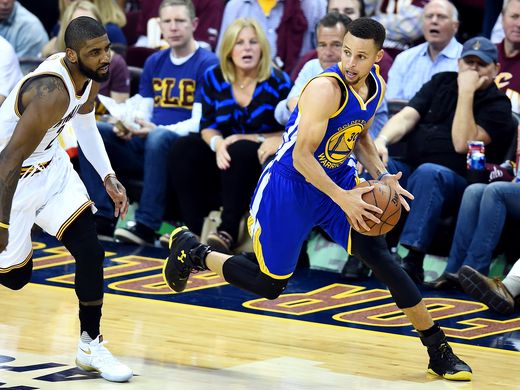 After being thoroughly embarrassed in game 3, the Golden State Warriors bounced back to take a commanding 3 games to 1 lead in the NBA Finals by beating the Cleveland Cavaliers 108-97. The "Splash Brothers" finally showed up and scored a combined 63 points. Stephen Curry finished with 38 points and six assists with seven made three-pointers, while Klay Thompson added 25 points and four made three-pointers. Golden State set a new NBA Finals record for made threes in a game with 17.
Kyrie Irving scored a team-high 34 points for the Cavaliers, and LeBron James just missed a triple-double with 25 points, 13 rebounds and nine assists. Kevin Love came off the bench for the first time in his Cavaliers career after being cleared from his concussion and mustered 11 points and five rebounds in 25 minutes. But the night belonged to Steph and Clay who made timely three-pointers every time the Cavs made a run in the second half.
Asked about his all-stars bounce-back performance coach Steve Kerr said, "Sooner or later it's going to happen, with guys like that, you can't keep them down forever. Sometimes our best offense is our defense, and we were making stops and we were able to get out and run and kind of flow into our offense. So maybe they got a few extra looks from that, but mainly it was just law of averages took over." No team has ever come back from down 3–1 in an NBA Finals. Game 5 is Monday in Oakland, where the Warriors will shoot for back-to-back titles.