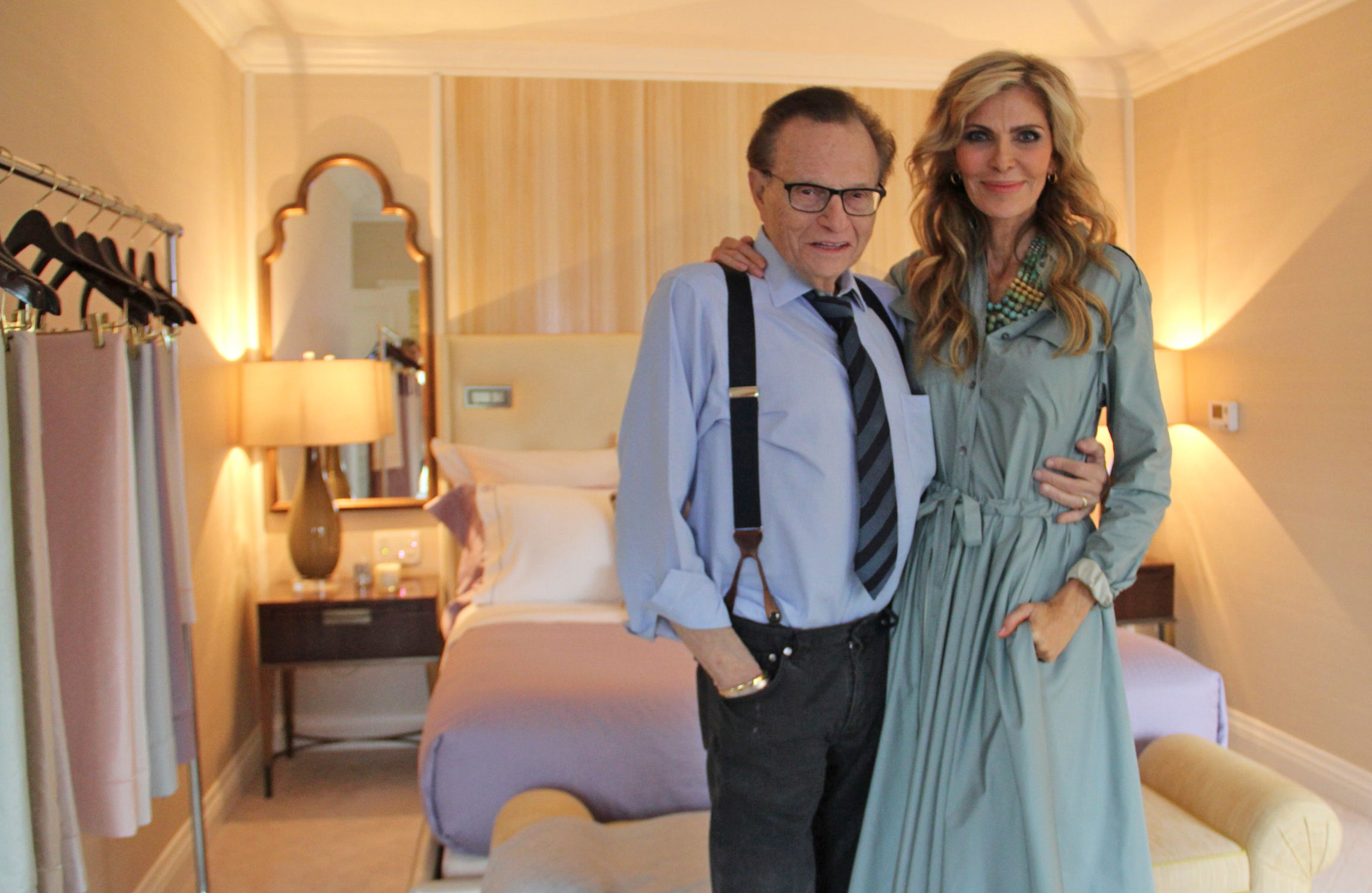 I have to admit that I was quite intrigued when I heard that Emmy Award-winning journalist Larry King and his wife Shawn were about to launch "Sleep Like a King™" their very own bed, bath and home collection. The lifestyle brand has been inspired by their many travels around the world.
The collection offers exquisite styling that brings world class hotel luxury into your home at an affordable price. Now available, it is comprised of 17 products including towels, sheets, throws, robes, candles and diffusers.
The manufacturer, Sobel Westex, is a Las Vegas-based company, with showrooms and distribution centers in New Jersey, Orlando, Honolulu, Bremen, Shanghai Macau and Hong Kong. It is the preferred luxury bath and bedding provider to the hospitality industry; supplying the largest and most prestigious hotel brands in the world for decades. It is also the largest designer, and distributor of linen and terry.
I could not resist asking Shawn how this all came about. Preferring the finer things in life and with appreciation for the craftsmanship, Shawn is, without a doubt, the perfect person to introduce the line to the public.
"It was by accident, one of Sobel Westex executives, who had attended an event at our home, came to us with this idea. 'Sleep like a King'… and the rest is history. What they didn't know was that I am an absolute freak for sheets — for good sheets. Think of the hours that you spend in bed. There were two hotels that I bought sheets from, and this was before we met the Sobel people; one was the Wynn and the other one was the Four Seasons. I am embarrassed to say that I had spent a fortune on bedding in each hotel. The company also makes sheets for the George V in Paris among other Palaces in the world," Shawn said.
"We're fortunate to have experienced so many amazing hotels over the years enjoying their exquisite bath and bedding, often purchasing our favorites to appreciate at home. Discovering Sobel Westex as the manufacturer of many of these items inspired us to collaborate with them on this project. We're excited to share our new home collection with those looking for a bit of luxury in their daily lives," Larry and Shawn added.
The new luxury collection is designed with the discerning consumer in mind; one who has a deep appreciation for quality and style.
The bath terry comes in seven elegant colors with five collections named after the Kings' favorite locations: Rome, London, Paris, Beverly Hills and Hollywood.
"We started with the sheets, but we have diffusers that we have already chosen. They're in production; and will be available in a couple of months, but for the most part, it is a full collection of bedroom and bath. It's linens, it's the bedding, it's the sheets and soaps and candles and everything that makes a bedroom luxurious and welcoming. If you're going to spend money, sometimes we forget that our own personal space is the space that should really be our sanctuary. And we go in homes and people spend money on their living rooms, and the beauty of this is you get luxury but you don't have to spend a fortune," Shawn said.
As Shawn introduced me to the line, I learned that a portion of the collection has been specifically created for QVC for this upcoming September.
Each collection includes a bath towel, hand towel, bath mat and washcloth. Previewing the line, she told me that the bath terry is 100% cotton, thick and luxurious with Hi-Bloom™ technology, which allows for a fast drying and softer towel after each wash.
The Bed linen collections vary from 400-700 thread counts in 100% Cotton or 100% Egyptian Cotton options. Each of the three refined designs are available in sets which include a fitted and flat sheet and pillowcases. Sham and pillowcase sets are also available.
The Baby Alpaca Throw collection is available in four natural colors. They're made of the softest wool of the treasured Alpacas from the mountains of Peru. They're sumptuously soft and silky, and naturally hypoallergenic.
"Larry King has been one of the most trusted voices in news for decades while his wife, Shawn, has always had an unbelievable eye for style. Together they've created an extraordinary collection. We're proud to help them make their vision a reality that gives consumers the hotel luxury experience at home," said Walter Pelaez, CEO, Sobel Westex.
The exclusive home accessories expansion includes Men's and Women's robe collections featuring a lavish and lightweight material that will be available in three colors. Additional items will include slippers that are both comfortable and sophisticated, handcrafted soaps and 100% soy wax candles and diffusers made of phthalate-free fragrances and essential oils. The candles and diffusers will be available in five rich, full scents that are inspired by worldwide destinations – from SOHO, Athens and Tahiti to Saint-Tropez and Beijing.
After previewing the collection I have to say that it is quite exquisite and the best part… it is accessible and affordable for all.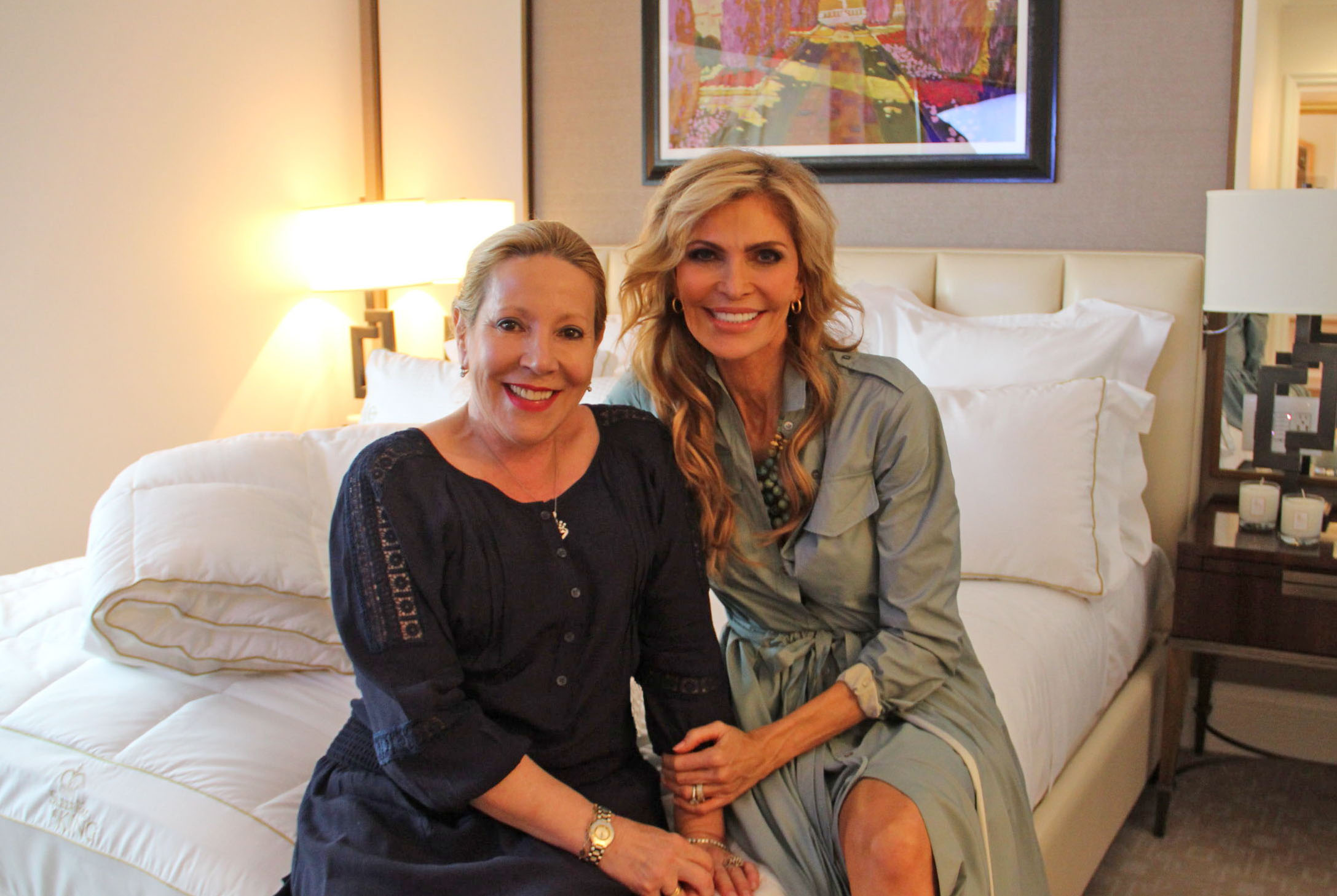 LATF CEO/Publisher Michele Elyzabeth with Shawn King

For more information visit: