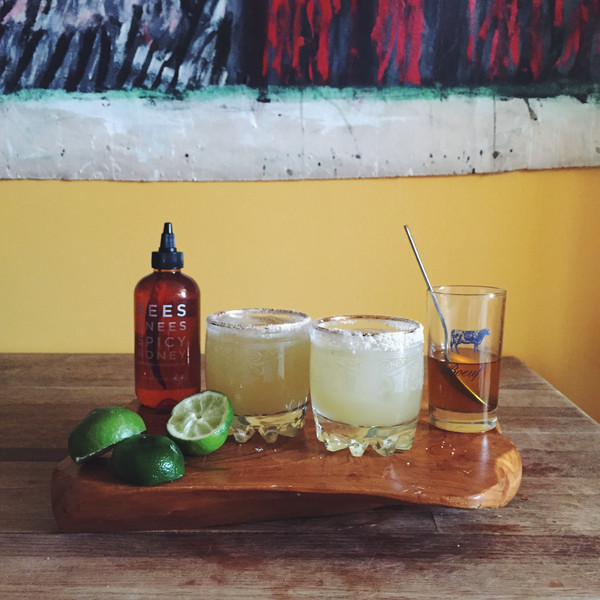 LATF just discovered Bushwick Kitchen in the heart of Brooklyn! We can't wait to introduce you to their delish Honey products and more. In the meantime, let's cheers to BK on Cinco de Mayo with their special Spicey Honey Margarita!
According to Bushwick Kitchen, this recipe makes one drink, but the 1-2-3 ratio remains the same for a group. Just grab a pitcher and a calculator…
What You Need:
1 oz lime juice, fresh squeezed
2 oz Bees Knees Spicy Honey syrup
3 oz tequila
1/2 cup ice
Kosher salt and lime wedge for garnish
What To Do:
Add the lime juice, honey syrup, tequila, and a generous amount of ice to a cocktail shaker. Shake vigorously for 30 seconds. If you don't have a cocktail shaker, use two large glasses and pour back and forth until both glasses are cold.
Run the lime wedge around the rim of a glass. Pour kosher salt onto a plate and swirl the glass rim around the plate.
Pour away!
A note about batching: Skip the ice and shaker. Stir everything in a pitcher and set up a make-your-own station with a bowl of ice and a bottle of cold seltzer water. Why seltzer? Because cocktail shakers actually serve two purposes: chilling a drink and opening up the liquor by distributing a small amount of water. So encourage everyone to add a tiny splash of seltzer to their drink.
To learn more about Bushwick Kitchen products visit: http://bushwickkitchen.com