For most of the U.S., warm weather is right around the corner. If you haven't committed to your New Year's Resolution of losing weight, we're sure that you're rushing now to shed some pounds for swimsuit weather! But who wants to deprive themselves of sweets and salty goodness? We've done the research for you… so you don't have to sacrifice your sweet and savory tooth during your diet.According to Food Business News, "plant-based proteins continue to gain traction across the snack aisle with snack makers formulating chips and similar products with vegetables and legumes."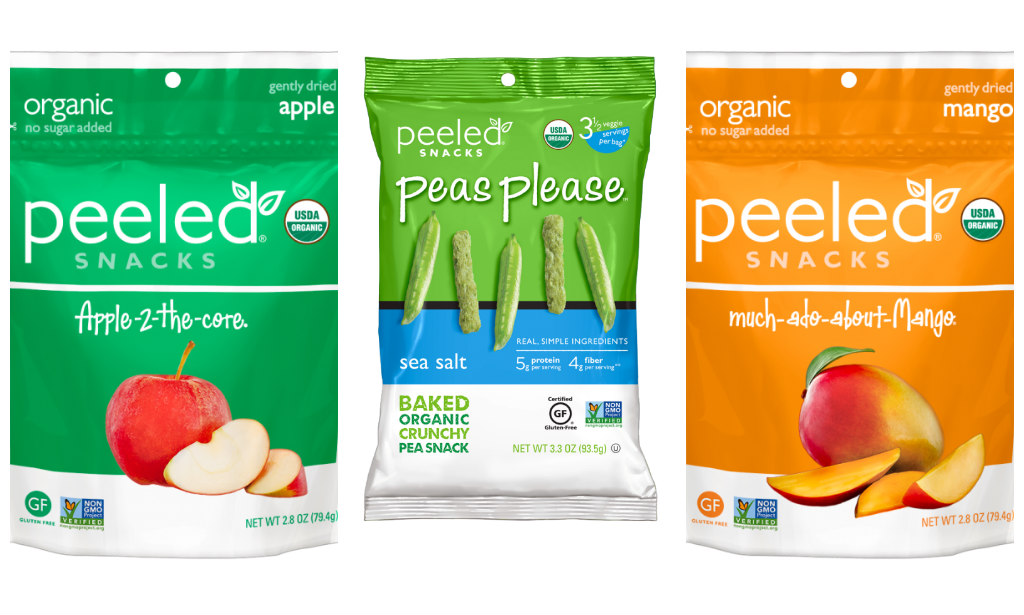 PEELED SNACKS
We have fallen hard for Peeled Snacks' dried fruit, and that's all thanks to Noha Waibsnaider who founded Peeled Snacks in her tiny New York City apartment. Forget processed snacks with artificial flavors and corn-syrup! Noha first created a line of organic dried fruit without any added sugar, sulfites, preservatives, or oils. The line has expanded to the savory side with baked organic crunchy pea snacks!
Our favorites:
Apple-2-the-core (these gently dried apples are to-die-for. Careful, don't blink or the bag might disappear), much-ado-about-Mango, and their Garden Herb Peas Please (offers 1 whole veggie per serving alone with 5 grams of protein and 4 grams of fiber).
Available at Sprouts, Whole Foods, Amazon.com, and peeledsnacks.com.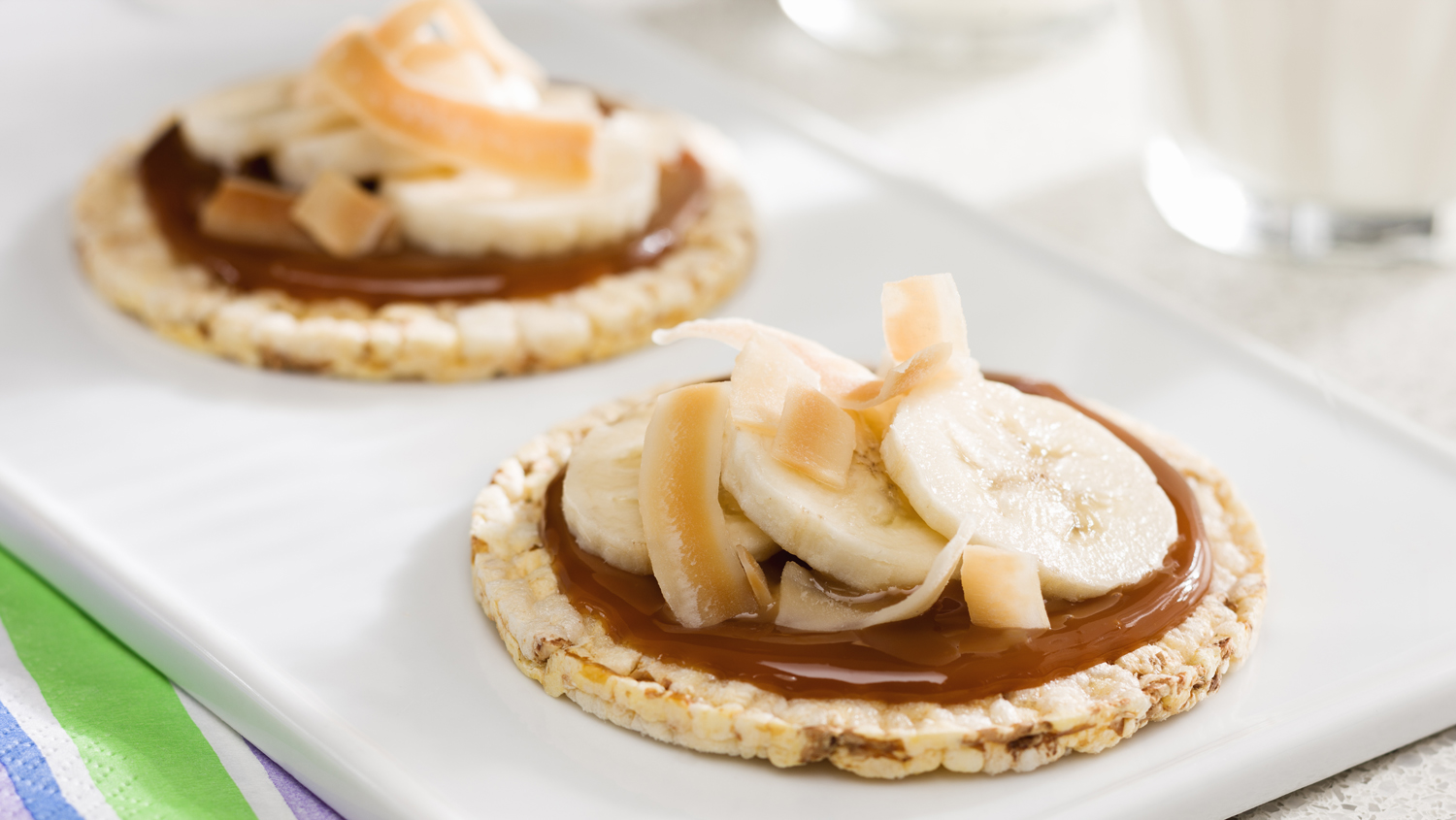 CORN THINS™
Let us just start by saying that CORN THINS™ are a game-changer from boring rice cakes! Not only are Corn Thins gluten and GMO free… but you don't even need toppings because of their delicious popcorn taste!
Toppings are nice of course… see above for a banana caramel idea! We love to put some light cream cheese on for a morning snack, or nutella for the evening! Flavors include Original Organic, Multigrain, Sesame Organic, and Flax & Soy Organic variants, all of which only have 23 Calories, less than 5g of carbs per slice and are Kosher certified.
So maybe next time you're having a movie night… don't pop the buttery popcorn and have yourself some peanut butter, banana topped CORN THINS™ instead!
Can be found at Whole Foods, Wegmens, Hannaford, Stop & Shop, etc.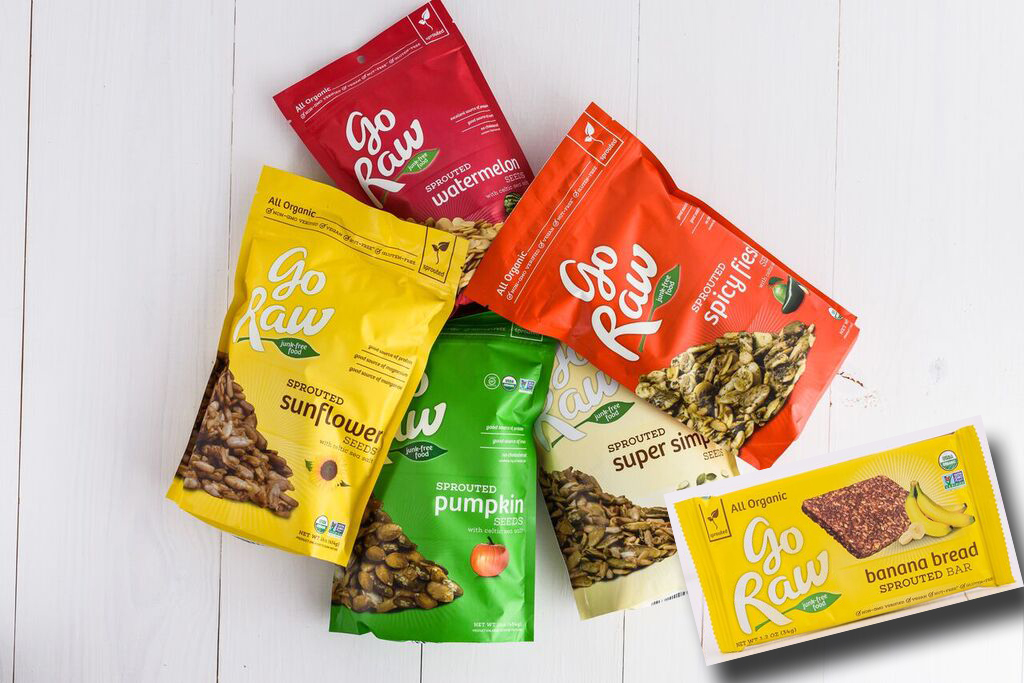 Moving into the pumpkin seed department, we found two wonderful brands. One of them being GO RAW!
GO RAW is perfect for on-the-go snacks. We even took the Banana Bread Sprouted Crisps on an afternoon hike for some energy! Their Sprouted Pumpkin seeds are nice and light.
Every Go Raw product is 100% organic, vegan, non-GMO, gluten-free, soy-free, nut-free and of course, always raw. The company behind Go Raw, Freeland Foods, is now the world's largest raw food manufacturer. Seeds are cleaned, soaked, sprouted, and mixed by hand. By gently drying Go Raw products in their state of the art custom dehydration rooms, they preserve powerful nutrients and enzymes.
Check out their Choco Chunk and cacao based snacks for sweet cravings and bars for that daily run! Shop on Amazon, at Whole Foods and local health-based grocery stores. www.goraw.com
SUPERSEEDZ
So great for that salty fix! These addicting no-shell gourmet pumpkin seeds were created by Kathie Pelliccio in her kitchen in 2003. She started with one flavor—Curry—to eat as a healthy snack and salad topper. The product line now features nine flavors including the newest, award-winning Maple Sugar & Sea Salt. All varieties are non-GMO verified, cholesterol- and trans-fat free, vegan and allergen friendly (gluten- free, peanut-free, tree nut-free, egg-free, dairy-free, fish-free, shellfish-free and mostly soy-free).
Our favorite flavors:
Sea Salt, Tomato Italiano, Really Naked and Coco Joe. They even have Super Spicy for the daring!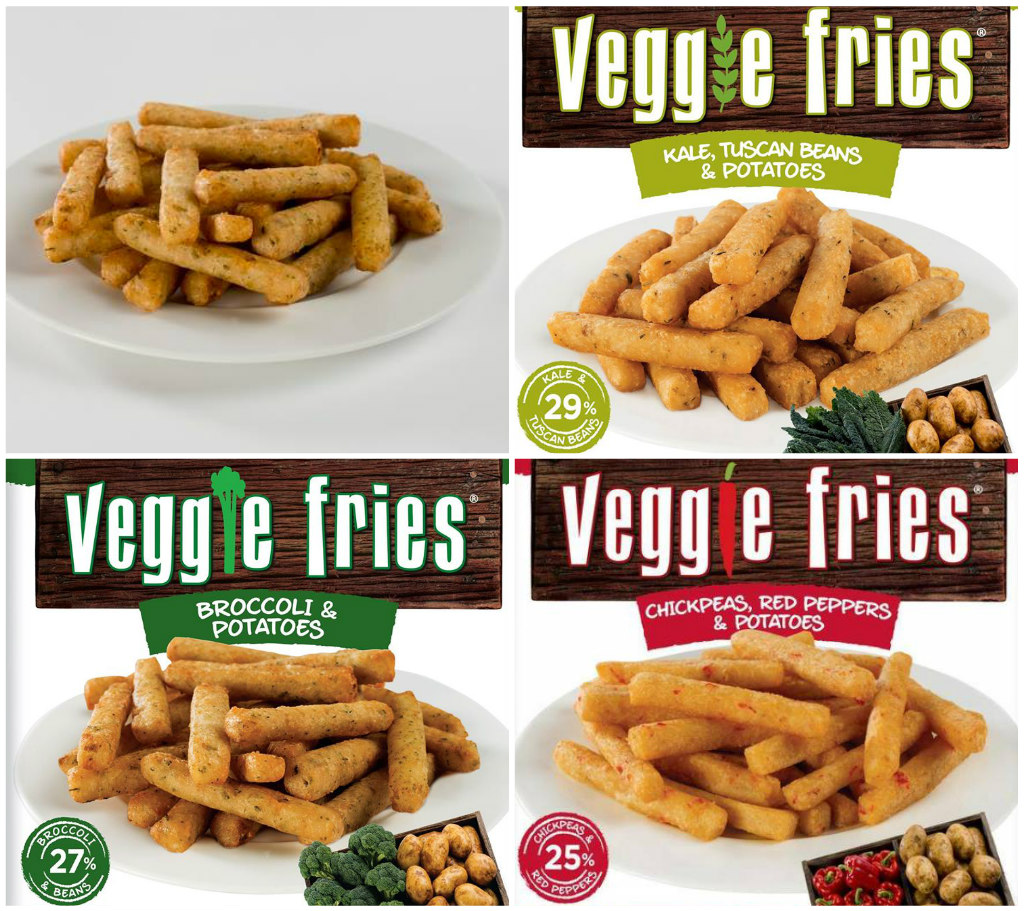 Last, but not least…
VEGGIE FRIES
OK, maybe you're craving some greasy french fries. Well, STOP, think… and try Veggie Fries. Boston-based couple, Dave and Cristina Peters are revolutionizing the $50 billion dollar frozen French fry category by providing consumers with a healthier alternative to America's beloved fry with their vegetable based French fries made from all-natural farm-grown ingredients.
Great as a side dish to your chicken or even steak, Veggie Fries comes in several flavors. Chopped and blended with real select farm-grown vegetables, legumes and potatoes, you have great flavors to choose from: Kale, Tuscan Beans and Potatoes… (we tried the one with herb, delish!), Broccoli & Potatoes, and Chickpeas, Red Peppers & Potatoes!
Found at Sprouts Farmer's Markets, Whole Foods, etc.