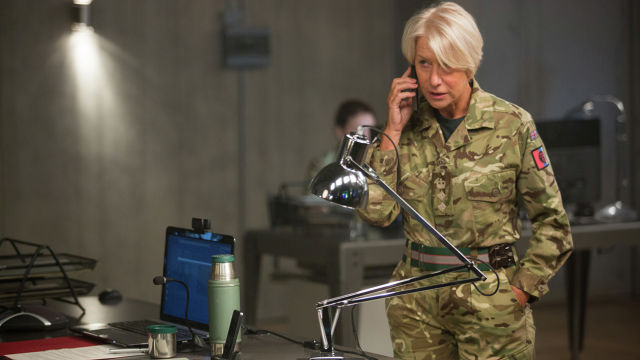 Helen Mirren commands the big screen as a British military officer in charge of a secret drone operation targeting East African terrorists in "Eye in the Sky," a riveting thriller costarring Aaron Paul, Barkhad Abdi ("Captain Phillips") and the late Alan Rickman.
Directed by South African filmmaker Gavin Hood ("Ender's Game," "X-Men Origins: Wolverine") from a timely script by Guy Hibbert, ("Five Minutes of Heaven"), this gripping drama expertly homes in on a single drone strike as it unfolds in real time. Credit to Hibbert's thought-provoking screenplay, Hood's tension-soaked direction, and Haris Zambarloukos' fly-on-the-wall cinematography for bringing panache and a sense of urgency to a subject that could've been handled in a bland and preachy fashion. Although the thorny subject matter may limit its appeal, audiences will not be disappointed by the action-packed storytelling or the brilliant international cast that helps bring this shadowy world to light.
In "Eye in the Sky," Mirren plays Colonel Katherine Powell, a pragmatic commander who for the past six years has surveilled a British born, Kenyan-based terrorist. With the help of America's drone program located in Las Vegas, and a Kenyan spy (Barkhad Abdi), Powell is able to track her target to a safe house, where he and other high-ranking Al-Shabaab members prepare for a suicide bombing. Once the martyrs' intentions are clear, the mission changes from capture to kill, which leads to some troubling questions about the rules of engagement given the high risk of civilian casualties.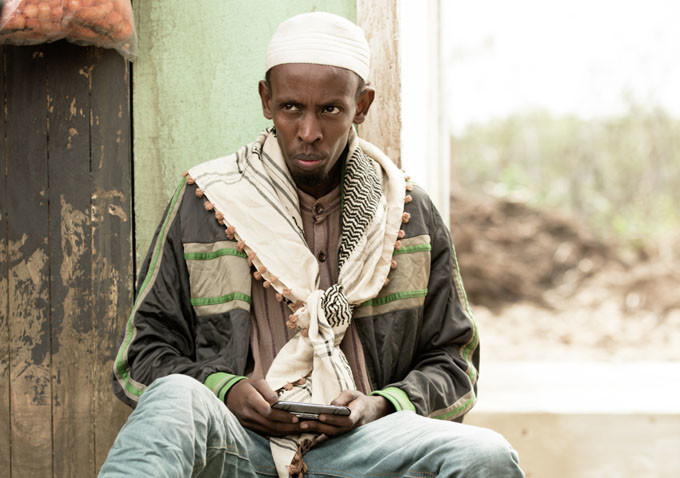 As the clock ticks while Powell weighs the legal and political consequences of her predicament with government officials on both sides of the pond, the operation faces many problems, the most troubling of which is a little girl who comes into the kill zone.
Despite its globe-spanning setting, some of the film's most thrilling moments involve people in conference rooms staring at screens, watching in helpless terror as a bad situation worsens with each passing moment. The filmmakers achieve this feat through an inside baseball approach to the material, offering viewers an intimate look at this secretive world and trusting that they'll be able to cut through the military jargon to understand it all. And while there are a few moments that feel drawn out or overdramatized, Hibbert's well-researched screenplay still manages to introduce enough credible complications to keep the story engaging. Also, when you have a director as talented as Gavin Hood and a cinematographer as inventive as Haris Zambarloukos, plot points as seemingly trivial as a drone battery running low or a girl selling bread, turn into instances of unbearable anxiety.
Oscar-winner Helen Mirren proves she's more than capable of holding her own in the male-dominated military world of "Eye in the Sky." It takes a great deal of screen presence to properly portray a colonel, and Mirren's ability to not only convey the character's authority, but also her underlying moral ambivalence, is what makes the performance so impactful.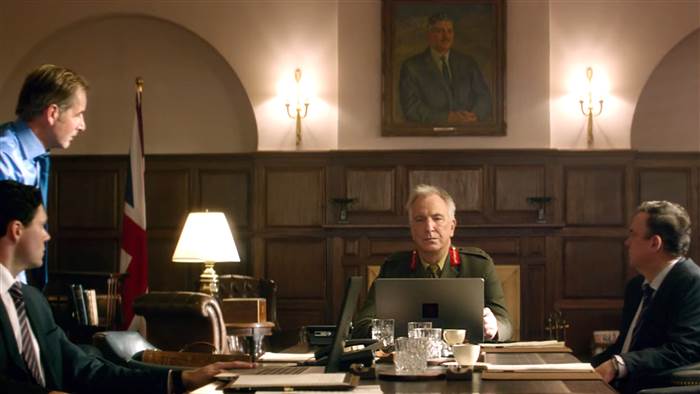 As for the supporting actors, Aaron Paul brings the right amount of righteous anger to his role as a conscience-stricken drone pilot; and in his first feature role since his Oscar-nominated debut in "Captain Phillips," Barkhad Abdi shows considerable range as a Kenyan spy who risks his life to save a civilian. Lastly, as Mirren's superior general, Alan Rickman goes out on a high note, exhibiting his classic droll humor and dramatic flair for one last time (he voices Absolem the Caterpillar in the upcoming "Alice Through the Looking Glass").
By raising tough questions without ever sacrificing thrills along the way, "Eye in the Sky" hits the topic of drone warfare dead on.
Rated R for some violent images and language.
Running Time: 102 minutes