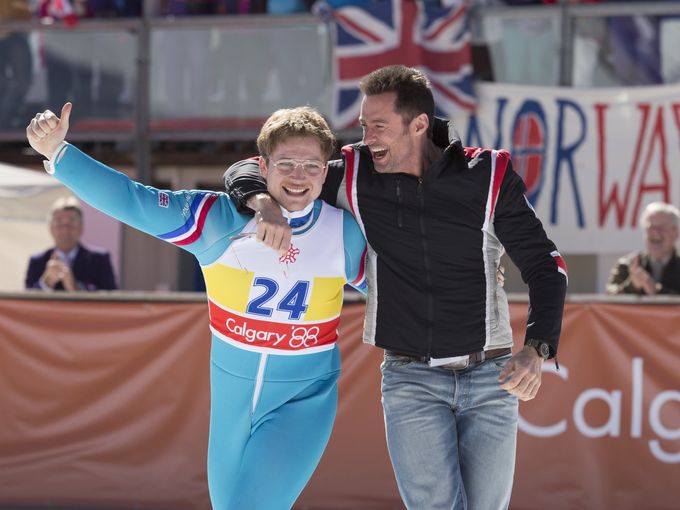 Breakout star Taron Egerton ("Kingsman: The Secret Service") flies his way into audience's good graces this weekend with his exuberant performance in "Eddie the Eagle," a comedic sports biopic about one of the Winter Games' most unlikely heroes.
With an amusingly ill-mannered supporting turn from Hugh Jackman as a former American ski jumper gone to seed, the second feature from British actor-director Dexter Fletcher is a lightweight affair but offers the kind of inspirational, good-humored experience that "Cool Runnings" did some twenty years ago. Underdog sports films are an easy sell, giving audiences a rooting interest in their protagonists from the jump, and when you're dealing with a character as truly singular as Eddie "the Eagle" Edwards, it makes for an especially easy premise to rally behind. Although the script by Sean Macaulay and Simon Kelton clings to the standard sports pic structure to an almost robotic degree, the hilarious sight gags, cheeky British humor and unconventional central character elevate "Eddie the Eagle" above your typical fare.
Ever since he was but a wee lad, Eddie Edwards (Taron Egerton) wanted to be an Olympian. Several broken eyeglasses into his search for the sport that would propel him toward Olympic glory, he finds his calling in the form of downhill skiing. Despite his lack of athletic prowess, not to mention poor eyesight and a disapproving father, Eddie very nearly earns a spot on the British team for the 1984 Winter Olympics. When his efforts fall short, he decides to switch disciplines, this time to ski jumping.
Of all the bone-shattering sports in the Winter Games, ski jumping takes top honors. And if the brutal nature of the sport isn't already enough of a deterrent, there's also the fact that never before has a British ski jumper qualified for the Olympics. But is Eddie shaken by these unfavorable odds? Hell no! With a sort of suicidal glee, Eddie transcends his mediocre athleticism with the grit and determination of a true champion, traveling to Austria to train alongside the sport's best and brightest.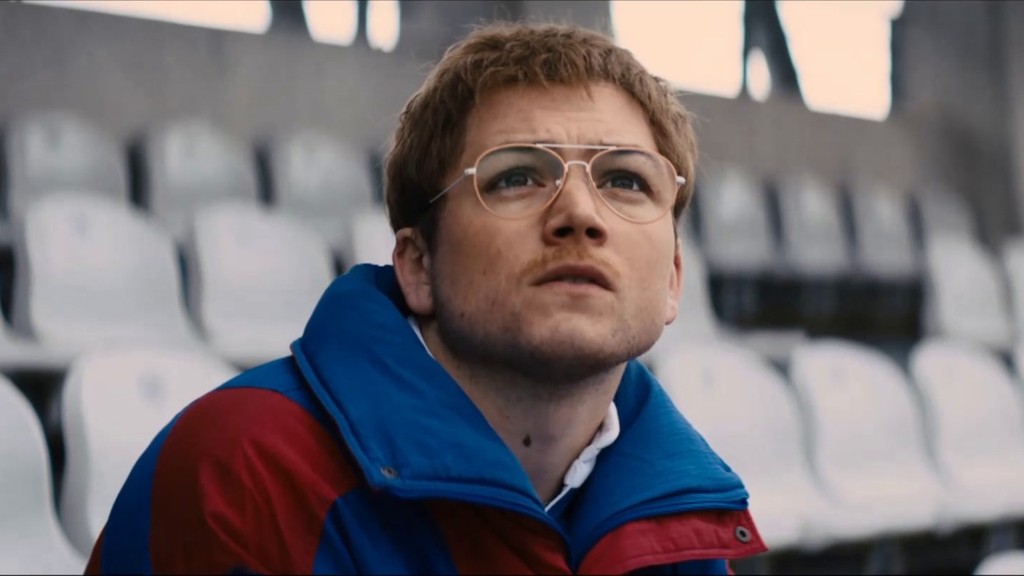 While training, Eddie has a fateful encounter with Bronson Peary (Hugh Jackman), a once-promising American ski jumper whose bad boy antics got him kicked off the team and reduced to a maintenance job on the ski hill. After some prodding, Peary agrees to train the novice jumper, taking him out on the European circuit in hopes of qualifying for the upcoming Calvary Winter Games of 1988. The combination of Peary's unorthodox coaching and Eddie's fanatical training earns the unlikely athlete a ticket to the big show, and along the way, his underdog charm and infectious enthusiasm seizes the imagination of audiences worldwide.
Conventionally structured but striking a singular chord thanks to the comically courageous protagonist at the story's center, "Eddie the Eagle" takes a vastly different approach than, say, "Race," the Jesse Owens biopic released last weekend, but achieves a similarly uplifting end result. And for those who have marveled at the sight of these gravity-defying athletes without much knowledge on the sport itself, "Eddie the Eagle" also serves as a surprisingly informative primer on the ins and outs of competitive ski jumping. Director Dexter Fletcher ("Wild Bill") and cinematographer George Richmond capture the beauty and grace of the sport with some stunning aerial shots that place audiences right alongside Eddie as he glides his way to Olympic immortality. Martin Walsh's smooth editing also keeps the lighthearted proceedings moving along at a steady clip, and the heartwarming score by Matthew Margeson hits all the right chords.
As the headstrong hero with a surplus of bravery but a shortage of talent, Taron Egerton sends up Eddie's less desirable traits but never to the point of caricature. Packing on a few pounds and adopting a considerably less debonair persona than his starring role in the action spy comedy "Kingsman," Egerton's Eddie is sure to win moviegoers over much like the real Eddie did at the '88 Winter Games. Playing the hard-drinking former Olympian, Hugh Jackman leaves a lasting impression with his eccentric training techniques and ornery outbursts. And Jackman also gets his own moment of redemption in a scene with his beloved former coach, played by Christopher Walken.
Whether you're looking for a date movie, a family film, or just a feel-good flick to catch with some friends, "Eddie the Eagle" fits the bill on all counts.
Rated PG-13 for some suggestive material, partial nudity and smoking.
Running Time: 105 minutes