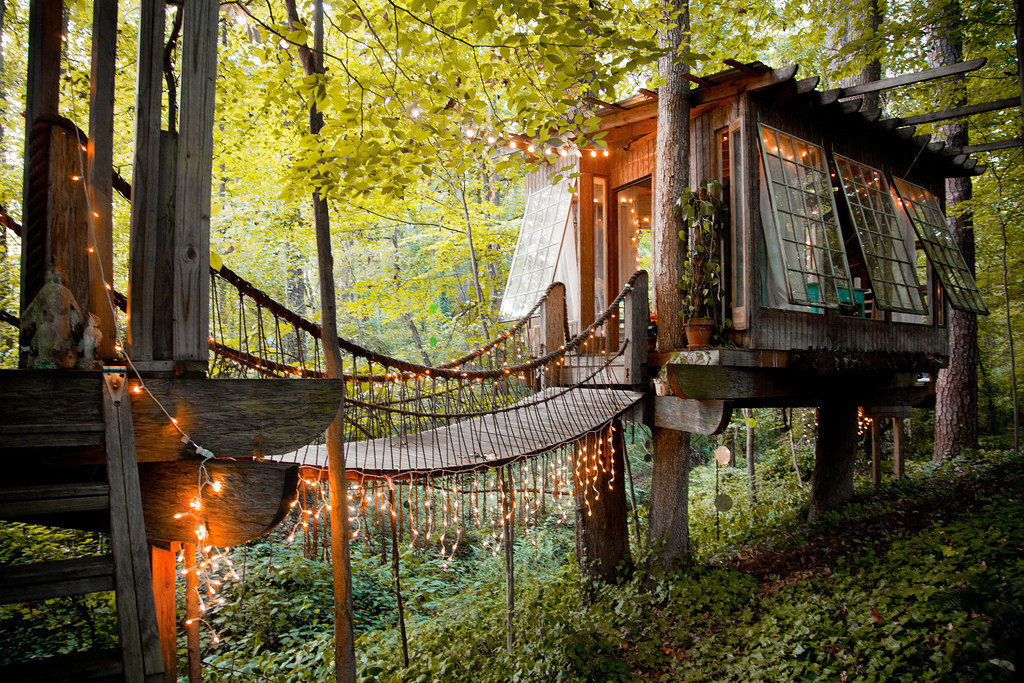 When you think vacation and 'getaway,' you'd probably imagine a four star hotel suite with the best thread sheets and room servoice.
Turns out, some people just want a treehouse or a cave. That is correct. Airbnb unveiled the most popular Wish-Listed locations and properties around the globe. Airbnb Wish Lists is a feature that lets travelers save and share their favorite Airbnb listings, whether a cabin in Cornwall or a villa in Bali. Each of the almost two million listings in 190 countries around the world on Airbnb is unique and staying in one offers a glimpse into a new neighborhood and lifestyle.
Top 10 Wish Listed Property Types on Airbnb
1) Treehouse
2) Igloo
3) Van
4) Lighthouse
5) Cave
6) Island
7) Yurt
8) Train
9) Loft
10) Cabin
Treehouses also represent the majority among the top 10 individual properties that have been most Wish Listed throughout all time. When people want to get away from it all, they want to live more simply, as most of the top Wish Listed properties are not expansive villas, but compact places with unique design, such as the Cob Cottage in Canada or the Mini Loft in Rome. Unique properties also reign supreme in the top 10 listings, with the gorgeous Casa Caracol (Seashell house) in Mexico and a pirate-themed tent in California.
Top 10 Most Wish Listed Properties on Airbnb
1) Secluded Intown Treehouse in Atlanta, Georgia
2) The Seashell House ~ Casa Caracol in Mexico
3) Casa Barthel in Tuscany, Italy
4) Unique Cob Cottage in Mayne Island, BC, Canada
5) Aroma(n)tica TreehouseinMonferrato in San Salvatore Monferrato, Alessandria, Italy
6) Mushroom Dome Cabin in Aptos, CA
7) Pirates of the Caribbean Getaway in Topanga Canyon, CA
8) Balian Treehouse with private pool in Bali
9) Brand New Mini Loft in Rome, Italy
10) Off the Gridit House, in Pioneertown, CA
Forget skiing, when people want to get away nothing is better than, sun, sun, and more sun. Airbnb discovered that the destinations with the highest percent of listings on Wish Lists are almost exclusively known for their warm weather. Whether Belize City, Belize, Okinawa Islands in Japan, or the Turks and Caicos, when people want an escape they escape to the beach.
Top 10 Highest Percentage of Homes Wish Listed in a Destinations Globally
1) Belize City, Belize
2) Okinawa, Japan
3) Savannah, Georgia
4) Turks and Caicos
5) Mendocino, California
6) Kyoto, Japan
7) San Juan, Puerto Rico
8) Margaret River, Australia
9) Jervis Bay, Australia
10) Tamarindo, Costa Rica
In the US, Savannah, Georgia is at the top of many people's dream destinations. With it's antebellum architecture and beautiful parks, Savannah is a great getaway. Also on the top of the list are Mendicino, Ojai, and Hood River which are all weekend destinations from big cities, San Francisco, Los Angeles, and Portland, respectively. Travelers can't resist the pull of the beach and the Florida Keys rounds out the top five.
Top 10 Highest Percentage of Homes Wish Listed in a Destinations in the US
1) Savannah, Georgia
2) Mendocino Region, California
3) Ojai, California
4) Hood River, Oregon
5) Florida Keys, Florida
6) New Orleans, Louisiana
7) North Carolina Coast, North Carolina
8) Sedona, Arizona
9) The Big Island, Hawaii
10) Kauai, Hawaii