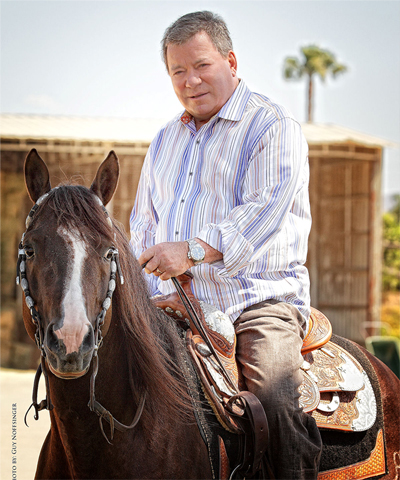 Photo: Charity Buzz
Organizers for the 25th Anniversary of the William Shatner Priceline.com Hollywood Charity Horse Show, Sponsored by Wells Fargo, announced today that REO Speedwagon's Kevin Cronin accompanied by band matesBryan Hittand Dave Amatowill perform live at the event to be held on April 25, 2015. 
The Priceline.com Hollywood Charity Horse Show, Sponsored by Wells Fargo celebrates its 25th year of fundraising with a spectacular affair at the Los Angeles Equestrian Center, 480 Riverside Drive, Burbank, California.
Guests will be treated to an exciting arena show and a world-class reining competition, followed by a western dinner catered by STONEFIRE Grill. The evening concludes with a special LIVE performance by REO Speedwagon's Kevin Croninwith band membersBryan HittandDave Amato.
Proceeds from the event will benefit special-needs children's charities across the city of Los Angeles including: AHEAD With Horses, Children's Hospital Los Angeles, Hollenbeck Police Activities League (PAL), St. Jude Children's Research Hospital®, The Painted Turtle and others.
"Over the last 25 years, we have been able to help thousands of young Angelinos thanks to the support we receive from our generous sponsors and attendees," commented William Shatner. "We are so fortunate to have the great talent of REO Speedwagon's Kevin Cronin with band membersBryan Hittand Dave Amato for our entertainment this year. They are absolutely terrific and generous with their time and support."
WHAT:  25th ANNIVERSARY OF THE "WILLIAM SHATNER, PRICELINE.COM HOLLYWOOD CHARITY HORSE SHOW SPONSORED BY WELLSFARGO"
WHEN:SATURDAY, APRIL 25, 2015
5:30 p.m. - 6:30 p.m. - Arena Show, which is free to the public
7:00 p.m. - 9:30 p.m. - Western Dinner, Entertainment by REO Speedwagon's Kevin Cronin  with band members, Bryan Hitt & Dave Amatoand Live Auction by William Shatner, Auctioneer.
WHERE:Los Angeles Equestrian Center, 480 Riverside Drive, Burbank, CA