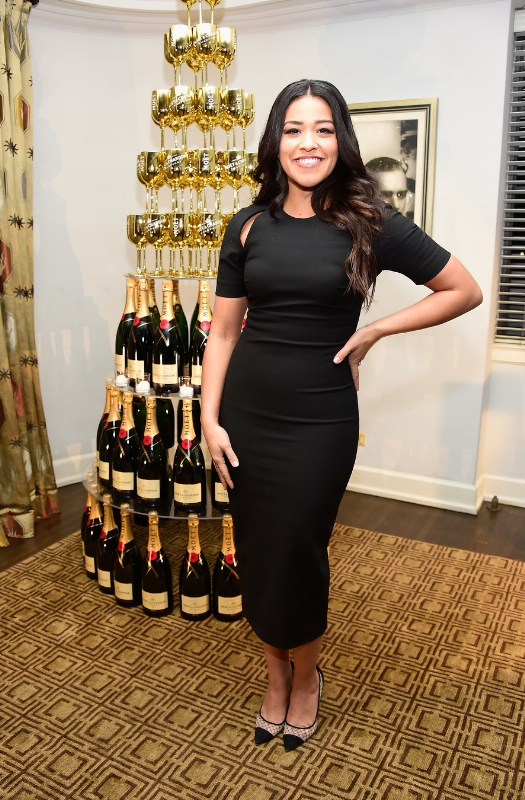 For the past twenty five years, Moët & Chandon, the Champagne of success and glamour since 1743, has celebrated Hollywood's leading filmmakers and brightest stars as the official champagne of the Golden Globe Awards.
To mark this very special anniversary, Moët has established an annual fund to give back to the creative community. The fund was created to support the next generation of Hollywood, those dedicated to passionately telling their stories through the art of film. The Moët Moment Film Festival Competition launched this week, and invited aspiring filmmakers to create and submit 30-60 second films that will be viewed by a panel of notable members of the film community, including Golden Globe winning actress Gina Rodriguez, producer David Guillod, Brio Entertainment Partner Rachel Sheedy, CAA agent Ryan Tarpley and We Are From LA – the award winning directors of Pharrell Williams's interactive 24-hour music video for Happy.
"We are thrilled to support the next generation of filmmakers as we celebrate Moët's quarter century at the Golden Globes," said Thomas Bouleuc, Vice President of Moët & Chandon. "Moët has a rich history with cinema, and we are delighted to bring exposure and support to the career of a future Hollywood success."
In its inaugural year, the festival's theme is Capture the Now, which is about seizing all the experiences in one's life and truly living with spontaneity. A bottle of its champagne is opened every second around the globe, so Moët understands that every moment is an experience, and every experience is an opportunity to live in the #MoetMoment.
"To me, Moët embodies the best of Hollywood glamour," said Gina Rodriguez. "There's no better way to mark your success than with a glass of bubbly and I am so pleased to help Moët shine a spotlight on these emerging talents."
After submissions close on January 4, 2016, 25 finalists will be selected by the panel and featured in a 25-hour-long online film festival, where people around the world will be encouraged to watch and vote for their favorite film. Determined by the board, one outstanding filmmaker will be selected from these finalists to receive a $25,000 filmmaking grant and a trip for two to the 73rd Annual Golden Globe Awards in 2016 as Moët's special guests.
In 2016, Moët is also proud that it will return to the Globes red carpet with its philanthropic initiative, "Toast for a Cause." Through the annual program, Moët & Chandon invites Golden Globe guests to raise a toast with Moët Imperial minis in support of their favorite charities. For each toast raised, Moët & Chandon donates $1,000 to the chosen charity in the nominees' names.
Moët & Chandon will toast the 73rd Annual Golden Globe Awards with over 1,500 Moët & Chandon Impérial minis, 125 cases of Moët & Chandon 2004 Grand Vintage Brut and Moet Rosé Impérial magnums and 500 cocktails featuring Moët & Chandon Impérial. In the last quarter century almost 200,000 glasses of Moët have been raised in celebration of hundreds of exceptional Hollywood Golden Globes winners.
For more information and to enter The Moët Moment Film Festival, please visit www.moetmomentfilmfest.com.