The hit ABC series, "Nashville" has brought country music into the homes of millions of viewers. Going strong for four seasons, the drama gives us a glimpse into the lives of aspiring musicians and music superstars rising from the famous 'music city.' As each episode weaves through the intricate storylines, from an alcoholic platinum recording artist to a struggling producer, fans of the show revel in the turmoil of these characters we've come to know and love. What makes this series so unique is, not only the original music, but the actors who bring these characters to life. And "life imitates art," in every sense of the term when it comes to "Nashville." Many of the leading cast and even the back-up musicians are budding singers and songwriters.
Case in point; one of the series' stars Jonathan Jackson. One could say that music runs through his veins. "Nashville always had this sort of mythical vibe in our family," Jonathan told me.
Performing was instilled in him since he was a young boy. And although he's earned five Daytime Emmy Awards for his time on "General Hospital," it's "Nashville" that has connected TV audiences with the versatile actor. In listening to his songs from the show, I came across Jonathan Jackson + Enation. Putting his character's country twang aside, it turns out that Jonathan is the frontman of his own alternative rock band with Richard Lee Jackson on drums and Daniel Sweatt on bass. With his incredibly powerful rock vocals and moving lyrics, the actor/musician certainly has the potential to be a rock star. While the actors don't write the TV show's music, "Nashville" could certainly benefit if they were to use more of Jackson's songwriting. On his band's latest album, "Radio Cinematic," each song is melodious and uplifting with compelling guitar solos. I'd measure Enation against any current rock hit-makers, such as Imagine Dragons and OneRepublic.
Jonathan brings the same intensity in his music to "Nashville," in the role of Avery, an aspiring musician-turned-producer and husband to country superstar Juliette Barnes (Hayden Panettiere). Now struggling to raise their child on his own, each episode has become a highly emotional journey for his troubled character.
We often say that certain performers are 'artists to watch.' After discovering his music and watching him every week on primetime TV, Jonathan Jackson rises to the top of that list. Taking a day off of set, Jonathan took some time to tell me about his journey as an artist.
Music is clearly a core passion of yours, and your brother is in your band, so it must run in the family. When did it all begin for you?
Definitely earlier than I can remember. Our dad is a family practice physician, but his love is music, and he would write songs. He actually recorded an album in Nashville when we were kids. And it's funny, because Nashville always had this sort of mythical vibe in our family. Our dad, just all of a sudden, flew to some land called Nashville to make a record.
I was really young when this happened, and he would put on concerts every year for different charities. And that was the first time I ever performed — I sang a Garth Brooks' song called "The River" and an Elvis song with my dad when I was probably eight or nine years old at his show.
Did he teach you the guitar or any other instruments?
Well, he plays bass guitar and sings. My uncle actually plays guitar, and he taught me how to play when I wanted to learn. It's funny, because our dad and our uncle were actually in the first band that my brother and I were in, so it's two generations of brothers. We had this, like, garage band, and we would perform at The Roxy and Whisky a Go-Go on the Sunset Strip.
How old were you when this happened?
Well, I was not old enough to drink. (laughs). I was, like, 14. I was really young, and I already had this deep love of music — rock music in particular.
What was the name of the band?
Scarlet Road. It was actually the name of their garage band in the 60s, and we just kind of kept it going.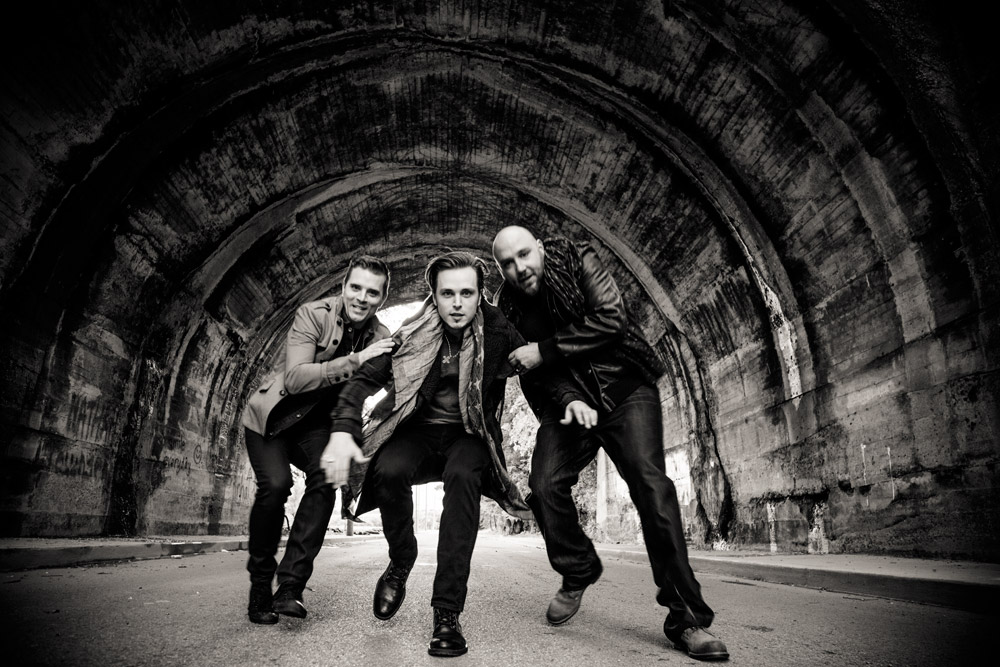 Enation is pure rock, so who influences you as a musician?
A ton of people, over the years. REM I think is one of the best bands ever. Michael Stipe as a lyricist and singer is phenomenal. Definitely some U2 records — 'Achtung Baby' in the early 90s I thought was just really pivotal for me as a music fan. As I got older, I started listening to Leonard Cohen and understanding how phenomenal he is as a poet. His music and lyrics are just incredible. And from there, also, I discovered Echo and the Bunnymen. Ian McCulloch I consider to be one of the best songwriters and lyricists as well. I've gone through, obviously, like most musicians, Bob Dylan. I've listened to everything he's ever done. Johnny Cash. I love lyrics, and I love things that have a sort of spiritual, poetic nature to them.
You've been in the business since you were very young with music and with acting. Did you train or study a specific acting method, or did you just jump into it?
A little of both actually. I took some local acting classes in Portland, Oregon when I was really young for about a year. Then I booked General Hospital fairly quickly. I had just turned 11, and I was thrown into it. Soap operas are just really intense work with memorizing and drama, so I learned the most on the job for sure.
I took acting classes with a really great teacher in Los Angeles named Richard Brander for, I think, about three years. While I was working on General Hospital, what I learned from Anthony Geary and Genie Francis growing up on (the show) was just invaluable. They taught me so much, just from experience. And it's really great training, getting to do new material year after year. You just get to experiment. I would try stuff, and I would watch it and go, "Oh wow, that didn't work; maybe I'll try this next time." It was great schooling.
The scenes you're in are extremely emotional. They might be quick scenes, but you're immediately 'in it.' As an actor, how do you get to that place?
It's different every time, really. It kind of just depends on what the scene is. And you're right, the scenes are pretty quick, and that's one of the challenges, I think, as an actor. There's not a lot of lead-in time because it's an ensemble cast and it's going from storyline to storyline so quickly. Oftentimes we enter, really, in the middle of scenes, so that can be a little tricky sometimes.
Do you listen to music or just pound a pillow?
I've tried music over the years, and it's kind of funny, because music means so much to me, but it didn't really work very well for me as an actor using music. It's sort of an amalgamation of all sorts of different things over the years. I've tried so many different things that you just kind of start to instinctively figure out what works for you. Also, we're human beings, so there are some days where I just feel so tired and exhausted that I don't really have to do anything because I'm already feeling pretty upset. Then there are other days where I'm really happy, and I really just don't want to suffer. Those are the days when I just have to go, "Ah, man, now I have to go there, and I really don't want to because I'm just enjoying my life."
Your character, Avery is taking on parenting and trying to make his career happen again. As a parent in real life, and as a musician, what do you bring to the plate from your personal experiences?
I think artists always draw from life experience. I have three kids myself, and so I have a real visceral response toward children and the idea of Avery being a father. That really connects with me — not just in an empathetic, abstract way, but in a very, very personal way.
I identify with that. I identify with Avery's love of music and his desire to be true to himself as an artist. He had that huge story arc where he was deviating from who he really was as an artist, and he kind of paid the price for that. I can completely identify with the struggle that people have with just being true to who they are. I identify a lot with Avery, and I'm really glad that they've taken him in the direction that they have. I think it adds a lot of depth.
If the producers said, "Jonathan, you can write the next episode…"
Oh, that's always a dangerous question to ask the actors. I try to train myself to not go there too often because I'm not the one who's writing it. As an actor, you kind of have to disassociate yourself from that and just really try to execute what they give you. So I don't know; I haven't really thought about it too much. It's a tricky thing because on a series that is high in drama, it's difficult to have happy endings and happy storyline. I think I'm in the same place as the audience in the sense that I would love for Avery and Juliette to figure it out, but I have no idea whether that can actually happen.
As far as character chemistry, there seems to be a nice friendship between you and the other actors. Do you guys have a lot of fun on set?
Absolutely — it's such a great cast. Everybody is just so talented, hardworking, and really fun. I think we feel like we've all just been on a journey together. None of us lived in Nashville, none of us are from the south. But we all pretty much have this deep love of music and an appreciation for these characters that Callie Khouri created. We have a blast. I love working with Sam (Palladio) and Chris (Carmack) and Hayden (Panettiere) and everybody on the show. It's been wonderful.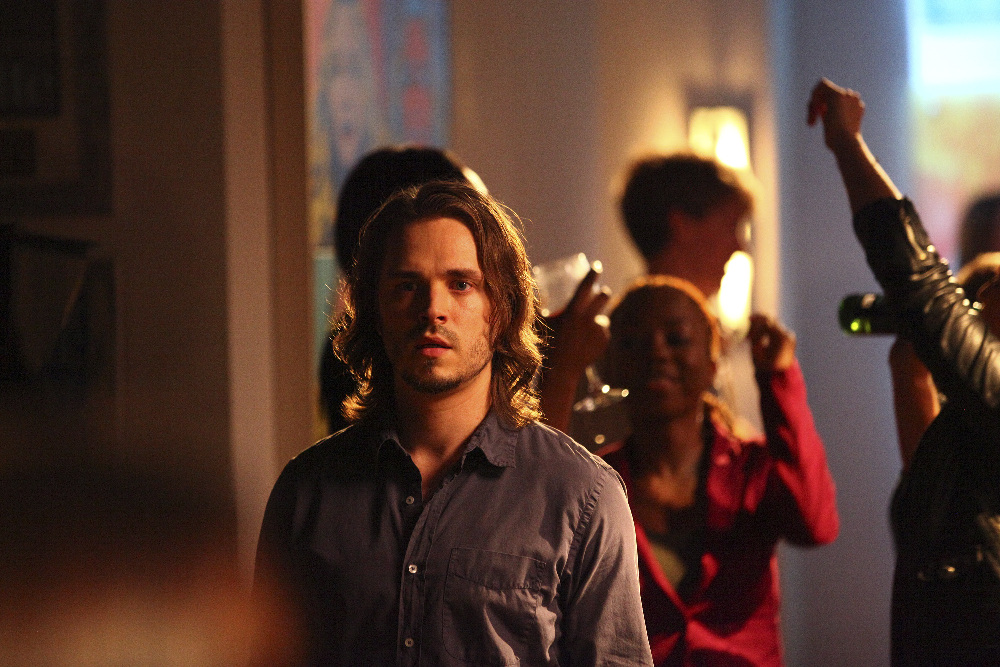 Have you been able to write music for the show? The song "Kiss" that you sang — was it written by somebody else?
Yes, that was a cool song. There's a song that I wrote called "The Morning of the Rain," which was on the show. It was a lot of fun. Avery was a roadie on a tour, and he was kind of, you know, in a tough spot on life. And I think he was holding onto his music to try to get him through. And "The Morning of the Rain" was the song that they used.
How has the show helped with your music? I'm sure that the fans are crossing over. And your band went on tour this past summer?
Yes, the tour was a blast. It was great. The attention from the show certainly draws more people to it. And one of the things that I just love about the show is the musical integrity. And I think, obviously, T Bone Burnett in season one really laid that foundation, and Buddy Miller is just phenomenal. They care so deeply about music that I think it's drawing music fans that might not even be necessarily country music fans to the show — which I think is really amazing.
So the crossover from what I do as Avery on the show, to what I do in Enation, is a little bit of a jump, because Enation is alt rock and it's edgier. But at the same time, I do like the more stripped back piano songs. And some of that stuff kind of crosses over pretty well.
I really love Radio Cinematic, especially "Everything is Possible." Who's writing those songs?
I'm the main writer. I pretty much wrote everything on there, and Richard (Lee Jackson) co-wrote "Everything is Possible" with me.
The songs are positive and motivating, which is really refreshing in this day and age. For you as a musician, as a songwriter, and also as a poet, what motivates your songwriting?
A ton of things. It's everything from my wife, to my kids, to my own longstanding issues. But as I get older, I get a little bit more tired of autobiographical writing, because it starts to feel a little narcissistic. And I've kind of been drawn to writing about either characters or books I'm reading, being inspired by that. As an actor, it's really interesting how the approach of getting into the mindset of a character can translate into songwriting, and so I've enjoyed that.
In terms of the sort of hopeful vibe that tends to emerge, a lot of that is coming from a place of wanting; it's kind of a stubborn defiance. Everything is possible was written a long time ago, actually quite a few years ago in a really dark moment in my life. Sometimes those songs come out because I need to hear them. I need to remember and believe that. So that song for me was kind of like a midnight prayer of defiance, just saying, "I don't care what this feels like, what it looks like, what's going on. I'm going to wake up, I'm going to feel brand new, and I'm just going to keep pressing forward." It's exciting to take that energy into a live context with an audience, and to share — whatever that cathartic thing was for me and the band — with people. It's a real synergistic thing and it's exciting.
This was the first album you guys did with a label, right? Are you still with the label?
With this album, it was a one-album deal with Loud & Proud. We're still running on Radio Cinematic and excited about it. We don't exactly know what the next thing is going to be yet. But it's been a really great experience for us. As an independent band, to be able to walk through this record with Loud & Proud has been really cool.
As a musician and as a music listener, what are your thoughts on streaming services like Spotify and Tidal. Do you think it helps the musician to promote, which or is it more of a profit loss?
To be honest, I think that the system is pretty backwards right now. I don't think that songwriters and musicians are getting paid the way that they should, so I think something needs to change. The correlation between all the streaming turning into people buying the music isn't really there. And the percentage of payment that people get from the amount of streaming that's taking place is almost frightening. It's really difficult; it's a difficult time for songwriters and musicians financially right now.
What's your message for your fans?
I haven't thought it through in terms of what people could do, and some sort of organized effort. I think the laws have to change at some point. I had good friend of mine who's a music producer and songwriter, and he put it to me this way. He said, "Look, people are willing to go to Starbucks and spend five or six bucks for a drink almost every single day, that they're gonna drink in a matter of 20 minutes and it's gone. But they're not willing to pay 99 cents for a song that they can have with for them for the rest of their lives." Something's wrong with that. We need to value music and help people understand that somebody worked really hard to create this for consumption. It's a tough thing, because my generation and even the generation younger than me have a really hard time deeming music as being something that — it just feels like music is just there as opposed to a product. So it's a tricky thing.
Speaking of working hard, as a lighter question, what does Jonathan Jackson do to unwind?
I sort of work on other things to unwind. I love spending time with my family. That's, I would say, the main thing. I'm not much of a hiker or an outdoors kind of person. I love reading. And to be honest, I feel like I'm rather boring. I pretty much just love to read and be with my family. That's kind of it. I love sports, but I don't really have time to play them.
Doesn't sound boring to me, just sounds like a busy guy who wants to unwind. Where would you like to see yourself go as a musician and as an actor? Even beyond Nashville.
Enation was working really hard before Nashville happened, and we're going to keep going beyond the show. I hope that in five or 10 years, Enation is still alive and kicking and making music that we're really proud of and that people can invest themselves into. And as an actor, it's a similar thing. I've been doing this since I was 11 years old, and I'd love to start directing or looking to make some of our own projects. I think that would be a blast. But the goal is really the same for me, whether it's music or film or whatever. It's just trying to make honest work that I can look back on and be proud of.
https://twitter.com/JonathanJackson
By Pamela Price