Jonathan Jackson is the cover star of LATF The Magazine's 50th issue.
Read a sneak peek here and visit www.LATFtheMagazine.com for the full interview.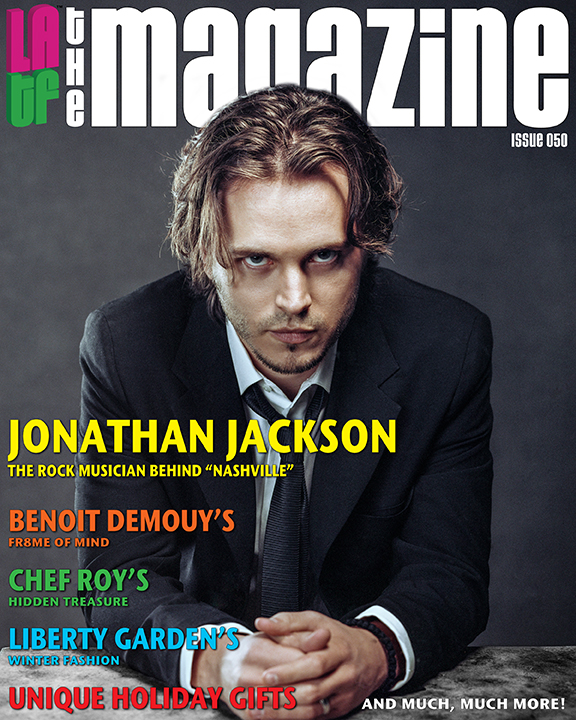 The hit ABC series, "Nashville" has brought country music into the homes of millions of viewers. Going strong for four seasons, the drama gives us a glimpse into the lives of aspiring musicians and music superstars rising from the famous 'music city.' As each episode weaves through the intricate storylines, from an alcoholic platinum recording artist to a struggling producer, fans of the show revel in the turmoil of these characters we've come to know and love. What makes this series so unique is, not only the original music, but the actors who bring these characters to life. And "life imitates art," in every sense of the term when it comes to "Nashville." Many of the leading cast and even the back-up musicians are budding singers and songwriters.
Case in point; one of the series' stars Jonathan Jackson. One could say that music runs through his veins. "Nashville always had this sort of mythical vibe in our family," Jonathan told me.
Performing was instilled in him since he was a young boy. And although he's earned five Daytime Emmy Awards for his time on "General Hospital," it's "Nashville" that has connected TV audiences with the versatile actor. In listening to his songs from the show, I came across Jonathan Jackson + Enation. Putting his character's country twang aside, it turns out that Jonathan is the frontman of his own alternative rock band with Richard Lee Jackson on drums and Daniel Sweatt on bass. With his incredibly powerful rock vocals and moving lyrics, the actor/musician certainly has the potential to be a rock star. While the actors don't write the TV show's music, "Nashville" could certainly benefit if they were to use more of Jackson's songwriting. On his band's latest album, "Radio Cinematic," each song is melodious and uplifting with compelling guitar solos. I'd measure Enation against any current rock hit-makers, such as Imagine Dragons and OneRepublic.
Jonathan brings the same intensity in his music to "Nashville," in the role of Avery, an aspiring musician-turned-producer and husband to country superstar Juliette Barnes (Hayden Panettiere). Now struggling to raise their child on his own, each episode has become a highly emotional journey for his troubled character.
We often say that certain performers are 'artists to watch.' After discovering his music and watching him every week on primetime TV, Jonathan Jackson rises to the top of that list. Taking a day off of set, Jonathan took some time to tell me about his journey as an artist.
Music is clearly a core passion of yours, and your brother is in your band, so it must run in the family. When did it all begin for you?
Definitely earlier than I can remember. Our dad is a family practice physician, but his love is music, and he would write songs. He actually recorded an album in Nashville when we were kids. And it's funny, because Nashville always had this sort of mythical vibe in our family. Our dad, just all of a sudden, flew to some land called Nashville to make a record.
I was really young when this happened, and he would put on concerts every year for different charities. And that was the first time I ever performed — I sang a Garth Brooks' song called "The River" and an Elvis song with my dad when I was probably eight or nine years old at his show.
Did he teach you the guitar or any other instruments?
Well, he plays bass guitar and sings. My uncle actually plays guitar, and he taught me how to play when I wanted to learn. It's funny, because our dad and our uncle were actually in the first band that my brother and I were in, so it's two generations of brothers. We had this, like, garage band, and we would perform at The Roxy and Whisky a Go-Go on the Sunset Strip.
How old were you when this happened?
Well, I was not old enough to drink. (laughs). I was, like, 14. I was really young, and I already had this deep love of music — rock music in particular.
What was the name of the band?
Scarlet Road. It was actually the name of their garage band in the 60s, and we just kind of kept it going.
Enation is pure rock, so who influences you as a musician?
A ton of people, over the years. REM I think is one of the best bands ever. Michael Stipe as a lyricist and singer is phenomenal. Definitely some U2 records — 'Achtung Baby' in the early 90s I thought was just really pivotal for me as a music fan. As I got older, I started listening to Leonard Cohen and understanding how phenomenal he is as a poet. His music and lyrics are just incredible. And from there, also, I discovered Echo and the Bunnymen. Ian McCulloch I consider to be one of the best songwriters and lyricists as well. I've gone through, obviously, like most musicians, Bob Dylan. I've listened to everything he's ever done. Johnny Cash. I love lyrics, and I love things that have a sort of spiritual, poetic nature to them.
You've been in the business since you were very young with music and with acting. Did you train or study a specific acting method, or did you just jump into it?
A little of both actually. I took some local acting classes in Portland, Oregon when I was really young for about a year. Then I booked General Hospital fairly quickly. I had just turned 11, and I was thrown into it. Soap operas are just really intense work with memorizing and drama, so I learned the most on the job for sure.
I took acting classes with a really great teacher in Los Angeles named Richard Brander for, I think, about three years. While I was working on General Hospital, what I learned from Anthony Geary and Genie Francis growing up on (the show) was just invaluable. They taught me so much, just from experience. And it's really great training, getting to do new material year after year. You just get to experiment. I would try stuff, and I would watch it and go, "Oh wow, that didn't work; maybe I'll try this next time." It was great schooling.
The scenes you're in are extremely emotional. They might be quick scenes, but you're immediately 'in it.' As an actor, how do you get to that place?
It's different every time, really. It kind of just depends on what the scene is. And you're right, the scenes are pretty quick, and that's one of the challenges, I think, as an actor. There's not a lot of lead-in time because it's an ensemble cast and it's going from storyline to storyline so quickly. Oftentimes we enter, really, in the middle of scenes, so that can be a little tricky sometimes.