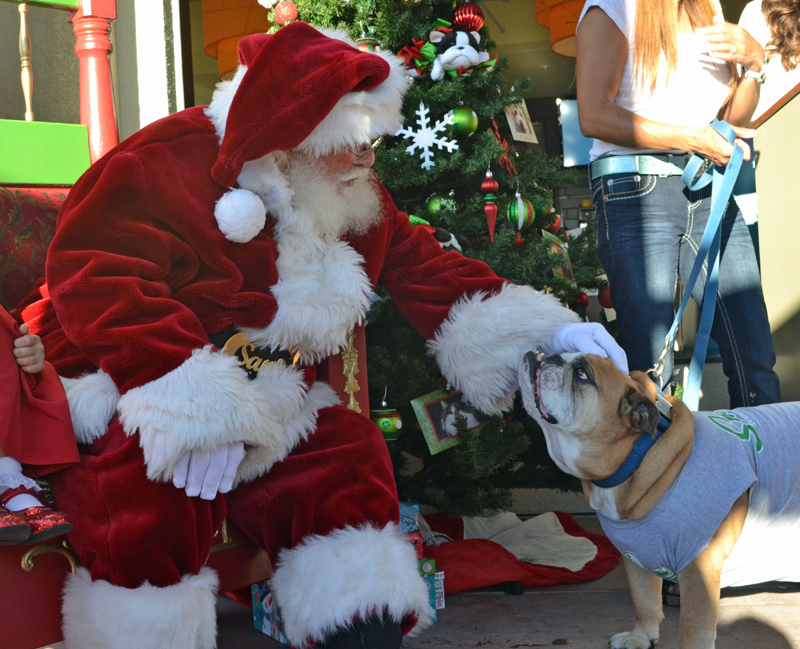 As families gather around Christmas trees and holiday tables across the world, over 1 million newly adopted pets will be joining the festivities thanks to another successful Blue Buffalo® Home 4 the Holidays® campaign.
The holiday pet adoption drive, which began at Helen Woodward Animal Center in 1999, can now boast program participation from a collective group of over 4,000 partners in 22 different countries and in all 50 states.
To celebrate hitting the million-mark this season, the Center will be holding a very special party for adopted pets and their new families. The Blue Buffalo Home 4 the Holidays "That's a Wrap" Party, presented by BMW of Encinitas takes place on Sunday, December 27th between 1:00pm and 4:00pm at The Forum in Carlsbad (next to Anthropologie). People and pets welcome!
The Home 4 the Holidays campaign began when Helen Woodward Animal Center President and CEO Mike Arms noticed that a majority of rescue facilities were closing their doors during the holiday season – a primary time of year for family pet additions. With shelter doors closed, would-be adopters were resorting to shopping at pet stores or puppy mills for holiday pet purchases. Not only did this increase the business of non-reputable stores and backyard breeders, but Arms was aware that the staff at these businesses were rarely trained to assess the likelihood of a successful animal/family match, increasing the number of pets sent to shelters once the season was over.
The Blue Buffalo Home 4 the Holidays campaign asks shelters to keep their doors open throughout the holiday months and provides marketing tools to get the word out. Blue Buffalo then provides all participating rescue facilities with "Adoption Kits" to gift to each new pet parent who takes home an orphan pet throughout the campaign. The pet adoption drive officially began October 1, 2015 and will run through January 4, 2016.
The Blue Buffalo Home 4 the Holidays "That's a Wrap" Party will take place in the beautiful Forum Carlsbad just outside of Anthropologie. Planned festivities include make-n-take crafts, coloring sheets, and face painting for kids; Home 4 the Holiday canine alumni and their families; themed backdrops for pet photos; pet sketches by a live artist; Star 94.1 radio on site; Pet Encounter Therapy animal greeters; adoptable puppies; refreshments; and an opportunity drawing for a chance to drive like the pros at the BMW M Driving School. The event is free to the public but attendees are encouraged to bring unopened cat or dog food to support AniMeals, providing pet food for homebound seniors and disabled individuals.
For more information on the event or to adopt an orphan pet from Helen Woodward Animal Center this season, log on to www.animalcenter.org.
For more information on Blue Buffalo Home 4 the Holidays®, go to www.home4theholidays.org.