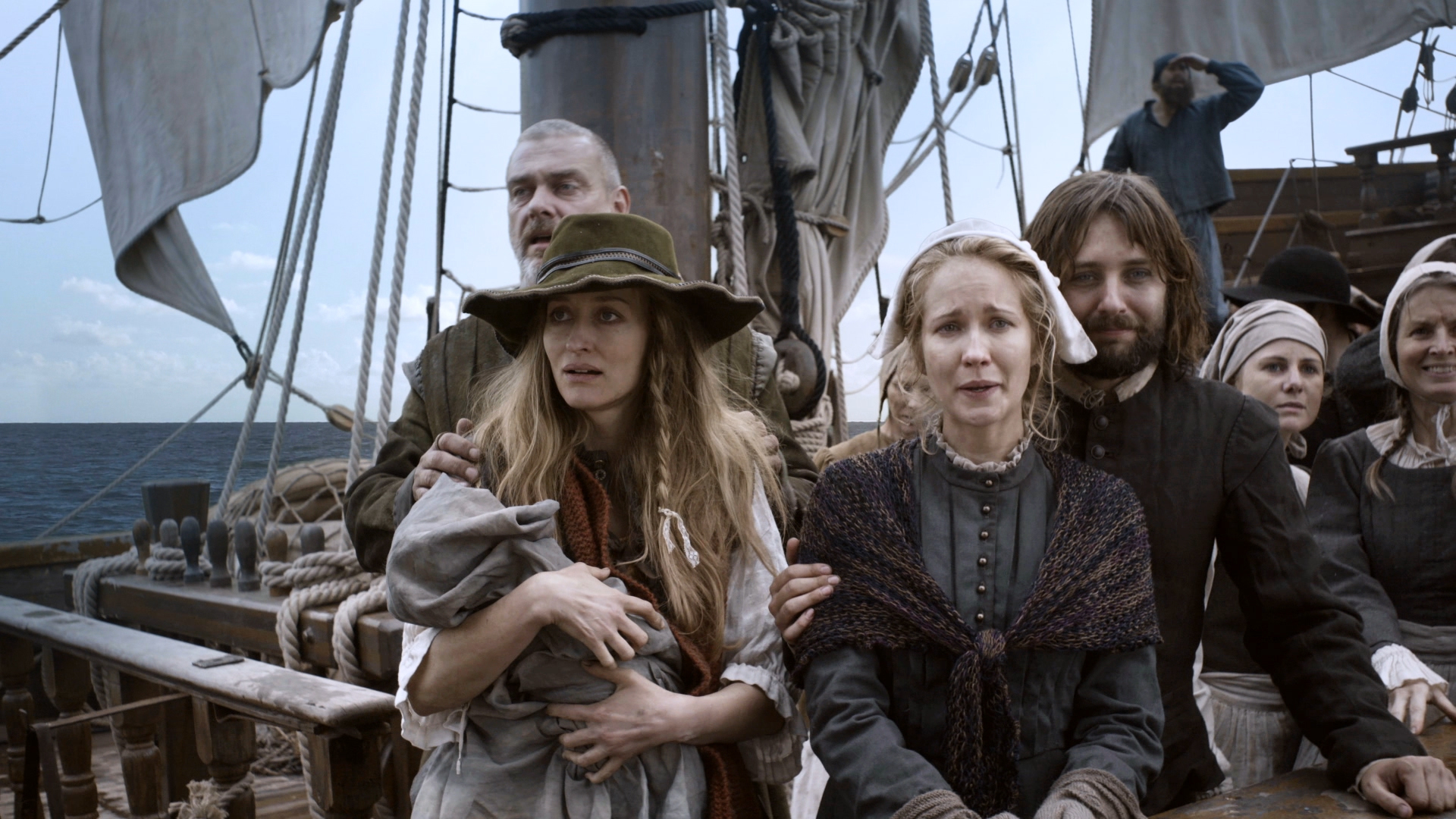 In November 1620, after 66 days at sea, the Mayflower arrived in New England's Provincetown Harbor with 102 men, women and children aboard. The brutal journey across the ocean on a vessel never intended to carry passengers had left many sick, hungry and dying. And though the sight of land brought great relief to the travelers, little did they know their journey had only just begun.
National Geographic Channel's two-night movie event Saints & Strangers, premieres Nov. 22-23 at 9/8c, goes deep inside the familiar historical account of Thanksgiving, revealing the trials and tribulations of the first settlers at Plymouth and their complex relationship with the Native Americans.
The cast tasked with telling this story for the ages includes Vincent Kartheiser ("Mad Men") as "saints" leader William Bradford, the colony's moral compass; Anna Camp ("Pitch Perfect") as his wife Dorothy Bradford, still haunted by their decision to leave their three-year-old son behind for the journey to the New World; Ron Livingston ("Band of Brothers") as John Carver, the initial leader of the Pilgrims and the first governor of the Plymouth Colony; Barry Sloane as Edward Winslow, who would serve as a diplomat to the nearby Pokanoket tribe and their leader, Massasoit; and Michael Jibson as Myles Standish, the colony's military advisor.
The "strangers" are led by Ray Stevenson ("Black Sails") as Stephen Hopkins, who, despite his checkered past, is the only Mayflower passenger who had previously been to the New World; Natascha McElhone ("Californication") as his wife, Elizabeth Hopkins, who gives birth to their second child aboard the Mayflower and is one of only four women to survive to the first Thanksgiving; and Brían F. O'Byrne ("Aquarius") as John Billington, an antagonistic patriarch of a family known for troublemaking.