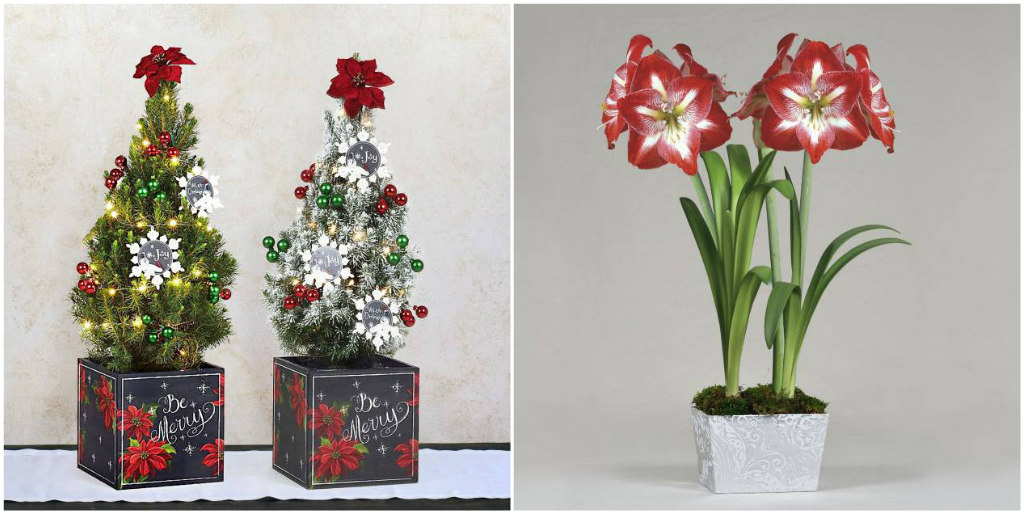 (Left) A blooming duo of Grand Trumpet Minerva Amaryllis
Decorating for the holidays can be a fun experience for the entire family, and getting a home ready for holiday festivities is a great way to get into the holiday spirit! www.HomeGardenandHomestead.com gives us some wonderful tips for holiday centerpieces and more!
To make a colorful ornament bowl centerpiece, just fill a decorative bowl with vintage Christmas tree ornaments. Another easy idea is to create a simple row of white votive candles on a tabletop or along the fireplace mantel as a festive holiday accent.
Tabletop holiday trees quickly add a festive touch to any room. Many styles are available that come pre-decorated and already strung with lights. The Be Merry Christmas Tree has adorable faux-chalkboard ornaments, bright red and green shatterproof ball ornaments, a red poinsettia topper and a silver strand of white lights with a battery pack (batteries are included). That means this holiday tree can be displayed anywhere, right out of the box.
This living, Dwarf Alberta Spruce Tree comes nestled in a square wooden container that displays the simple message, Be Merry! After the holidays, the tree can be transplanted into the outdoor landscape in an appropriate growing zone. The natural tree sells for $99.95 and the "snow" frosted tree sells for $114.95 from www.jacksonandperkins.com, 800-292-4769.
A fresh-cut evergreen centerpiece
A holiday centerpiece with evergreen elements is a traditional holiday focal point that makes any tabletop more festive. The woodsy aroma, rich colors and appealing textures of evergreens bring the delights of the winter woods inside where they can be enjoyed in the warm comfort of home.
Making a fresh evergreen centerpiece is a fun holiday project. But if you don't have the time or the access to evergreen boughs, many fragrant evergreen centerpieces can be easily purchased. The Pine Woodland Centerpiece (JacksonandPerkins.com, $64.95) brings the beauty of the forest right into your home, dressing up the house in a centuries-old tradition. This evergreen centerpiece is made of pine cones and greenery, accented with rustic metal bells, red berries and an open-weave burlap bow—all arranged in a charming and attractive birchbark container. The finishing touch is a wooden stake with a medallion proclaiming the word "JOY," which expresses the sentiment of the season.
Holiday blooms
An arrangement of blooming flower bulbs is also a joy of the holiday season. Not only are bulbs easy to grow, but the flowers bring an unexpected garden touch to a holiday display.
An Amaryllis variety called Grand Trumpet Minerva produces blooms that are showy, spectacular and long-lasting. The flowers are six to eight inches across, with red petals merrily striped with white centers. The festive blooms stand about 18 inches tall, and the flowers will hold their shape and color for weeks will virtually no maintenance. They are an ideal gift choice for everyone from experienced gardeners to those "brown thumbs" on your list.
Paperwhites are another festive choice for a live, blooming display. These bulbs are actually in the same genus as daffodils (Narcissus). The flowers resemble snow-white daffodils with familiar-shaped petals and inner cups.
Paperwhites make an outstanding holiday gift, especially if they are pre-planted and ready to grow. The Paperwhites in a Woven Star Basket gift ($69.95 from JacksonandPerkins.com, 800-292-4769) features 12 Ziva paperwhite bulbs planted in a star-shaped basket that's both festive and charming. Just water the bulbs and they spring to life. Within 4-6 weeks the fragrant white flowers will fill the air with their naturally sweet perfume.