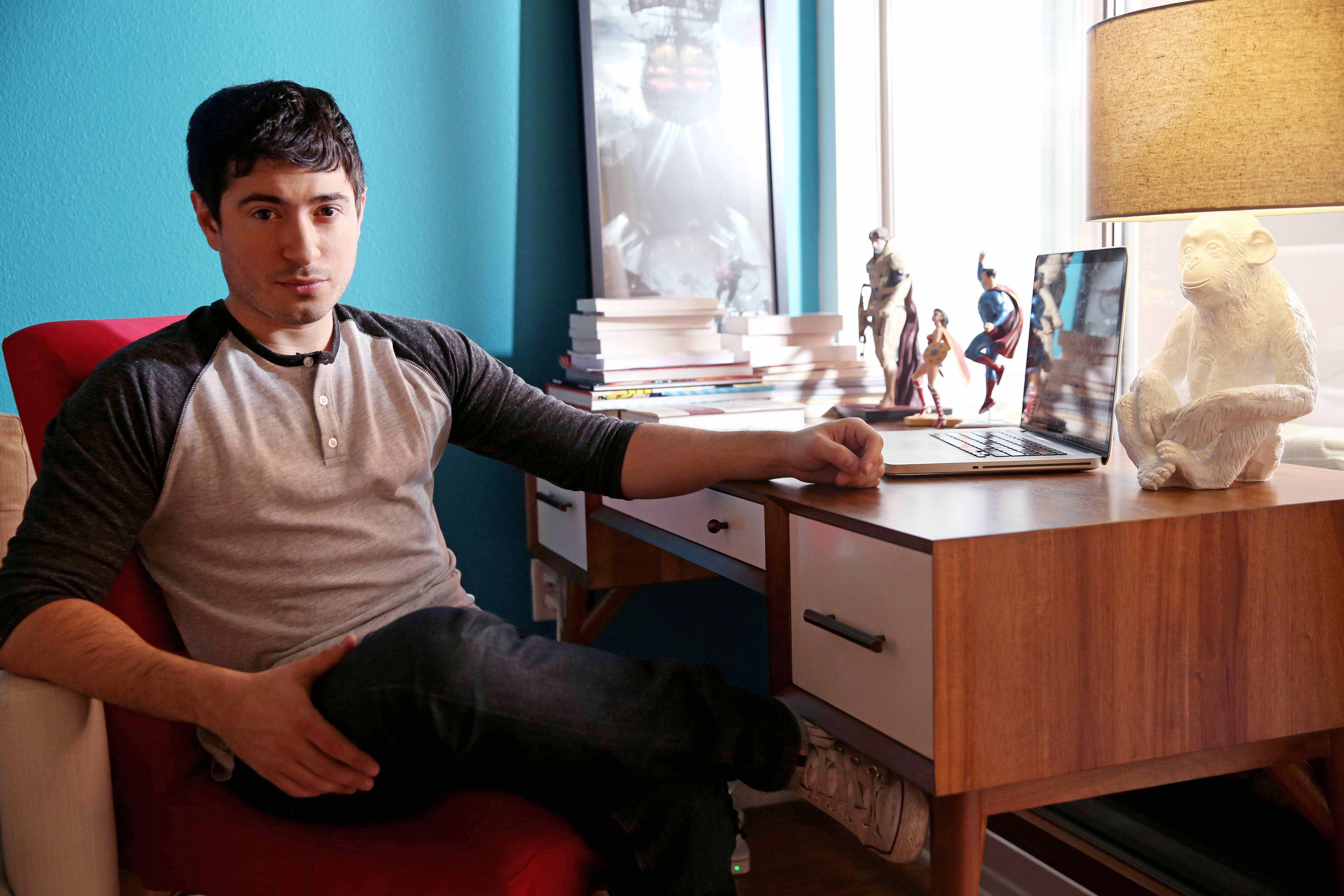 About twenty years ago, a young boy found himself stuck on the Peter Pan ride at Disneyworld with his father. For the 30 minutes or so that they remained at a halt, he looked down from the flying pirate ship over London. Like any curious child, the boy had a million questions. "Why is he Peter Pan? How did he to learn to fly? Why are Peter and Hook enemies?" Unfortunately, the creator of 'Peter Pan' never had the answers to those questions.
Overtime, that same boy imagined his own prequel to J.M. Barrie's legendary tale. He answered his own questions… And two decades later, he realized the very ideas he had dreamed. Those ideas have materialized into an enchanting major motion picture called "Pan." And that boy is now twenty-nine year-old screenwriter, Jason Fuchs.
Although many films today are simply studio manufactured and commercialized versions of classic stories and fairy tales, "Pan" is "a complete passion project," as Fuchs told me.
For one hour and fifty-one minutes, I was whisked away to Neverland, where Peter Pan (Levi Miller) and a sprightly Hook (Garrett Hedlund) are playing for the same team. Together, with the tenacious Tiger Lily (Rooney Mara), they fight the evil Blackbeard (Hugh Jackman) to win back their freedom and lead Peter to his destiny. Directed by Joe Wright ("Atonement, "Anna Karenina"), Fuchs story is a magical adventure on the silver screen, with elaborate costumes and extraordinary special effects.
With several feature films under his belt, including the box office success, "Ice Age: Continental Drift," Fuchs is the new generation of Hollywood screenwriters. I had the pleasure of speaking with the mind behind "Pan" just before the movie's premiere.
Can you describe the feeling of what it's like to see your story come to life, from 'Ice Age' to Hugh Jackman sword fighting with Rooney Mara in 'Pan?'
It's literally the greatest feeling in the world. It's very different with something like this. Ice Age, I really liked, but you're doing the fourth movie in a franchise. I'm proud of the film and I feel like I built my own version of an Ice Age movie, you're certainly coloring within the lines to a certain extent. Because four films in, you've established what your three primary characters are like, and there's a tone to the world. It is not the same level of invention, and you don't feel necessarily the same sense of ownership as when it's an original idea, like Pan. I had this idea when I was really young. I pitched it about a year before I actually sold it to Warner Bros. Every studio passed. So to finally see it realized — like you said, with Hugh Jackman and Joe Wright — it's unbelievable.
I was curious if the studio approached you and said, "We're interesting in doing a prequel to J.M. Barrie's story."
One of the things that I think people probably do who are not aware of me or don't know the backstory behind the film is, when they see that we're doing a Peter Pan prequel, the reaction is to kind of groan and go, "Oh my God, they're trying to find another way to make a buck off of fairy tales." Which is not a bad analysis, because the truth is every studio is trying to take these fairytales and reinvent them. But this is very much not one of those. Not that there's anything wrong with that, but this is a complete passion project. I got stuck on the Peter Pan ride at Disneyworld when I was about nine years-old with my dad. I just had all these thoughts about the story that my dad didn't exactly have answers to, and then I spent the better part of the last few decades trying to imagine answers to them. The product of that is genuinely "Pan." Over the years, I would imagine what different areas of that role might look like and Neverland before the Barrie book begins. It was during the summer of 2012 when I thought, "This is going to be my next big thing." I would take this out to studios, and I was so proud of it. I thought, "Everyone's going to love it, this is going to go great." And everybody did. The thing is every studio had their own Peter Pan projects they were developing. Everyone was looking for these types of projects, so they had competing things.
When it comes to the rights of J.M. Barrie's original story, do you have to go through an estate? Do you need any permission?
There's zero process. It's public domain. You can make a Peter Pan movie tomorrow.
Now we have the story of how Hook and Peter met — and we know Barrie's story — but we don't exactly know where things went wrong. Do I sense a Pan 2?
Yes, the movie obviously ends long before the Barrie book begins. There's a lot of real space between the end of our film and the beginning of the book. I definitely have ideas and thoughts about where it goes, but I just hope that people come out and see this first one. If people come out and like it, and we have the opportunity to make a sequel, certainly; I have a million thoughts about what that relationship is going to look like, and why it goes bad. Particularly at this moment, it's hard to imagine being lucky enough to get a sequel. But if we did, I'd be the first guy to jump in and want to be able to take it forward. Because I love these characters, and I love the world of these characters, so it would be tremendously fun to dive back in. But at the risk of hubris, I just hope that people come out and enjoy the first one.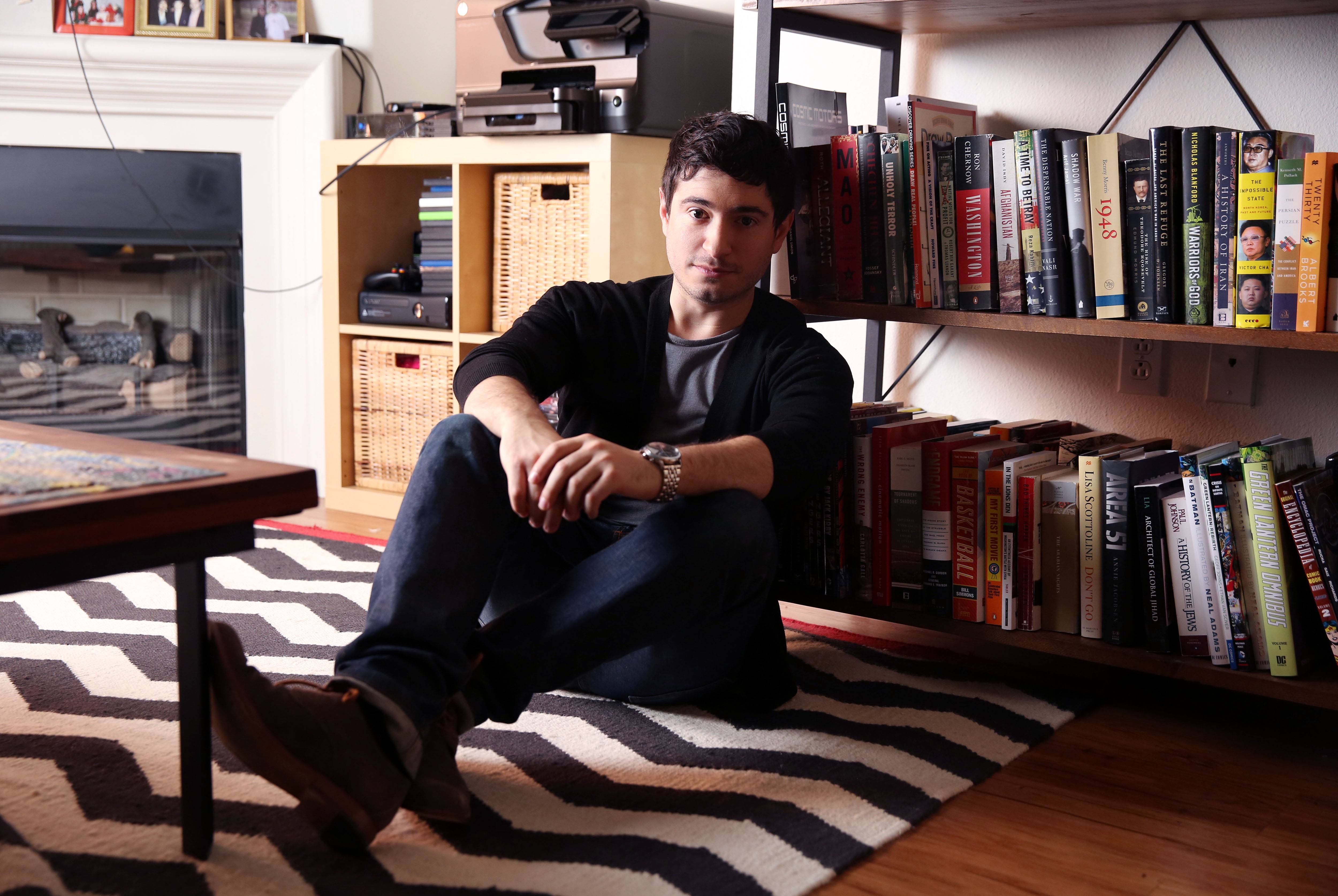 How closely did you work with director Joe Wright as far as casting, and once you were on set?
The traditional writer-director relationship on a large studio feature is: you write the script, the director is hired, you're very excited — that's a huge day — and immediately you're fired. That's the traditional one. I kind of anticipated that would be the situation on Pan, but much to my surprise, Joe was just the most amazing, inclusive collaborator. When I heard he was hired, I was ecstatic. We exchanged a couple of emails and then met up in LA a few days later. For the entire pre-production and post-product, he let me be a part of it. I was there for a little over half of the five month shoot in London, and I worked really closely with him. This is definitely a Joe Wright film, and Joe Wright brought a vision to this that is unlike anything I could have ever imagined for the film. But Joe was far more inclusive than I had ever seen a director be with a screenwriter — particularly on a film of this scale where there tends to be a rotating group of writers who come in and out. This was very much not that. It was me, it was Joe, it was Sara Schechter, Greg Berlanti and Paul Webster, our producers. It was a pretty tight core, creative unit who were a part of this from start to finish.
Were there any re-writes while they were shooting, or was it basically a solid script?
Definitely, there were tons of rewrites. The bulk of the rewriting I would say was in pre-production when Joe came on board. Beneath all the action and the spectacle, it is just a film about a boy trying to find his mom, which was important to me, and I think Joe locked into that and enhanced that. I also think Joe, visually, just had so many great ideas. My inclinations lean more toward Spielberg and Lucas and Zemeckis. So when you see something Baz Luhrmann-esque, like Hugh (Jackman) coming out and singing, that is all Joe. That is a very Joe Wright touch, which I ended up actually loving. I feel like it just gave this film an anarchic feeling where anything is possible and you're in this dreamland. Anything is possible in Neverland, and Joe was very, very good about fostering that sense of what was possible.
Did the actors themselves speak to you at all?
Here's the thing: when your most important lead, your most famous actor is as nice a guy as Hugh, everyone kind of has to be that nice. He set an incredible tone, and he's just the kindest guy. We had great casting, from Garrett Hedlund to Rooney Mara to little Levi Miller. It was just a sweet, good friendly bunch.
What is your true source of inspiration as a writer?
I think I'm inspired every day. I'm inspired by movies I saw as a young kid, comic books that I read. I think that for me, my big film inspirations really are the great world building sort of movies in the late 80s, early 90s. "Star Wars," "Indiana Jones," going back even further Richard Donner's "Superman," "Close Encounters of the Third Kind" and "ET" are seminal movies for me. Also, "Back to the Future." I think the "Back to the Future" script by Robert Zemeckis and Bob Gale may be the most perfect screenplay ever written.
I can't tell you how many times I've read that script just cover to cover trying to understand why structurally it's so good. But for me, also, I think "Jurassic Park" is a good one. "Jurassic Park" was the first sort of cinematic experience I remember, where I was sitting in a theater just having my mind blown.
One of my biggest inspirations is to make movies like that, that have moments like that. My hope — and I would never put Pan in the same canon as any of those films because those are untouchable, is that they have moments that reach toward that. You know, when Peter first arrives in Neverland and the Jolly Roger is moving through the cloud toward that island, I hope that there's some kid watching it in 3D, and feels a tenth of what I felt when I saw a Brontosaurus for the first time.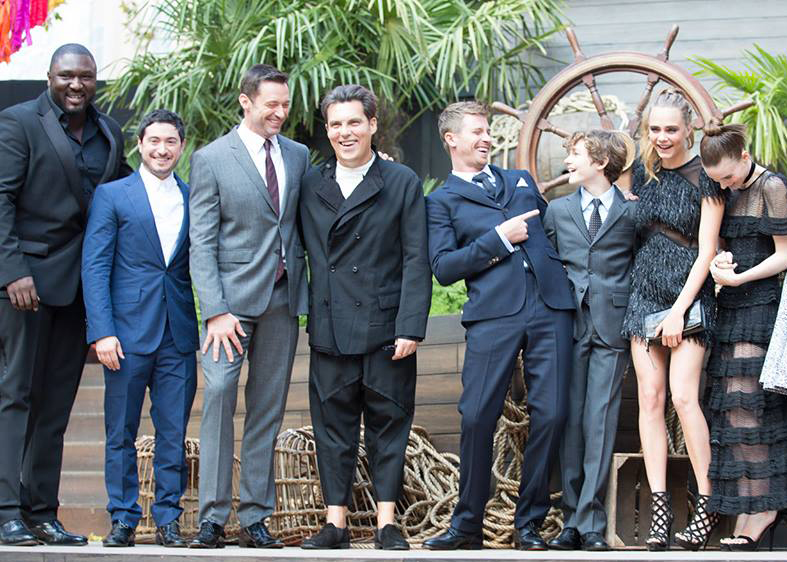 Jason with the cast of "Pan" at the London premiere
Is "Wonder Woman" your next project?
I've certainly read all of the stuff that you've read about what my involvement in that one might be. All I will say is when you work with DC, it's very much like working with the CIA, where there's a code of silence. I can only speak to it as a fan. I'm a huge DC comics fan. I grew up loving DC Comics. My influence is comic books, where it's been a part of shaping my imagination from a very young age. My dad was a huge comic book fan. He had a massive collection of comic books that his mom threw away. But I just have the best memory of being with my dad. Every Wednesday is when the new comics came out, so we'd go to this comic book place on the Upper East Side where we lived. I loved Justice League, Superman and Wonder Woman. I remember Batman vs. Bane, and having his back broken and rebuilding.
So again, exclusively from a fan's perspective, I am thrilled that all of these characters that meant so much to me as a kid are finally being realized in the expanded universe that Zack Snyder and Warner Bros. are building.
So I think it's safe to say you're a fanboy then?
I'm a huge fan. I'm very happy that the film is being realized and a universe is being built. I genuinely can't say anything, but I definitely am happy that they're happening.
You're an equally talented actor, and that seems to be where you got your start in the industry. Is that something that you want to pursue along with writing?
I like acting very much. The writing has been so incredible, and I've just been so lucky for the opportunities I've gotten that it's been very hard to find any time to do any acting. The two projects that have happened this year were small roles. There's one called "Look Away" where I play a young Matthew Broderick. That is a movie that I'm really excited about and a movie called "La La Land" which is Damien Chazelle's follow-up to "Whiplash," where I play a douchebag screenwriter who attempts to steal Emma Stone away from Ryan Gosling.
In watching Damien Chazelle and Joe Wright, do you feel as if you're getting an education in directing on set?
I think Damien is a genius. And "La La Land" is sort of this very beautiful, romantic love letter to Los Angeles. It's a musical. I think people are going to be very blown away by it. Watching what Damien does on that set — as someone who aspires to one day direct as well, there's just so much to learn from him. Damien and Joe are two guys who are some of my favorite directors in the business. It's been a very cool experience to be able to see them and I hoped to pick up some tricks.
————
In the most cliché fashion, this is just the beginning for Jason Fuchs. I don't doubt we'll be seeing films of all genres from the young and talented writer. With a hopeful "Wonder Woman" in the mix and a pilot he's written for TNT with Amblin, the sky is the limit. We will even see a post-apocalyptic supernatural thriller starring Hailee Steinfeld sometime in the future.
Meanwhile, his latest adventure from the paper to the screen is "Pan."
In theaters Friday, October 9, 2015