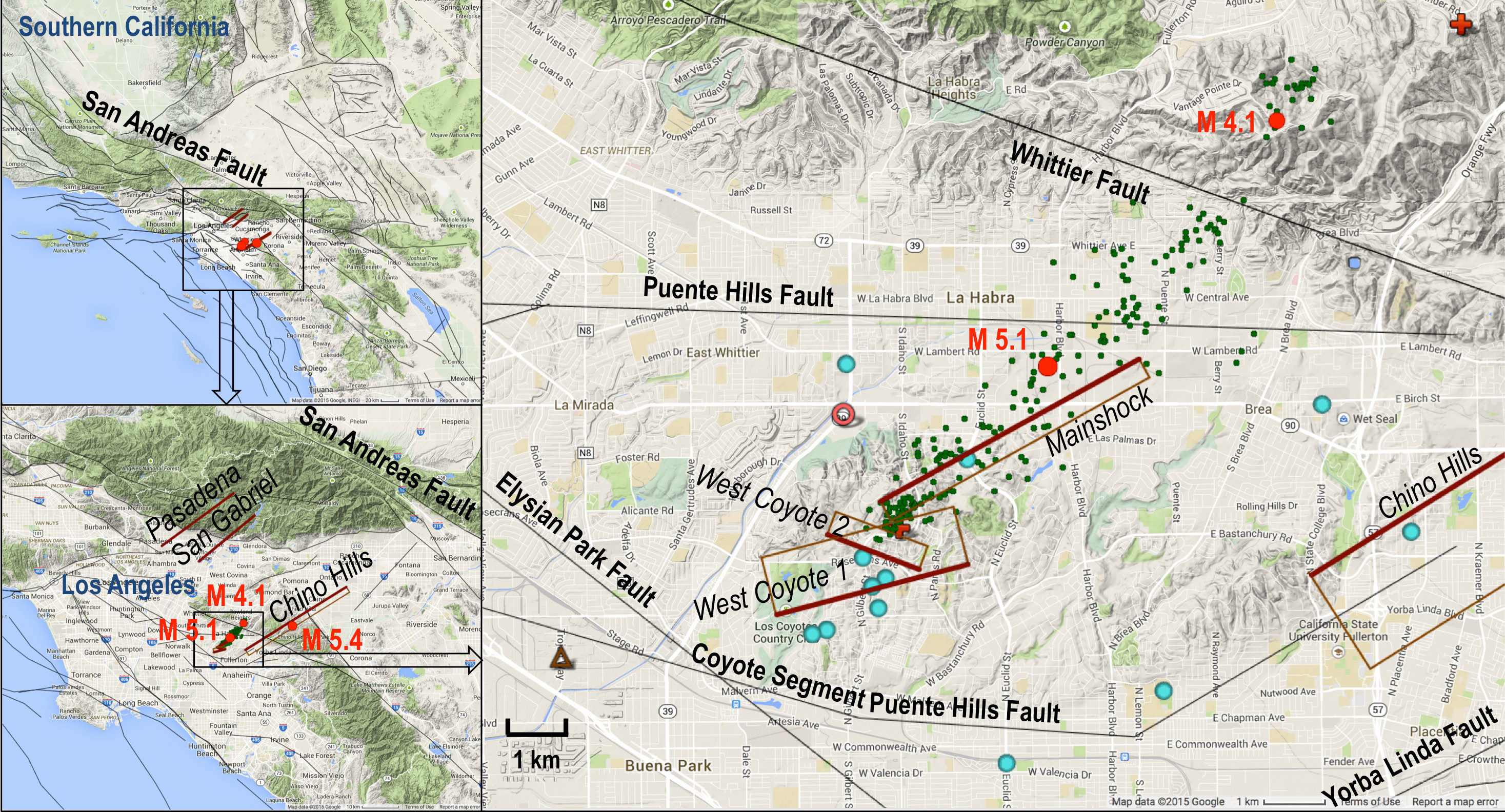 Southern California residents bring up the subject every now and then. With annual studies, it's difficult to ignore. The big earthquake. When will it hit? Is it inevitable? If the blockbuster film, "San Andreas" wasn't scary enough, a new study from NASA's Jet Propulsion Laboratory and its geophysicists in Pasadena, California say there is a 99.9 percent probability that a big quake will hit Los Angeles within the next three years.
Studies show that the earthquake will hit along the same fault line which caused the March 28, 2014 quake centered in La Habra, California.
A new NASA-led analysis of the moderate magnitude 5.1 earthquake that shook Greater Los Angeles in 2014 finds that the earthquake deformed Earth's crust across a broad region encompassing the northern Los Angeles Basin and northern Orange County.
A team of NASA and university researchers led by geophysicist Andrea Donnellan of JPL used GPS and NASA airborne radar data to measure surface deformation in Earth's crust caused by the 2014 quake.
While the earthquake was relatively moderate in size, the earthquake's depth (3.6 miles, or 5.85 kilometers) and location within a highly populated region resulted in more than $12 million in damage. Most of the damage occurred within a 3.7-mile (6-kilometer) radius of the epicenter, with a substantial amount of damage south of the main rupture.
"The study builds upon more than two decades of NASA-led research to develop new methods to better measure and monitor movements of the solid Earth using satellite and airborne data and advanced computer modeling," Donnellan said. "It also provides a means of using these technologies to identify which faults moved during earthquakes, to measure exactly how much Earth's surface deformed during earthquakes, and to use these measurements to estimate future earthquake potential."
The team's results show that even moderate earthquakes near Los Angeles can produce ground deformation and damage to water mains away from their epicenters. Tectonic motion across the Los Angeles region is distributed on an intricate network of horizontally and vertically moving faults that eventually release accumulated strain in the form of earthquakes, such as the destructive 1994 magnitude-6.7 Northridge earthquake.
Donnellan said a future earthquake to release the accumulated strain on these faults could occur on any one or several of these fault structures, which may not have been mapped at the surface. "Identifying specific fault structures most likely to be responsible for future earthquakes for this system of many active faults is often very difficult," she said.