Premieres Monday, Oct. 26 (8:30-9:30 PM, ET/PT). Moves to its regular time period (8:00-9:00 PM) on Monday, Nov. 2 on the CBS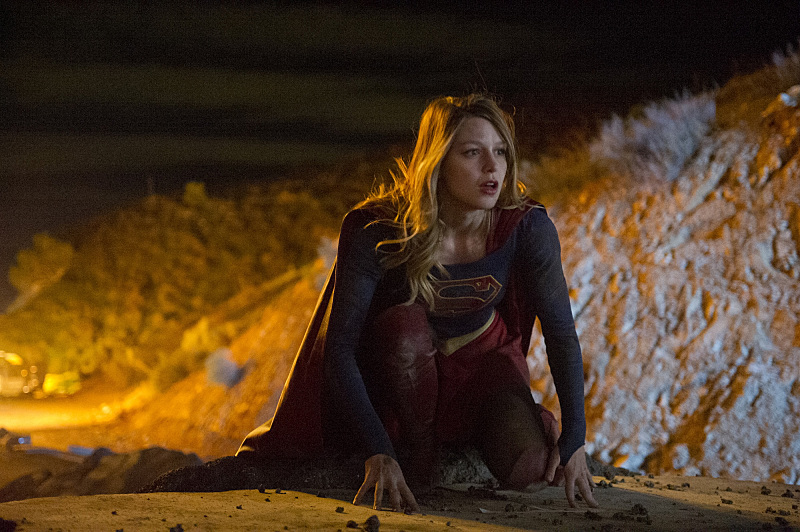 TUNE IN <–
If you're not a fanboy or fangirl, perhaps you didn't know that Superman has a cousin… and her name is Kara Zor-El (Melissa Benoist). After 12 years of keeping her powers a secret on Earth, Kara decides to finally embrace her superhuman abilities.
Although Marvel dominates the film and TV comic adaptations, DC Comics could also have a hit on their hands, thanks to the show's charming star, Melissa Benoist. From "Glee" to ultimate girl power, Benoist is perfectly cast; embodying a young woman who is naive, yet courageous and indestructible.
The pilot gets right down to business as Kara transforms from the nerdy assistant to media mogul and harsh taskmaster Cat Grant (Calista Flockhart), to the daring cape-wearing superhero. She works alongside her friend and IT technician Winn Schott (Jeremy Jordan) and famous photographer James Olsen (Mehcad Brooks), who Grant just hired away from the Daily Planet to serve as her new art director.
Kara's days of keeping her talents a secret are over when Hank Henshaw (David Harewood), head of a super-secret agency where her sister (Chyler Leigh) also works, enlists her to help them protect the citizens of National City from sinister threats.
Flockhart is fierce as the uncomprising boss. Benoist's on-screen chemistry with both Brooks and Jordan is endearing, leaving plenty of room for potential romance in future episodes. At times, the dialogue is cheesy, but with an intelligent protagonist and entertaining explosive action, 'Supergirl' is worth watching.