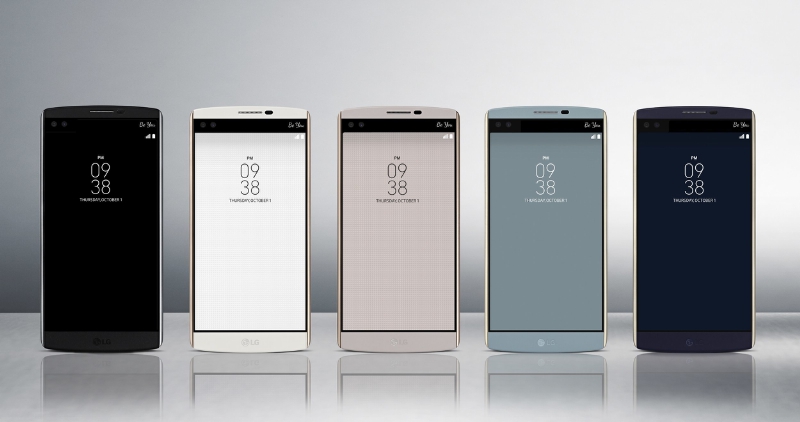 LG Electronics took the wraps off its newest smartphone, the LG V10, featuring all new multimedia capabilities.
U.S. customers will be able to purchase the LG V10 available soon on AT&T, T-Mobile and Verizon.
The first of LG's new V Series phones, the LG V10 is designed to provide today's social-network- savvy consumers a rich multimedia experience – both for video consumption and creation. Distinctive new features such as a Second Screen, Dual Front Cameras and first smartphone in the US to offer real-time Manual Video Mode differentiate the LG V10 from the competition.
All this comes wrapped in a sturdy design that utilizes high-grade stainless steel and a durable silicone skin to make the V10 one of the rare smartphones to pass rigorous independent third-party drop tests for shock.
Second Screen
Always pushing the boundaries of smartphone innovation, LG is introducing a Second Screen as an inset display above the main 5.7-inch QHD IPS Quantum Display on the LG V10. Working independently, the Second Screen can be set up as an "always on" display to enhance productivity with the LG V10 without impacting battery life. Set the Second Screen to display the weather, time, date and battery icon when the main display is off. With the main display on, the Second Screen can be set to convert to a dedicated launching area for shortcuts or your favorite apps. What's more, when you're enjoying a movie or game on the LG V10, the Second Screen will notify you discreetly without blocking your view when a call or text comes in. Ignoring the notification won't distract you from your video enjoyment or you can pause whatever you're doing to respond.
Dual Front Cameras and Multi-view Mode
Wide-angle images usually require a large, heavy lens that tends to distort the corners of photographs. The LG V10 features five megapixel Dual Front Cameras with two separate lenses to capture standard 80-degree selfies or perfect wide-angle 120-degree selfies, without the need to pan the smartphone, which increases the likelihood of camera shake. For a perfect wide-angle shot, the LG V10 employs a sophisticated software algorithm to combine images from the two separate lenses which are just far enough apart to provide two different points of view. The ability to take group selfies without a selfie-stick has never been easier. Multi-view Mode can utilize all the cameras — the two in front and the one on the back — to capture up to four different angles. Select and insert the version that looks best in your social media masterpiece.
Video and Audio Capture Capabilities
As the LG G4 did with still photography, the LG V10 offers users the ultimate in video capturing, editing and sharing. The LG V10 is the first smartphone in the US to offer a real-time manual mode for video. First introduced for still photographs on the LG G4, the technology has been enhanced to handle video recordings as well. With Manual Video Mode, budding directors can easily create professional-quality videos by adjusting options such as shutter speed, frame rate, ISO, white balance and focus while recording. Videos can be recorded in three resolutions –HD, Full HD or Ultra HD– and in two aspect ratios: 16:9 standard or 21:9 cinematic.
In addition to its impressive professional-level video and audio capabilities, the LG V10, which is powered by the Qualcomm® Snapdragon™ 808 processor with X10 LTE connectivity, offers these additional features that make video content look and sound their best:
Steady Record uses an electronic image stabilization optimized for recording video to neutralize shake, helping to capture sharper video footage even when you're on the move.
Snap Video Mode: create one video by combining many shorter videos.
15-Second Auto Edit: create a short video highlight clip by automatically eliminating blurred frames and static scenes.
Quick Video Editor: easily trim or change the frame rate and add after-effects, such as colors and background music.
Quick Share: when finished recording, a pop-up appears on the display showing options of popular social networks to make video sharing even easier and faster.
Audio Monitoring: adjust the sensitivity of the three microphones more accurately during video recording and directly monitor and control audio inputs.
Wind Noise Filter: eliminate external wind noise for high-quality sound when shooting video outdoors.