Photo: Courtesy of USGS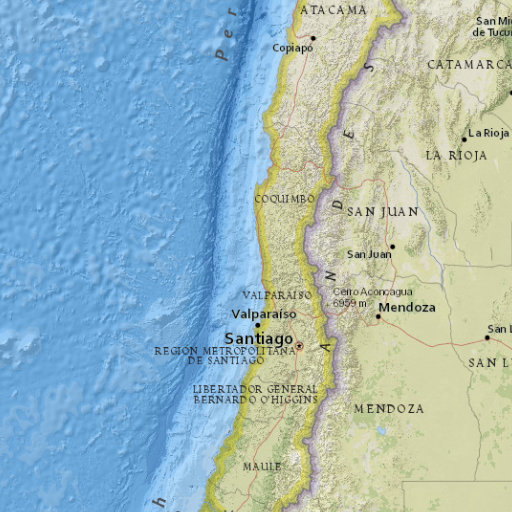 According to USGS, an M 8.3 earthquake struck west of Illapel, Chile on Wednesday, September 16th. The quake occurred as the result of thrust faulting on the interface between the Nazca and South America plates in Central Chile.
The quake caused at least 10 deaths. People ran into the streets as buildings swayed from side to side. A series of aftershocks were felt after the 3 minute earthquake.
Post quake, a dangerous 15-foot tsunami struck along parts of the Chilean coast. Despite the tsunami alert being lifted for the entire Chilean coast; As of Thursday morning, the tsunami Advisory remains in effect for Hawaii and the coastal areas of California from San Onofre State Beach, California (45 miles SE of L.A.) to Ragged Point, California (50 miles NW of San Luis Obispo).
Tsunami advisories mean that a tsunami capable of producing strong currents or waves dangerous to people in or very near the water is expected.
A reporter for BBC stated that Coquimbo was the worst affected area. The local town has been evacuated.
Chile has a long history of massive earthquakes, including the 2010 M 8.8 Maule earthquake in central Chile.