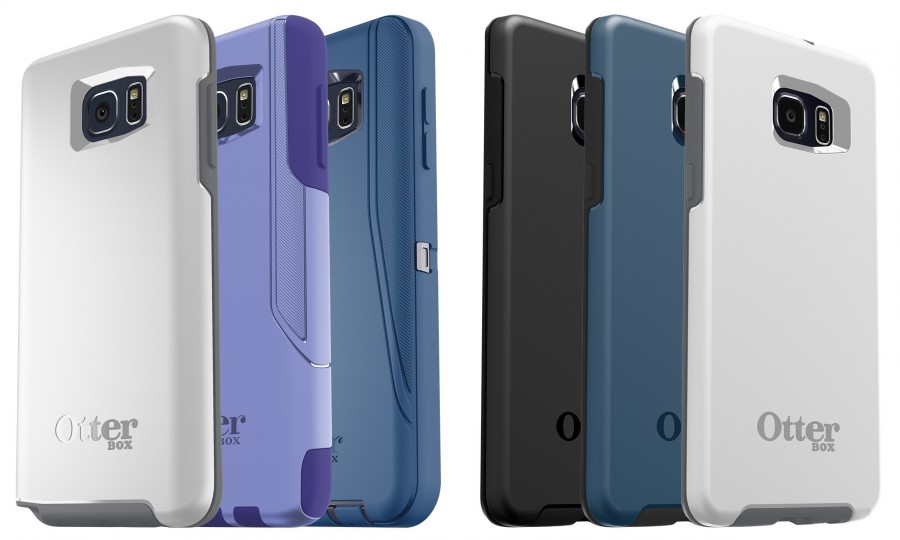 LATF can attest, OtterBox is one of the best insurances for your phone. Drop it – catch your breath – your phone is fine.
OtterBox makes the case for picking up the latest technology from Samsung and enjoying every moment with trusted protection, now available for GALAXY Note5 and GALAXY S6 edge+.
A full range of protective options is available to safeguard GALAXY Note5 from drops, dings and scuffs, including Defender Series, Symmetry Series, Commuter Series and Alpha Glass.GALAXY S6 edge+ shows off its edge with OtterBox Symmetry Series cases and Clearly Protected device guards.
Each case is compatible with the new heart rate monitor, Sidesync and note taking features on the Note5 and GALAXY S6 edge+. Plus, OtterBox is part of the Samsung Mobile Accessory Partnership Program, ensuring a custom fit and personal style for each device.
Defender Series provides rugged protection for GALAXY Note5, guarding against the rough tumbles in daily life. Three layers of protection encase GALAXY Note5 in 360-degree protection without hindering functionality of the device or use with a stylus. The GALAXY Note5 case boasts a polycarbonate shell to guard against drops and dings, a built-in screen protector to stop scratches and an outer slipcover to dissipate shock. Plus, the case can be catered to every individual's personality with build-your-own color options on otterbox.com.
The slim, sleek, one-piece design of Symmetry Series slips around GALAXY S6 edge+ without covering up the dual-edge display. The raised beveled edge helps keep the touchscreen safe on drops and the slim form fits perfectly in pockets. Symmetry Series is also available for GALAXY Note5.
Commuter Series helps protect GALAXY Note5 from drops and bumps with two slim layers of protection. The inner slipcover absorbs shock and blocks pocket lint from ports while the outer shell absorbs impact. Plus, the case is available in build-your-own color options for the perfect look on otterbox.com.
Alpha Glass stops scratches from reaching GALAXY Note5's vivid 5.7″ touchscreen. Fortified to avoid splintering, Alpha Glass applies flawlessly to the touchscreen, retains screen responsiveness and pairs perfectly with OtterBox Symmetry Series and Commuter Series cases. Alpha Glass is available in both clear and Privacy to protect against prying eyes.
Clearly Protected is a tough film protector that applies to GALAXY Note5 and GALAXY S6 edge+ for scratch protection on otterbox.com. Available in Vibrant, Privacy and 360 options, each Clearly Protected screen protector applies with an easy dry installation and fits with perfection. The Next Big Thing is sure to stay clean of nicks or scratches.
Defender Series, $59.90, Commuter Series, $44.95, Alpha Glass, $34.95, and Symmetry Series, $49.95 for GALAXY Note5 and Symmetry Series, $35.95 and Clearly Protected, $29.95 for GALAXY S6 edge+ are available on otterbox.com and at select retailers. To learn more, visit www.otterbox.com