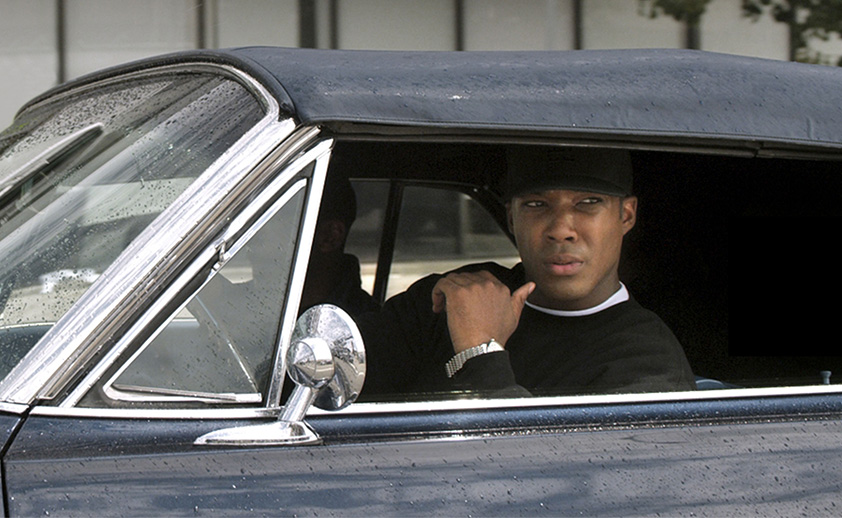 Photos: Universal
Nearly thirty years after their formation, the world's most dangerous group, otherwise known as N.W.A., gets the big screen treatment they deserve in "Straight Outta Compton," a biographical drama written by Jonathan Herman and Andrea Berloff and directed by F. Gary Gray.
This bass-bumping ode to the creators of gangsta rap offers a candid look at the meteoric rise and behind-the-scenes squabbles of the influential quintet set against the backdrop of inner city racial injustice. At turns funny, sad, inspiring and always entertaining, the film boasts a knockout greatest hits soundtrack, star-making performances from O'Shea Jackson, Jr. (Ice Cube's son) and Jason Mitchell, and enough backstage drama to justify its extended running time. Blessed by two of the group's biggest breakout stars, Dr. Dre and Ice Cube, who serve as producers here, "Straight Outta Compton" is an absolute must-see for hip hop heads, and with strong word of mouth should have some crossover appeal as well.
Beginning in 1986 in the crime-plagued Los Angeles community of its title, "Straight Outta Compton" chronicles how charismatic drug dealer Eazy-E (Jason Mitchell), aspiring rappers Ice Cube (O'Shea Jackson, Jr.) and MC Ren (Aldis Hodge), and burgeoning beatmakers Dr. Dre (Corey Hawkins) and DJ Yella (Neil Brown, Jr.) came together to transform the sound of West Coast hip hop.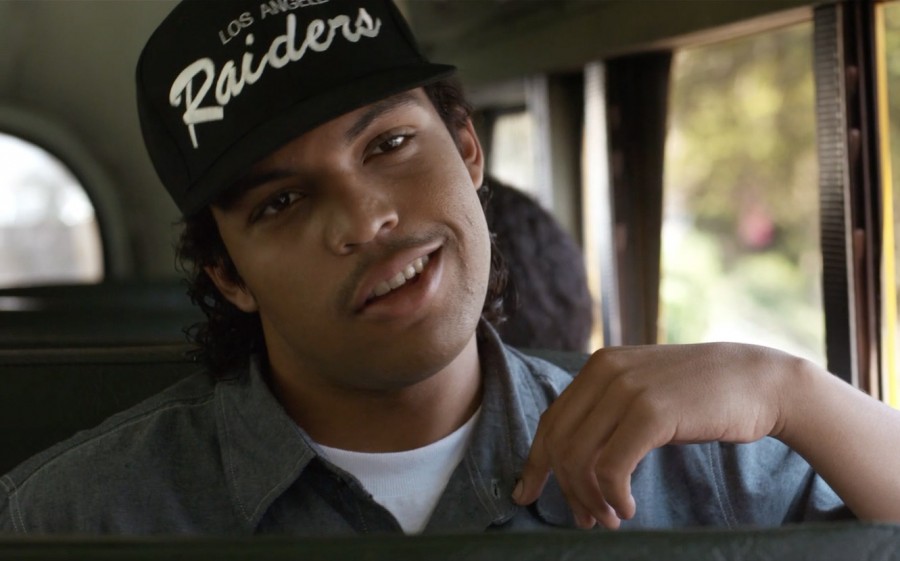 At the outset, Dre and Yella are part of the World Class Wreckin' Cru, an electro group who DJ at a local Compton hotspot. One night, despite the club owner's disapproval, Dre gives stage time to Ice Cube (O'Shea Jackson, Jr.), a rising MC who turns his frustrations and hostilities into "reality raps" that reflect his day-to-day struggles. Given the crowd's ecstatic reaction, Dre realizes the promise in this new sound, and sets out to create a rap group to popularize it.
Thanks to some crack-financed studio time courtesy of Eazy-E, the group takes a trial-and-error approach that eventually results in a smash single called "Boyz-n-the-Hood." Based on its success, Eazy is approached by Jerry Heller (Paul Giamatti), an opportunistic music manager who helps him found Ruthless Records. With Heller's help, N.W.A. seals an album deal with the little-known Priority Records, and from there they create the seminal album, "Straight Outta Compton."
With a game-changing record and an arena-filling national tour, N.W.A. enjoy their brush with superstardom, but their happiness is short-lived. Contractual disputes, personal tragedies and constant police harassment soon take their toll, starting with Ice Cube's exit and ending with Dre being snatched away by Suge Knight (R. Marcus Taylor) to form Death Row Records. Still, in spite of well-documented disagreements, money woes and the tragic death of one of its members, the film celebrates N.W.A.'s anarchic spirit and rightfully positions them as defining voices of a generation.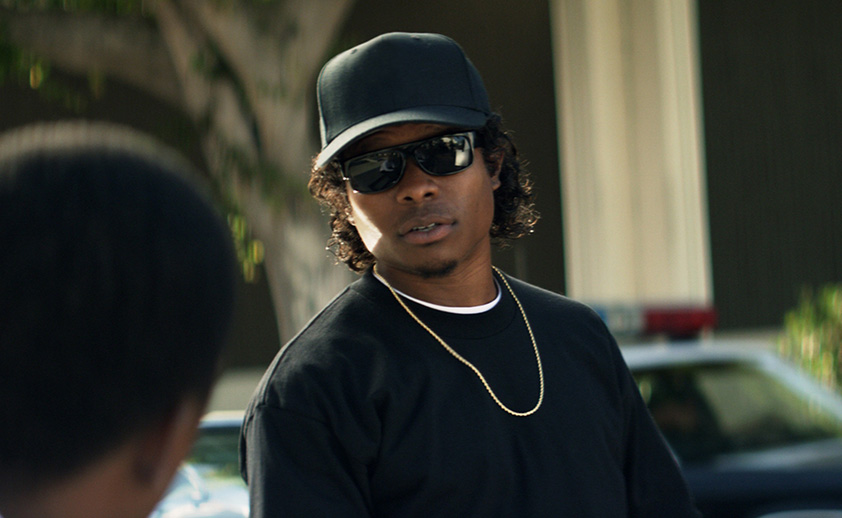 Given the medium's time constraints, music biopics always struggle to do justice to their subjects, and considering N.W.A. consisted of five members, three of whom could have films of their own, this makes the task especially difficult. Thankfully, Jonathan Herman and Andrea Berloff's script nicely distills the essence of the group into a consumable narrative, though at nearly two and a half hours, it could've probably used some tightening, especially with the contractual disputes and life after N.W.A.
Director F. Gary Gray, who helmed the classic videos for Ice Cube's "It Was a Good Day" and Coolio's "Fantastic Voyage" before making his film debut with "Friday," is a perfect fit for the material at hand. John Singleton ("Boyz n the Hood") or The Hughes Brothers ("Menace II Society") would've also probably served the film well, but Gray's background in music and Hollywood filmmaking ("Be Cool"), not to mention having grown up in South Central, provide him with the necessary tools to hit "Straight Outta Compton's" tonal variations. Adding to the film's polish is cinematographer Matthew Libatique's eye-pleasing images ("Black Swan"), which capture everything from topless pool parties and concert mayhem to police raids and the LA Riots with pinpoint precision.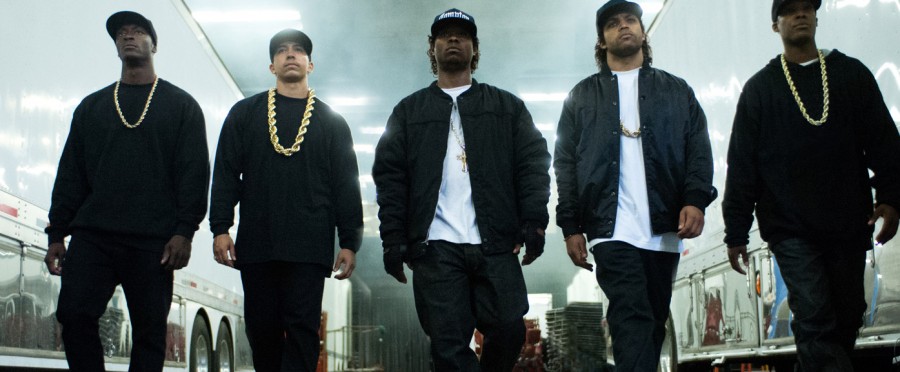 With the exception of Paul Giamatti ("Sideways"), who is just superb as the double-dealing music manager who sparked the group's demise, the producers chose wisely in casting relative unknowns to portray the famous central characters. One's natural instinct is to judge these actors based on appearance and imitation skills, and while each performer aces these requirements, they all cut deeper to capture the men behind the personas, particularly the group's main trio of Eazy-E, Ice Cube and Dr. Dre.
A worthy tribute to the pioneering rap group's enduring legacy, "Straight Outta Compton" is a summer jam that fans won't want to miss.
By Lucas Mirabella
Rated R for language throughout, strong sexuality/nudity, violence, and drug use.
Running Time: 147 minutes