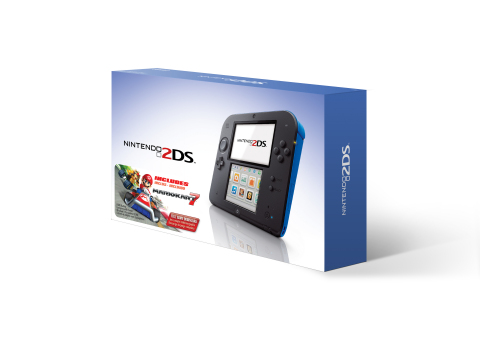 On Aug. 30th, the suggested retail price of the portable Nintendo 2DS system drops to $99.99, down from the current suggested retail price of $129.99. Even at the new suggested price, the system will still come packaged with the digital version of the acclaimed Mario Kart 7game, making Nintendo 2DS an amazing value for shoppers.
People looking for a great game to play with their new system can also pick up Little Battlers eXperience, which launches Aug. 21 for all Nintendo 3DS family systems, including Nintendo 2DS.
Ever since it launched in October 2013, Nintendo 2DS has been the go-to system for newcomers to the world of quality Nintendo video games. The system plays nearly the entire library of Nintendo 3DS games in 2D, as well as most Nintendo DS games. Players with Internet access can compete online, or enjoy local multiplayer co-op experiences with other Nintendo 3DS family system owners. With no hinges, the durable construction of Nintendo 2DS makes it perfect for younger players.
Little Battlers eXperience lets players build, customize and battle robots made from more than 4,000 in-game parts that allows for more than 30,000 different LBX robots. The game is one part of the strong franchise, which also includes an animated TV show and robot model kits. Players can team up with characters that appear in the TV series, or find friends who also own the game and a Nintendo 3DS or Nintendo 2DS system to connect via local wireless to battle it out or team up against tough opponents in the Ranking Battle co-op mode.
Other games for all ages and skill levels launching for Nintendo 3DS before the end of the year include Animal Crossing: Happy Home Designer, Chibi-Robo! Zip Lash,Pokémon Super Mystery Dungeon, The Legend of Zelda: Tri Force Heroes and YO-KAI WATCH. All games are compatible with all Nintendo 3DS family systems, including Nintendo 2DS.
Remember that the Nintendo 3DS family of systems, including Nintendo 2DS, features parental controls that let adults manage the content their children can access. For more information about this and other features, visit http://www.nintendo.com/2ds.
For more information about Little Battlers eXperience, visit http://lbx.nintendo.com.