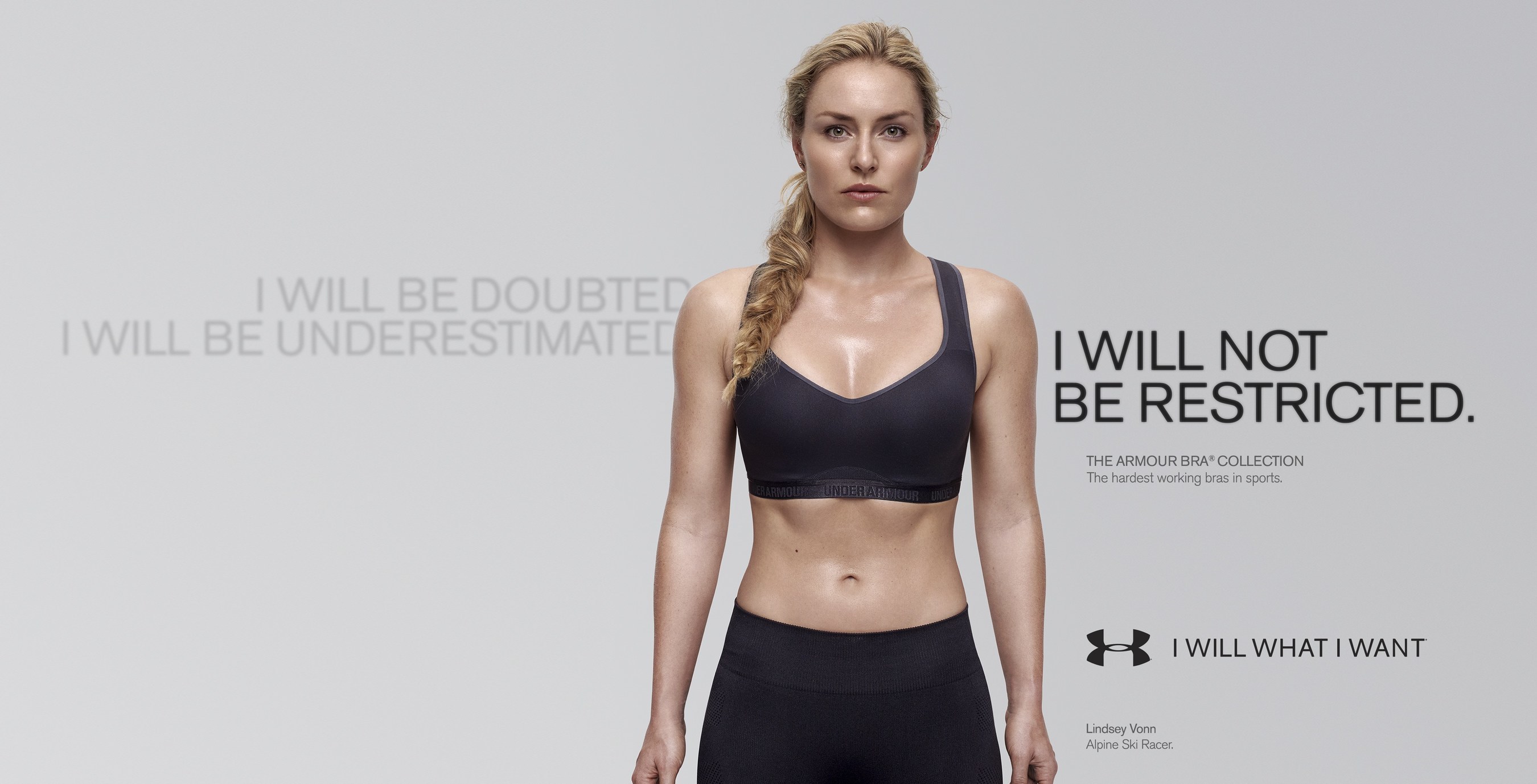 Today Under Armour launched their latest women's-focused campaign with World Champion downhill skier and UA Woman of Will Lindsey Vonn. The campaign is the latest iteration of the I WILL WHAT I WANT® campaign, centering on a woman's most important piece of workout gear—her sports bra. The Armour Bra campaign also features UA Women of Will Gisele Bundchen, Misty Copeland, Kelley O'Hara, and Brianna Cope. Content from the campaign depicts each of these women and their declarations in overcoming doubt and setbacks related to their womanhood. The statements also give voice to what women everywhere want and need from their sports bras, a perspective that has often gone unheard.
"Throughout the 10 years I've been an Under Armour athlete, I've experienced firsthand the dedication this brand has to making the best apparel, footwear and equipment for all athletes," said Lindsey Vonn, World Champion downhill skier. "The Armour Bra Collection is just the newest chapter in that story and it offers the innovation, comfort and support that allows me stay focused on the slopes, in the gym, and in my everyday life."
The all-new Armour Bra® Collection features a simplified range of styles in High, Medium, and Low that are designed to support women across various fitness activities. Its defining features are lightweight gel shoulder straps and a gel encased underwire that provide comfort and support without the bra-induced irritation that women generally experience during activities such as running, kickboxing, and spinning.
"Woven into the Armour Bra product launch is a deeper goal of connecting with women at all levels of sport and all stages of their lives, and changing the way they think and talk about sports bras," said Adrienne Lofton, SVP, Brand Marketing, Under Armour. "We believe that a woman shouldn't have to compromise or settle in any area of her life, and that includes her choice of sports bra. We're starting a real, organic, and emotional conversation with women about what they want and need in their bras, and we're backing it up with best-in-class product that eliminates distractions and allows her to focus on performance."