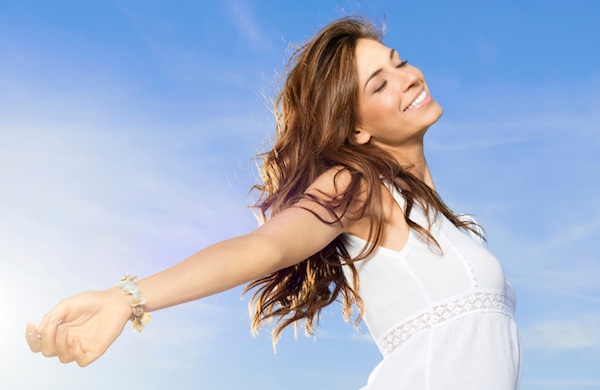 Repeated exposure to sun, salt water, and chlorine chemical residues can take an unstylish toll on our tresses. By the end of the summer, heat, humidity, chlorine or salt water can dehydrate hair to the point where it looks and feels nearly fried. Add tight ponytails and braids, relaxers, color, heat, curlers and a few extra chemical "sun" streaks for style and you'll definitely want to keep a "lid" on it… Your hair, that is.
Don't despair—warm summer days don't have to lead to thinning-damaged hair.  Learn to love your summer hair with a few basic do's and don'ts for nourished, healthy, thicker and fuller looking hair from BIOTA Botanicals.
Hydrate from the inside out: Our hair is comprised of 5% water and 95% protein.  For healthy hair that is soft and bouncy, make sure you're taking in enough water to meet the body's minimal requirements. When deprived of adequate water, the body becomes dehydrated, which directly impacts your hair.

Add sun damage and exposure to the elements, and hair can become fragile and brittle.  Like our skin, our hair needs to be nourished and moisturized. Once the moisture is gone — it's gone. Dry hair can be coarse, static and prone to tangles and breakage.

Eat your way to a healthy looking head of hair:  Strong, vibrant hair depends on a healthy and balanced diet. So make sure yours is a nourishing mix of protein – key elements of healthy looking hair – plus complex carbohydrates, and omega 2 fatty acids, vitamins and minerals.

By taking in proper nutrients, you help fortify building blocks for your locks.

Wash hair with a mild shampoo: People tend to wash hair more in the summer.  Be sure to look for gentle, herbal-sourced shampoos and conditioners, such as BIOTA Botanicals Advanced Herbal Care with Herbal BioComplex B11. Take the time to massage your scalp while washing.  This will keep your scalp clean and fresh, and can give the impression of more volume than dirty hair, which tends to sit flatter on the head.

If you relax or style your hair and don't wash it every day, try BIOTA Botanicals Advanced Herbal Care Leave-In Serum to stimulate a healthy looking scalp. A happy, healthy scalp means stronger hair.

Be gentle with your hair: If you can go au natural, do. Summer hair should be fun, light and uncomplicated. If you can go without styling, do! The less heat and stress on your hair, the better.  Avoid frequent, constant heating and drying procedures as heat weakens hair proteins.  So, constant heating and drying can lead to brittleness and fragility that causes thinning hair that would not have occurred otherwise. 

BIOTA Botanicals Advanced Herbal Care is specifically created to combat thinning-damaged hair. BIOTA's hair care collection is gentle enough to use every day, with an herbal formulation that nourishes, hydrates and strengthens hair.

Sunblock for your head: Whether your hair is colored or not, the sun can bleach it out, leaving it brassy and damaged. And, of course, any exposed skin is susceptible to sunburn, including the part in your hair.

Your best weapon to protect your hair and scalp from sunburn – cover your head.  Play with accessories – a wide brim hat, scarves, caps – all offer sun protection.

Take your vitamins: Vitamins are hugely important when it comes to your body's daily functions and are essential to its growth and repair.  In fact, according to the Harvard School of Public Health, one billion people worldwide are short in vitamin D!

Herbal BioComplex B11, BIOTA's proprietary combination of herbal extracts with naturally occurring minerals and essential fatty acids that nourishes the scalp. Regular and continued use of BIOTA products revitalizes the appearance of hair and shown to dramatically help with thinning-damaged hair, allowing for better nourished, stronger, thicker and fuller looking hair.

Lastly, take good care of your (whole) self:  Take advantage of the lazy, hazy days of summer to get your stress under control, get outside and get moving.  The latter is particularly important as exercise is great for stress reduction, plus physical activity encourages better circulation, including for your scalp.  You'll look better and feel better from top-to-toe.
With a few proper preventative steps you can avoid summer beauty woes this season.  All it takes is a little TLC to your crowning glory to keep your locks luxurious, beautiful and strong.