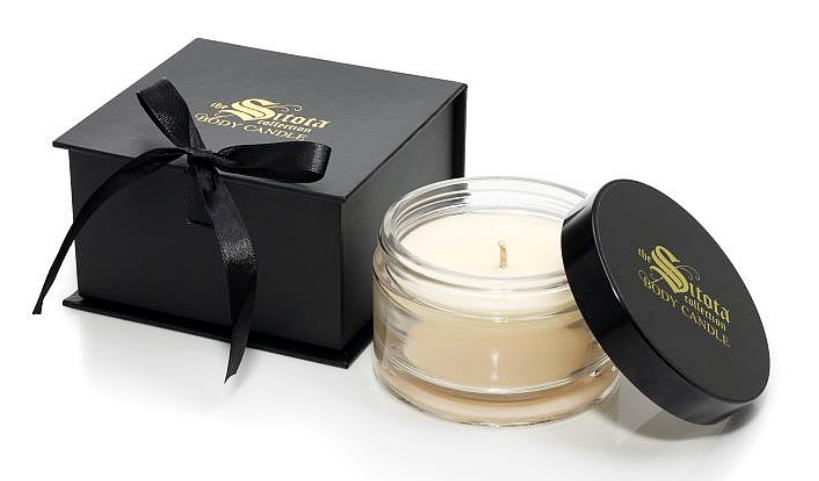 On August 8th, The Sitota Collection will release the Body Candle, a unique candle experience for your skin. As the candle burns, the essential oil infused wax melts into a warm body oil that is scented with their best selling Aigyptos fragrance, blending together jasmin, lavender, orange and sandalwood. 
Designed to soften skin and smooth dry spots, Body Candle makes a wonderful gift or an indulgent personal pleasure. Perfect for new moms wanting to keep skin supple, ladies in search of a post mani/pedi treatment and couples wanting to treat their loved one to a sensual massage. 
Veteran entertainment publicist Yvette Davis Gayle launched The Sitota Collection in 2013. You can read Yvette's LATF the Magazine feature story HERE.
Body Candle is made from 100% natural coconut oil, shea butter, soy oil, jojoba essential oil, vitamin E and aloe vera.  These elements provide excellent benefits for the skin:
Coconut Oil is a beauty multitasker, strengthening underlying tissue and providing deep moisture
Shea Butter is a superb moisturizer and exceptional healing property for the skin
Soy is purported to diminish wrinkles, reverse skin damage and tighten aging skin
Jojoba essential oil contains almost all of the vitamins and minerals essential for healthy skin
Vitamin E serves as an antioxident fighting off free radicals that cause wrinkles, lines and age spots
Aloe Vera is called the plant of immortality because it heals wounds and soothes skin
"I'm so excited about the release of my Body Candle," commented Gayle. 
"I wanted to create a product with nutrient rich properties that would serve the dual purpose of providing a beautifully scented home and body. I'm equally as excited about our Pay It Forward program which allows us to donate a percentage of our proceeds to charitable organizations such as AdoptTogether. You buy, we give and together we make a difference."