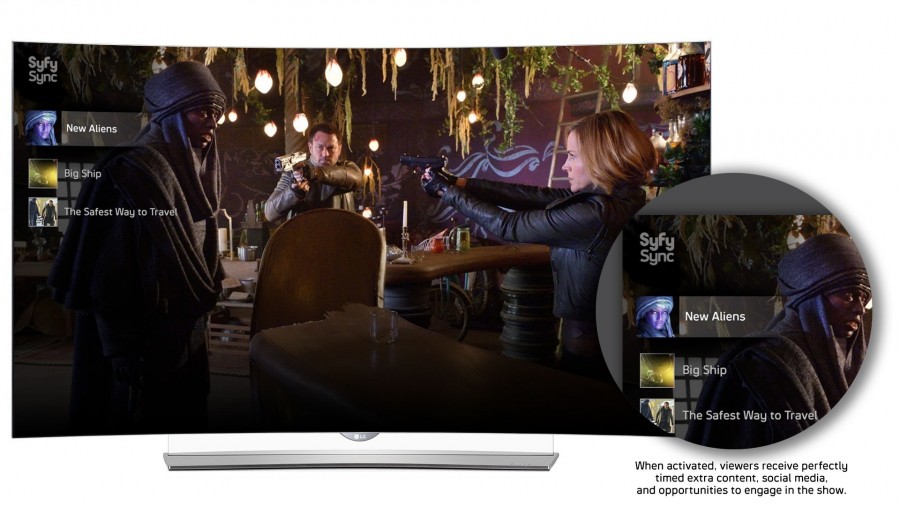 Syfy and LG Electronics USA launched a new interactive TV consumer experience. The new "Syfy Sync for LG Smart TV" app allows viewers to go inside their favorite Syfy shows in a whole new way by recognizing the episode viewers are watching and delivering contextual content to their LG Smart TV in real time.
Syfy Sync for LG Smart TV is launching with the Season 3 premiere of fan favorite DEFIANCE on June 12 at 9/8c on Syfy. Viewers with LG Smart TVs can get behind-the-scenes trivia, participate in interactive polls and learn more about the backstory of the series. The Syfy Sync app responds to what viewers are watching and delivers a whole new level of interaction while they are actively watching their favorite Syfy shows on their LG Smart TV. 
The Syfy Sync app for DEFIANCE is available exclusively on LG Smart TVs, delivering an engaging new dimension to home entertainment with fun, interactive features paired with leading LG TV display technology.
The interactive feature will be available beginning June 12 on Automatic Content Recognition (ACR)-enabled LG TVs with Netcast since 2012, and will be available soon on LG Smart TVs featuring LG's award-winning webOS Smart TV platform. LG webOS makes the Smart TV experience fast and simple with an intuitive interface that enables users to spend more time enjoying their home entertainment experience, and less time finding and switching between content options.
LG was selected as the premiere launch partner because of the company's advanced Smart TV innovations with its webOS Smart TV platform, and for its leadership in TV display with its OLED 4K ULTRA HD TVs and 4K ULTRA HD LED TVs.
"From its inception, Syfy Sync has always been seen as a multiplatform play and we're thrilled to be partnering with LG to bring the experience it to a new platform with season 3 of DEFIANCE. The LG Smart TV platform provides an incredible user experience along with an incredible TV picture quality for Syfy's devoted fans to go even deeper into our programming," said Matthew Chiavelli, vice president of digital media and strategy for Syfy.
David VanderWaal, vice president of marketing for LG Electronics USA, said, "Interactive TV with Syfy's DEFIANCE delivers a new, engaging TV experience, leveraging the power and simplicity of LG's webOS Smart TV platform along with our incredible picture quality. Syfy and NBC Universal have been pioneers in real-time interactive TV for second-screen viewing, and LG is enthusiastic to work with them to bring this integrated experience to the big screen."
Syfy engaged Watchwith to power the in-program interactive engagement that appears as a subtle broadcast graphic-style overlay in the upper left portion of the screen. Watchwith's unique in-program interactive audience engagement platform delivers an award-winning Syfy Sync experience right to the living room screen. 
LG's recognition and interactive platform is powered by Cognitive Networks, the leading provider of ACR services on Smart TVs. Cognitive's system allows Smart TVs to become contextually aware, enabling the launch of intelligently synchronized HTML5 web applications and the real-time seamless connection of live or time-shifted over-the-air programming with services delivered via broadband.