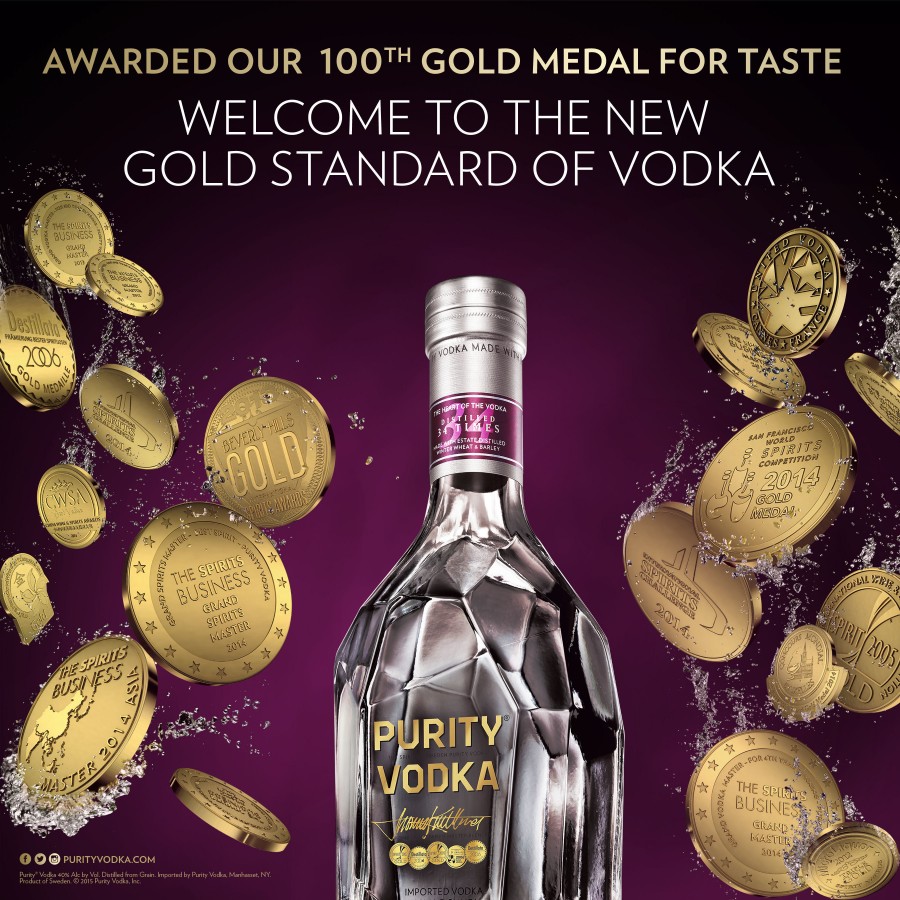 Purity Vodka, a Swedish small-batch, ultra-premium vodka announced its 100th Overall Gold Medal in international blind taste competitions – a Double Gold from "The Fifty Best" 2015 Imported Vodka Competition, awarded for the second consecutive year.
"The Fifty Best" is a fine lifestyle guide that hosts more than 25 annual competitions across the food and beverage industry. "The Fifty Best" Vodka judging panel consisted of 15 pre-qualified spirits experts who conduct blind tastings and rank each vodka based on taste profiles.
Since 2002, Purity Vodka has been recognized with 100 gold medals from blind taste competitions around the world, including the International Spirits Challenge, San Francisco World Spirits Competition, International Wine & Spirit Competition, and Craft Spirits Awards International Competition. Purity® Vodka is also the first vodka brand to be named the Grand Spirit Master, as well as Grand Vodka Master four years in a row, by The 2014 Grand Spirits Masters Competition.
"It took me ten years to develop Purity Vodka. I was seeking the perfect balance between ingredients, distillation and cut to maintain flavor in the final spirit. In the early years, I started to compete to ensure that I was on the right path. But ever since we won the first gold medal at The International Wine & Spirit Competition in London, I have taken every chance to challenge the vodka industry on the title of the world's best vodka. Our hundredth gold medal is historic. No longer can anyone argue that all vodka is tasteless. By repeatedly winning major spirits competitions around the world, we have proven that vodka is all about taste," said Thomas Kuuttanen, Master Blender of Purity Vodka.
Recently at the Asian Spirit Masters 2015, Purity Vodka won the highest achievement, Master Medal, in the "Ultra Premium" and "Smooth" categories, as well as Gold Medals in "Organic," "Micro Distillery," "Europe," and "Scandinavia."
"From an ultra-premium vodka you'd expect depth and complexity, and a balanced spirit that is perfect sipped neat or mixed in a Martini – Purity Vodka is an exemplary example of the category," said Becky Paskin, Asian Spirits Master judge and Spirits Business editor.