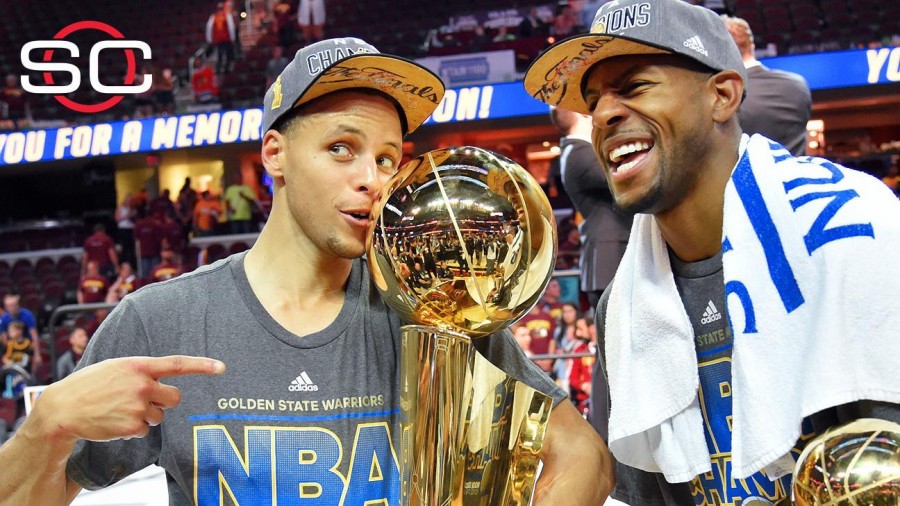 Photo: Sports Center
Just when you thought things couldn't get any more ridiculous, the know-it-alls that vote for the MVP of the NBA Championship Series decided to use some of their votes for LeBron James, a member of the losing Cavaliers. Eleven media members voted on the series MVP and this is the breakdown: Sam Amick – USA Today, Ken Berger – CBSSports.com, Hubie Brown – ESPN Radio, Jason Lloyd – Akron Beacon Journal, Rusty Simmons – San Francisco Chronicle, Mark Spears – Yahoo Sports and Marc Stein – ESPN.com, all voted for Golden State Warriors forward Andre Iguodala. Steve Aschburner – NBA.com, Howard Beck – Bleacher Report, Zach Lowe – Grantland and Jeff Van Gundy – ABCTV, voted for Cavaliers forward LeBron James. There were no votes cast for league MVP Stephen Curry who had a very solid, if not dominating series.
In truth; the 4 votes for James should have gone to Steph Curry. The award has been given since the 1969 NBA Finals when for the first, and thankfully last time, it was given to a member of the losing team when Los Angeles Lakers guard Jerry West received it in defeat against the Boston Celtics. In 2009, during the 2009 NBA All-Star Weekend in Phoenix, then-NBA Commissioner David Stern announced that the award would be renamed the "Bill Russell NBA Finals Most Valuable Player Award" in honor of 11-time NBA champion Bill Russell. Ironically, Russell was a member of that 1969 championship Boston team. 1969 was the first year an MVP Award was ever given and the only time given to a member of the defeated team. Apparently, going forward, common sense overruled respect for a player from the losing team's performance, and since then has rightfully been given to a member of the winning team.
During the 2015 NBA Finals, the media started to lobby for an MVP award for LeBron James' performance, since it began to look like the Cavaliers would not be good enough to win the seven game series. They cited the Jerry West anomoly of '69 as reason enough to do it again. Many jumped on the "Give LeBron the MVP Award" band wagon, but cooler heads prevailed and the award was once again given to a member of the victorious team. Ladies and gentlemen, this is a "No Brainer." There is a reason why not only the NBA never repeated its mistake, but no other professional sport has awarded an MVP to a player of the losing team. It is a time to celebrate the victor of whatever the sport's championship series is called, whether it's the World Series (Baseball), Super Bowl (Football), World Cup (Soccer), NBA Finals or Stanley Cup Finals (Hockey), not celebrate the individual statistics of a member of the losing team, regardless of how great their performance was. It is a "team" celebration; therefore honor the accomplishments of the members of the team that wins the trophy. I rest my case…