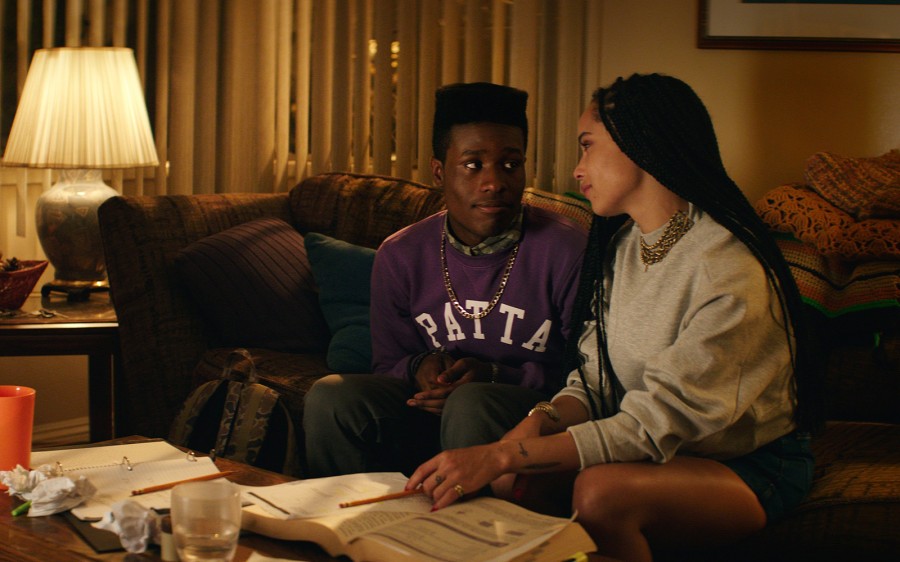 The Los Angeles Film Festival is finally upon us, and pre-festival events kicked off last night with the local premiere of "Dope," an Inglewood-set coming-of-age dramedy that caused a major contact high at Sundance in January.
From Native Angeleno Rick Famuyiwa ("The Wood," "Our Family Wedding"), this hip hop-accented slice of 90's nostalgia is the writer-director's best work to date and will surely be a hit with the younger crowd. An intoxicating blend of comedy, drama, adventure and romance, "Dope" pulls double duties of being both wickedly entertaining and socially conscious all at once. With hilarious dialogue, plot twists galore, a head bobbing soundtrack full of golden era jams and a cast of amazing young talent, this spirited tale of inner city misadventures is as addictive as its title suggests.
Narrated and produced by Forest Whitaker, "Dope" revolves around Malcolm (Shameik Moore), an academically gifted high school senior who, along with pals Diggy (Kiersey Clemons) and Jib (Tony Revolori), live in The Bottoms, a tough LA neighborhood. Steeped in the 90's hip hop culture of Yo! MTV raps, fresh gear and flattop haircuts, these lovable nerds spend their days playing in an experimental punk band called Awreeoh (pronounced Oreo) and outrunning sneaker-jacking gangbangers.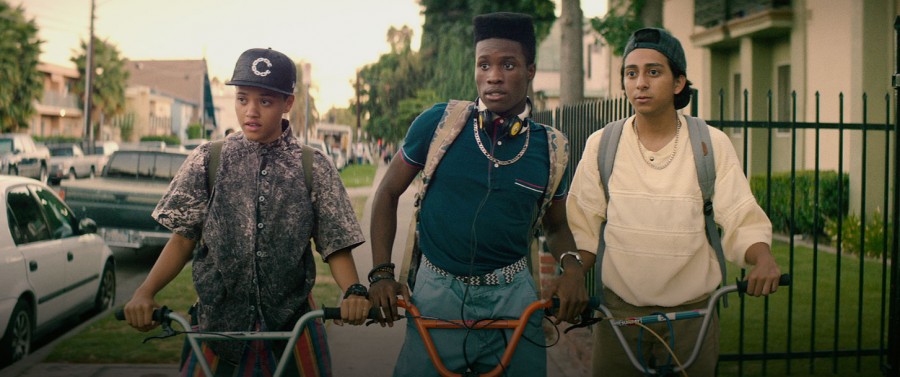 One day before a crucial college interview with a Harvard representative, a drug dealer named Dom (A$AP Rocky) invites Malcolm and his friends to his birthday party as a reward for hollering at the neighborhood cutie (Zoe Kravitz) on his behalf. But when a major drug deal at the party results in gunfire, Malcolm and his friends somehow emerge from the chaos with a backpack full of molly that doesn't belong to them.
While the frantic friends decide what to do with the stash, the suppliers trace their whereabouts using a hidden smart phone, resulting in a comical bike chase across the city. Along the way, Malcolm is instructed to drop the package off at Dom's associate's house; but when that too ends disastrously, the clueless teens are forced to sell the drugs themselves in order to repay the supplier. As the geeky group struggles to meet their deadline, they wrestle with questions of love, cultural identity and a very uncertain future.
There are plenty of reasons for audiences to cop some "Dope" this summer, and the music, which includes four original Awreeoh songs composed by exec producer Pharrell Williams, is among the most prominent. Those with a soft spot for classic hip hop will be especially misty-eyed, as tracks from Nas, A Tribe Called Quest and Digable Planets perfectly compliment the film's feel-good vibes.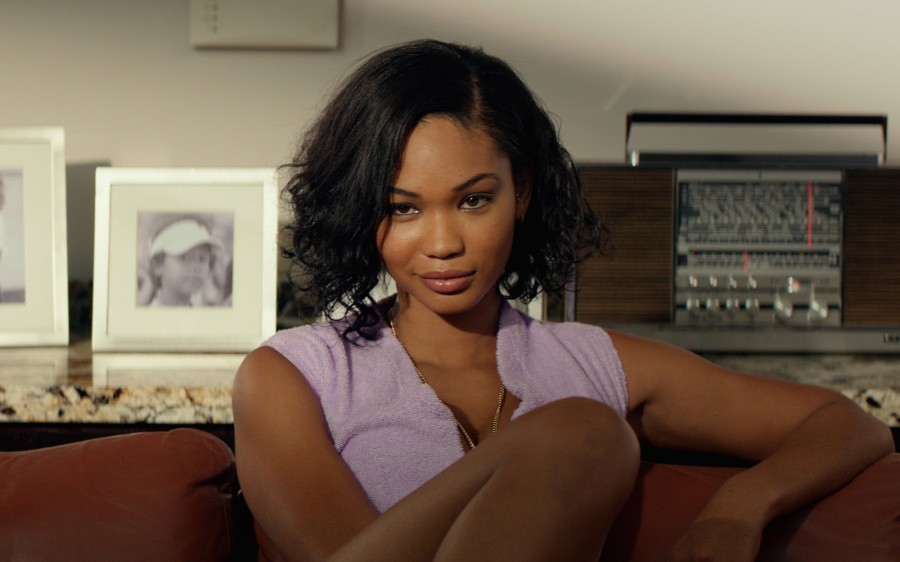 Additionally, much in the same way that the soundtrack combines its modern experimental sound with the golden era rap that inspired it, writer-director Rick Famuyiwa's screenplay takes the classic coming-of-age formula he employed in "The Wood" and infuses it with adventure and a hyperactive visual style that feels distinctly of the moment. Even when the film runs the risk of provocation, such as an extended discussion on appropriate use of the N word, it retains a social- and self-awareness that is unmistakably the work of an informed veteran confident in his art form.
Most audiences have never heard of Shameik Moore – he was a regular on the Cartoon Network's "Incredible Crew" sketch series – but that will soon change once they see him steal the show in "Dope." His performance as Malcolm not only shows off his acting range but relies on his singing and dancing skills as well, and Moore knocks it out of the park like few lead-role rookies before him. Almost equally impressive are his onscreen sidekicks Tony Revolori ("The Grand Budapest Hotel") and Kiersey Clemons ("Eye Candy," "Transparent"), each projecting charisma and easy onscreen chemistry.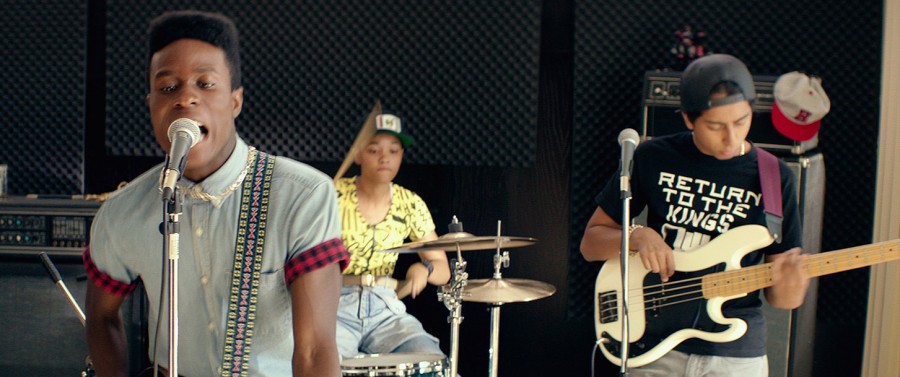 Singling out such a stellar supporting cast is no easy task, but notable mentions include A$AP Rocky in a smooth operator big screen debut, Blake Anderson as a line crossing drug enthusiast, Quincy Brown as a thugged out suburban kid and Chanel Iman as his sex-crazed sister. Also, the genetically and artistically blessed Zoe Kravitz ("Mad Max: Fury Road) continues her hot streak in a salty but sweet turn as the object of Malcolm's – and Dom's – affection.
Is "Dope" a perfect film? It is not. The plot is overly ambitious and has so many moving elements that it nearly flies off the rails around the third act break. Does it matter? Hell no! At its best, the film exudes such a contagious joyfulness that it feels like you've been transported back to the carefree days of Starter jackets and NBA Jam at your local arcade. For my money, that's a journey worth taking.
By: Lucas Mirabella
Rated R for language, drug content, sexuality/nudity, and some violence – all involving teens.
Running Time: 115 minutes
Opens Nationwide June 19th