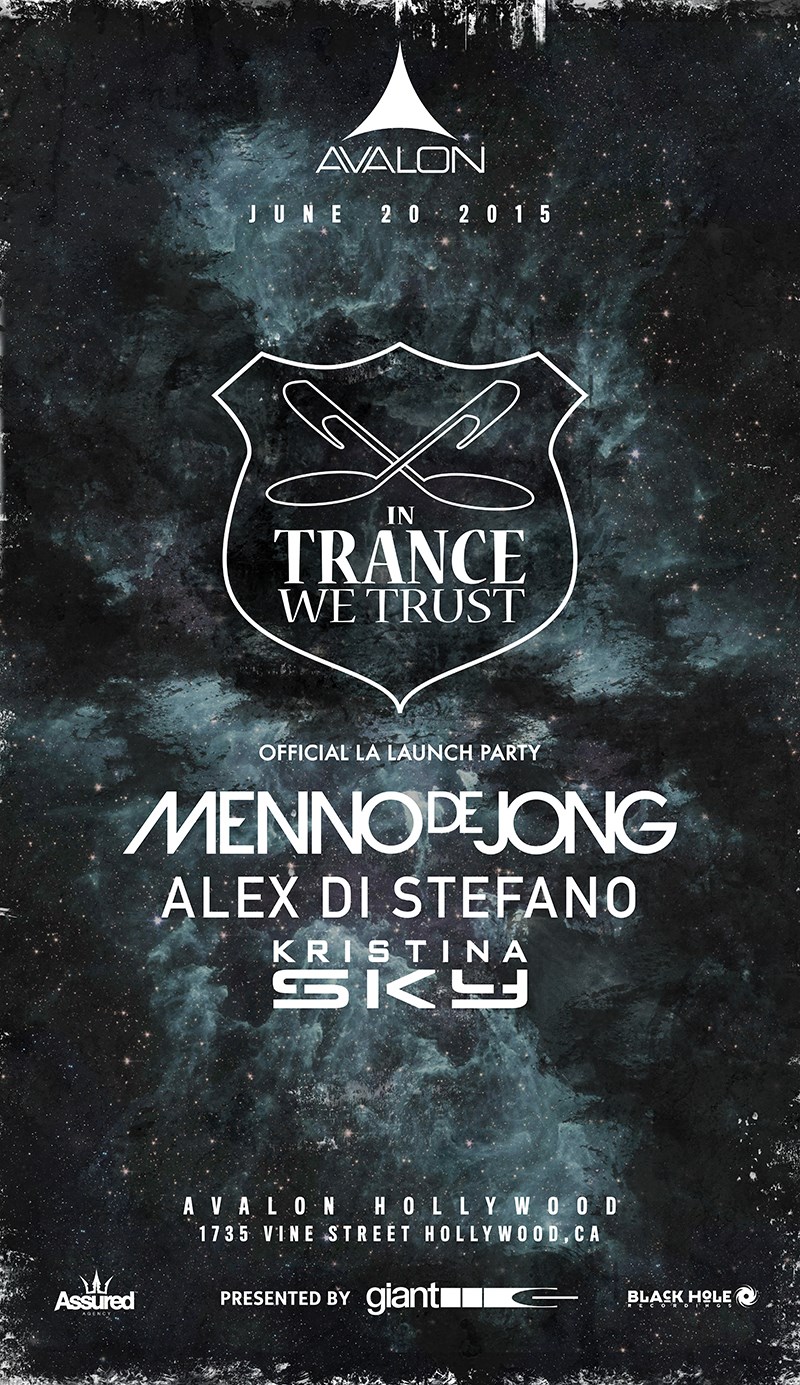 Calling all lovers of EDM/Trance in Los Angeles… Avalon Hollywood is launching their "In Trance We Trust" event this Saturday night on June 20th; featuring Menno De Jong, Alex Di Stefano and Kristina Sky.
For ticket and event info visit: http://avalonhollywood.com/ (10PM, 21+)
In the meantime: Meet the artists and listen to their beats here:
Born into a musical family, it didn't take long for Menno de Jong to start experimenting with his father's recording studio. Menno de Jong hails from the Netherlands and began DJing at an early age, playing gigs at his school and eventually earning a two years residency at an underground club in Eindhoven. Jong has played alongside industry heavyweights including Paul van Dyk, Tiesto, Armin van Buuren, and more. He's released chart-topping hits like 'Tundra', 'Last Light Tonight', 'Spirit' and 'Turtle Paradise', and possesses a unique blend of progressive, hard, and melodic trance stylings that, combined with traditional house elements, are not to be missed. http://www.mennodejong.com/
Alex Di Stefano is an Italian DJ/producer with over two decades of production experience in his arsenal. With many well know EP's including "Mizar", "Volcano", and "Mizar EP II", Stefano has developed his techno-trance skills since moving towards the genre shortly after he got into music in 1998/2000. His Avalon performance marks the second date on his current world tour and his only scheduled US date. The tour will go on to locations in the the UK, Czech Republic, Spain, and more. https://soundcloud.com/alexdistefano
Avalon's leading lady, Kristina Sky, is back once again to set the stage for another captivating night at Avalon. The Avalon resident and trance aficionado has quickly her pushed recognition and influence beyond the scope of the Los Angeles underground dance scene. Kristina has amassed a massive reach by performing at some of the world's biggest festivals and has released music on numerous labels including Armin Van Buuren's Armada and Ultra Records. http://www.kristinasky.com/
Join Avalon on Saturday night to once again become one with the trance family!