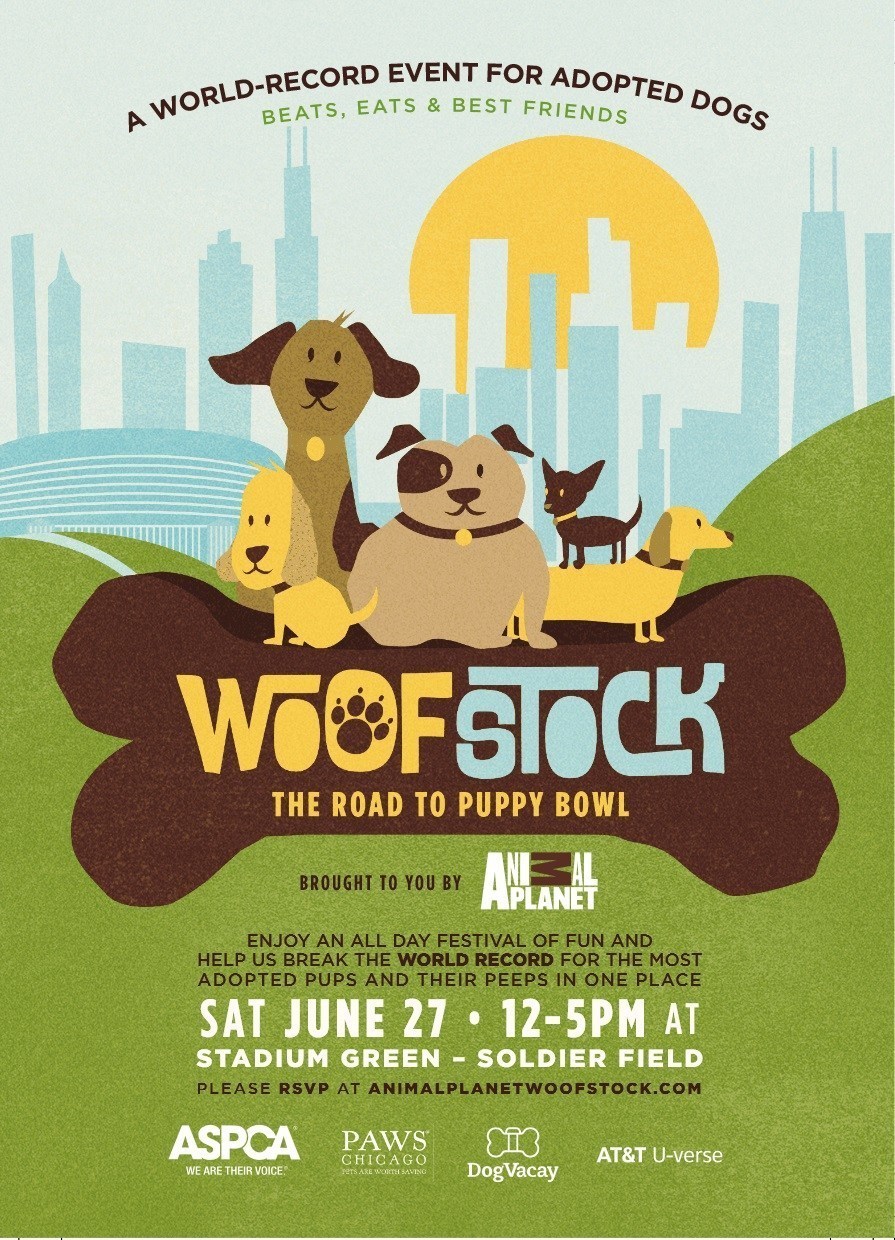 No city loves their pets more than the Windy City, so on Saturday, June 27, Animal Planet is hosting a free festival celebrating pet adoption in Chicago.  WOOFSTOCK: ROAD TO PUPPY BOWL is a free festival at the Stadium Green at Soldier Field from 12:00 PM to 5:00 PM and is open to the general public – and their dogs.
The event is headlined by an attempt to break the Guinness World Record for "largest gathering of adopted pets," at 2:30 PM. For specific rules and guidelines for the World Record attempt and to register for WOOFSTOCK please visit www.AnimalPlanetWoofstock.com. WOOFSTOCK is presented with special support from AT&T U-verse®, which carries Animal Planet on Channel 252 in SD/1252 in HD, as well as PAWS Chicago, the ASPCA® (The American Society for the Prevention of Cruelty to Animals®), Lagunitas Brewing Company, and DogVacay.
The main stage hosted by Eugene Mirman (Bob's Burgers) offers a full day of entertainment featuring Animal Planet stars; including MY CAT FROM HELL's Jackson Galaxy, PIT BULLS AND PAROLEES' Mariah, Kanani and Moe, Shaun Sears and Tom Otto from TREETOP CAT RESCUE; as well as some spectacular bands, including JC Brooks and Uptown Sound and The Suffers.  The day also offers additional surprises and animal attractions; including pet advice from Andrea Arden of DOGS 101, Extreme Pet Tricks, a Puppy Bowl reenactment, and special appearances by internet sensations Lil BUB and Manny the Frenchie.
Beyond the stage, WOOFSTOCK features an array of attractions, including "The Beer Sanctuary" presented by Lagunitas.  A collection of Chicago's finest food trucks also will be onsite to delight a diverse array of palates and appetites.  Four legged guests will have a ball with doggie obstacle courses, pet swag bags, and booths from PAWS Chicago, the ASPCA, and DogVacay.  Your dog also will have the photo op of a lifetime at the replica PUPPY BOWL field.
Throughout the event, homeless pets will take center stage, as PAWS Chicago hosts on-site adoptions featuring more than 40 dogs and puppies waiting to find their rock star families.  The WOOFSTOCK celebration continues throughout the weekend at PAWS Chicago's Lincoln Park and North Shore Adoption Centers, where Animal Planet will cover adoption fees for special "Rock Star" dogs and cats.   Check the PAWS Chicago website for details.
WOOFSTOCK is the culmination of a successful 17-city ROAD TO PUPPY BOWL tour that found forever homes for more than one thousand animals from Baltimore to San Francisco. So, mark your calendars today, as Animal Planet, the ASPCA® and PAWS Chicago will bring together thousands of Chicagoans, dog owners and pet lovers for an unforgettable event!
For updates leading into WOOFSTOCK visit Facebook.com/AnimalPlanet and Facebook.com/PuppyBowl. And, follow @AnimalPlanet on Instagram and Twitter for all #WoofstockAPL information.