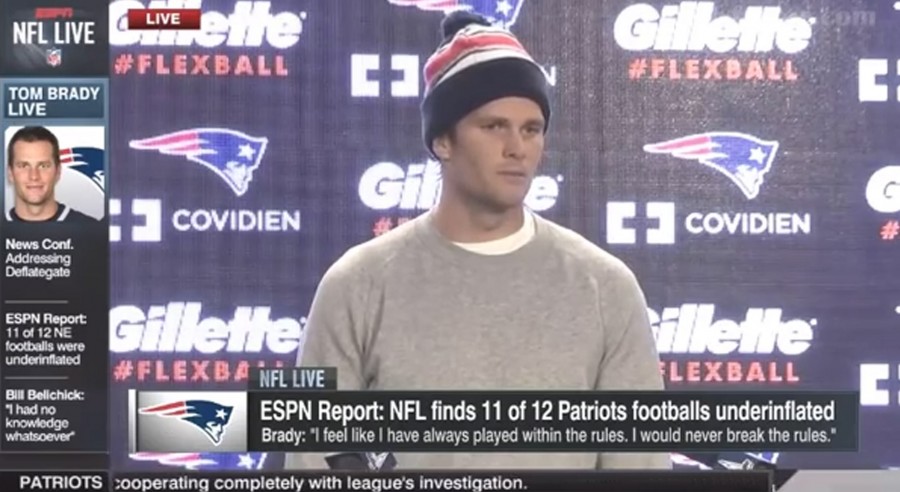 There's an old saying; "Cheaters never win and winners never cheat." Well, unfortunately for the NFL and the football public, a "cheater" did just win his fourth Super Bowl, and the "winner" did cheat.
4-time Super Bowl-winning quarterback Tom Brady of the New England Patriots, has been found guilty of having involvement in the "Deflate-Gate" cheating scandal, and has been suspended from the NFL without pay for the first four games of the season. The league also fined the New England Patriots $1 million and took away two draft picks as punishment for deflating footballs used in the AFC title game, as quoted in a statement Monday. The NFL also indefinitely suspended the two equipment staffers believed to have carried out the plan, including one who called himself "The Deflator."
Brady will miss the season's showcase kickoff game Sept. 10 against Pittsburgh, Week 2 at Buffalo, a home game against Jacksonville and a game at Dallas. He will return the week the Patriots face the Colts in Indianapolis. The statement released by the league said,"Quarterback Tom Brady will be suspended without pay for the first four games of the 2015 regular season for conduct detrimental to the integrity of the NFL, Brady may participate in all off-season, training camp and pre-season activities, including pre-season games." Tom's suspension comes 5 days after a 200+ page report came out, connecting the four-time Super Bowl-winning quarterback to the infamous Deflate-Gate scandal.
While the report holds no hard evidence of Tom's actual participation in the scandal, it does state that Tom was "generally aware" that "inappropriate activities" were going down. The NFL began their investigation into Deflate-Gate after the 2015 AFC Championship game between the New England Patriots and the Indianapolis Colts showed that the Pats' balls were severely under-inflated, making them easier to throw and catch. The NFL report, compiled by NFL investigator Theodore Wells, outlined a systematic cheating operation between New England Patriots employees Jim McNally and John Jastremski. The report found that "it is more probably than not" that Jim and John carried out multiple successful attempts to deflate the Patriots' game balls. Jim and John were caught, as text messages on their work phones showed the two conspiring. John offered money and goods to Jim in exchange for him to actually deflate the balls. Tom, who didn't surrender his personal cell phone to the investigation, wasn't caught texting these two. While being interviewed with sportscaster Jim Gray, the quarterback said, "I don't have really any reaction. It's only been 30 hours, so I haven't had much time to digest it, but when I do I'll be sure to let you know how I feel about it — and everybody else."