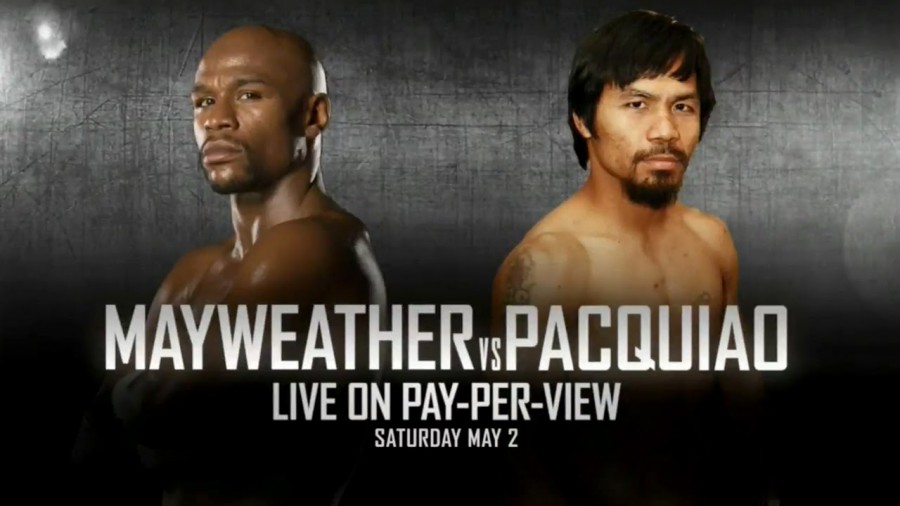 Floyd Mayweather kept his perfect record intact, unanimously defeating Manny Pacquiao (57-6-2 with 38 KO) over twelve rounds in the most lucrative fight in boxing history. At 48-0 (26 KO), Mayweather is the undisputed welterweight champion and by means of an undefeated record, has to be considered the best boxer pound for pound today.
The massively hyped fight before a star-studded crowd of 16,507 was anything but dramatic. It had been touted as "the fight of the century," but by most accounts, it was closer to "the bore of the century."  And although Mayweather was named the winner of the bout, clearly there were two winners, because "Money" Mayweather is guaranteed 60% of the total gross and Pacquiao 40%. Mayweather pulled a check from his pocket after the fight to show off that it was for $100 million and said, "The check got 9 figures on it baby!" That figure could double after all the revenues are tallied. Everybody else who plunked down $99.95 for this over-priced sparring match, were the real losers. Some even called it a "pay-per-snooze" event.
The truth of the matter is; this fight was 6 years overdue and when it finally happened, it was a fight between two aging and past-their-prime fighters. With hopes of this match reviving a dying fight game, that notion failed, and instead has put it on life support. The promoters fooled millions into thinking that this was actually going to be a competitive fight, when everybody who has followed either of these fighter's careers should have known better. Mayweather is the master of the hit-n-run tactic, which is why he has been so successful. He'll land enough punches to win on points, while avoiding his opponent's punches for most of the 12 rounds. And Pacquiao was not quick enough at this point of his career to catch Mayweather and do any real damage. Judge Dave Moretti scored the fight 118-110 while judges Glenn Feldman and Burt Clemens had it 116-112. Like I said; just enough to get the win.
The fight will certainly shatter revenue records. With a live gate of $74 million and the largest pay-per-view audience, organizers are expecting to generate $400 million. A rematch of these fighters after such a disappointing showing, would hardly bring in the interest or revenue of this fight, simply because; "fool me once, shame on you. Fool me twice, shame on me." Mayweather has one more fight left on his Showtime contract, and has openly said that it will be his last match. Based on this last performance, fight fans may not even notice.
By Kyle Edwards