Photo: http://www.bbking.com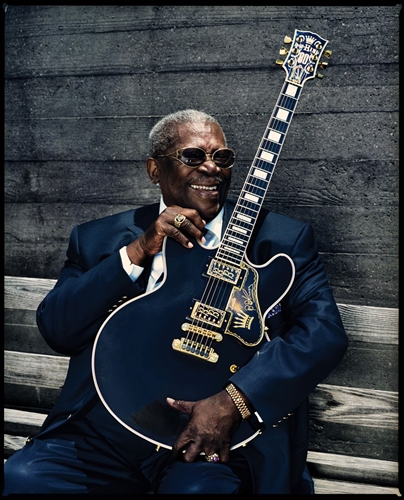 Let the back-stabbing begin… Two B.B. King heirs who've been most outspoken about the blues legend's care in his final days have accused King's two closest aides of poisoning him, but the attorney for King's estate called the claims ridiculous and police said there was no active homicide investigation.
Three doctors determined that King was appropriately cared for, and King received 24-hour care and monitoring by medical professionals "up until the time that he peacefully passed away in his sleep," attorney Brent Bryson told the AP on Monday. Daughters Karen Williams and Patty King allege that family members were prevented from visiting while King's business manager, LaVerne Toney, and his personal assistant, Myron Johnson, hastened their father's death. Toney is named in King's will as executor of an estate that, according to court documents filed by lawyers for some of King's heirs, could total tens of millions of dollars.
Johnson was at B.B. King's bedside when he died May 14th in hospice care at home in Las Vegas at age 89. No family members were present. "I believe my father was poisoned and that he was administered foreign substances," Patty King and Williams say in identically worded sections of affidavits provided to the Associated Press by their lawyer, Larissa Drohobyczer. "I believe my father was murdered," they say.
Clark County Coroner JohnFudenberg issued a statement Monday saying there was no immediate evidence supporting the murder allegations, and Las Vegas Police Lt. Ray Steiber told the AP that there was no active homicide investigation. Toney and Johnson each declined to comment on the accusations. "They've been making allegations all along. What's new?" said Toney, who worked for King for 39 years and had power-of-attorney over his affairs. A week before King's death, a judge in Las Vegas dismissed a request from Williams to take over as King's guardian. An April 29 petition alleged that Toney had blocked King's friends from visiting him and had put her family members on King's payroll. It also alleged that large sums of money had disappeared from King's bank accounts. But Clark County Family Court Hearing Master Jon Norheim said on May 7 that police and social services investigations in October and April uncovered no reason to take power-of-attorney from Toney. Williams, Patty King and another daughter — Rita Washington — vowed to keep fighting. "We lost the battle, but we haven't lost the war," Williams said then.