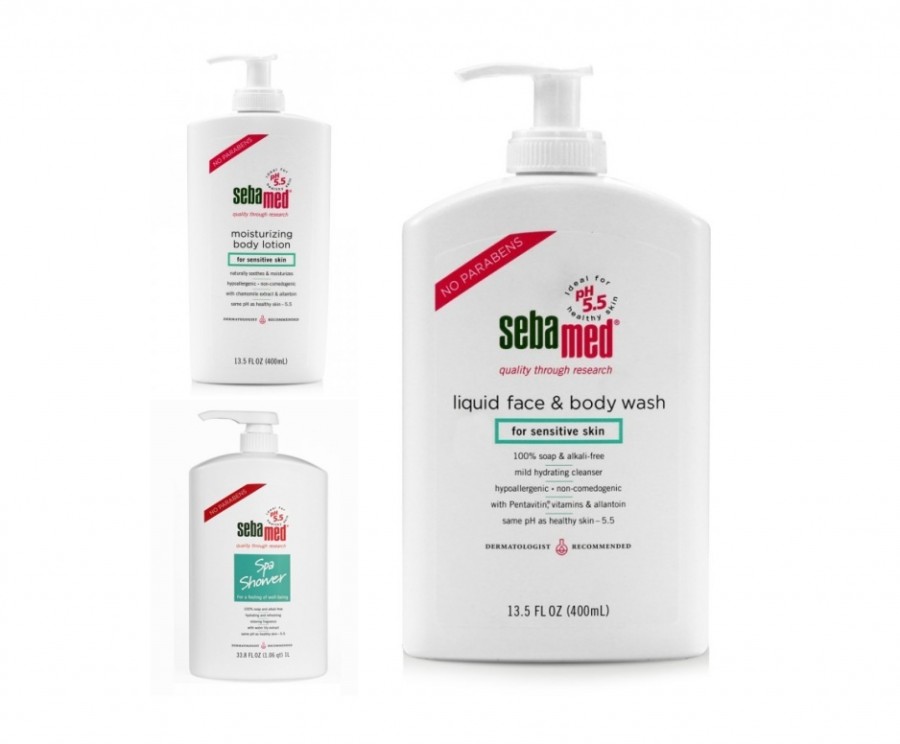 For people with sensitive skin… try: The new Liquid Face & Body wash w/ PUMP from SebaMed.
The dermatologist developed Sebamed Liquid Face & Body with pump is highly recommended for people with eczema, dry skin and acne.
Paraben-Free, this ultra-mild formulation is compatible with the most sensitive of skins. It works to deep-clean pores without causing dryness or irritation as regular soap can. Fortified with a natural moisturizing complex of vitamins and soothing allantoin, it rinses away completely for healthier, smoother, hydrated skin.
Body Lotion w/ PUMP is dermatologist developed. This nourishing, non-irritating formula is suitable for the most sensitive of skins. Rapidly absorbed and non-greasy, it restores your skin's moisture balance, providing natural protection from the elements. Enriched with chamomile extract and allantoin to soothe and moisturize. Regular use tones the natural elasticity of your skin for a more youthful, healthy appearance. 400 ml
Price: $19.95
Spa Shower
Soap and alkali-free, this Water lily extract is known for its relaxing fragrance and hydrating capacity. Combined with mild wash active ingredients, a balanced skin care complex and allantoin the skin is moisturized and refreshed during cleansing, leaving it soft and perceptibly smoother to the touch. Adjusted to the physiological pH value of 5.5 the skin is safeguarded from lipid erosion, offering a high level of skin tolerance and protection against dryness and irritation. The pH value of 5.5 strengthens and stablizes the ecological balance of the skin's acid mantle promoting its vital barrier function. Dermatologically tested.
Price: $14.95
The Science Behind Healthy Skin: Every sebamed product is meticulously formulated to a pH balance of exactly 5.5 – precisely the pH of healthy skin. This is essential in maintaining your skin's natural hydrolipid barrier against environmental stress. Any other pH level, such as found in soap may leave your skin open to break-down and deterioration. Clinical studies have already shown — pH 5.5 is vital for healthy skin.
To learn more visit: http://www.sebamedusa.com