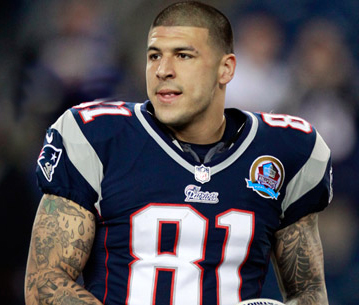 On June 17th, 2013, 27 year-old landacaper and amateur football player, Odin Lloyd was shot six times in an industral park. The park was very close to Former New England Patriots star Aaron Hernandez. At time time, Lloyd was dating the sister of Hernandez's fiancee.
Two years later, 25 year-old Hernandez is convicted of first-degree murder and sentenced to life in prison. His promising career, which once landed him a $40 million football contract has now crumbled. 
The verdict was read after a jury deliberated for 36 hours over seven days. Hernandez was also found guilty on multiple weapon charges. 
So what connected Hernandez to the murder? Police officials had found the key to a car which the NFL player had rented in Lloyd's pocket. More evidence in the form of security footage inside Hernandez's home showed him holding what appeared to be a gun less than 10 minutes after Lloyd was killed.
Photo: https://consumermediallc.files.wordpress.com