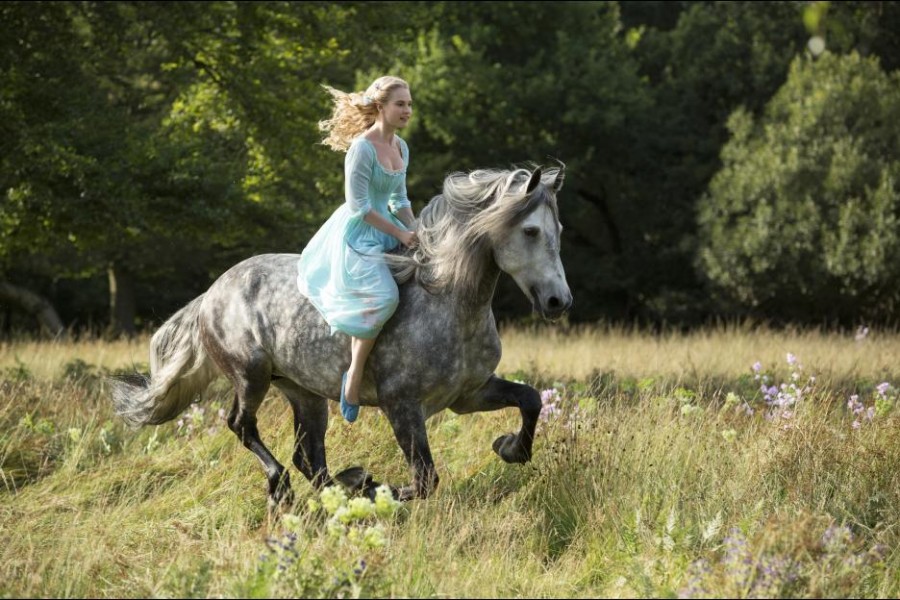 Photos: Walt Disney Pictures
In the past several years, Disney has done an impressive job of revamping adaptations of fairy tales friendly for all ages. Just last year, they morphed the story of "Sleeping Beauty" into the dark and fantastical "Maleficent." In 2016, "The Jungle Book" will come back to life in live action form. Now Disney has rolled out the royal carpet, reintroducing the timeless tale of "Cinderella." Between Kenneth Branagh's directing ("Hamlet," "Thor"), Dante Ferretti's ("Hugo") magnificent production design, Sandy Powell's elaborate costumes ("The Wolf of Wall Street," "The Tempest") and a cast that fits just as perfectly as the glass slipper fits Cinderella, this rejuvenated fairy tale is enchanting, magical and visually stunning from start to finish.
In many ways, screenwriter Chris Weitz ("About A Boy") drew aspects from Walt Disney's 1950 animated musical film "Cinderella," as well as the earliest-known version of the fable. It was refreshing to see that the entire production and creative team remained loyal to the beloved animation, while still finding a way to add their own twist. The return of familiar animal characters certainly stirs a pleasant nostalgia for audiences who were so fond of the 1950 rendering. Gus and his entire crew of mice are back, along with Lucifer, the evil cat.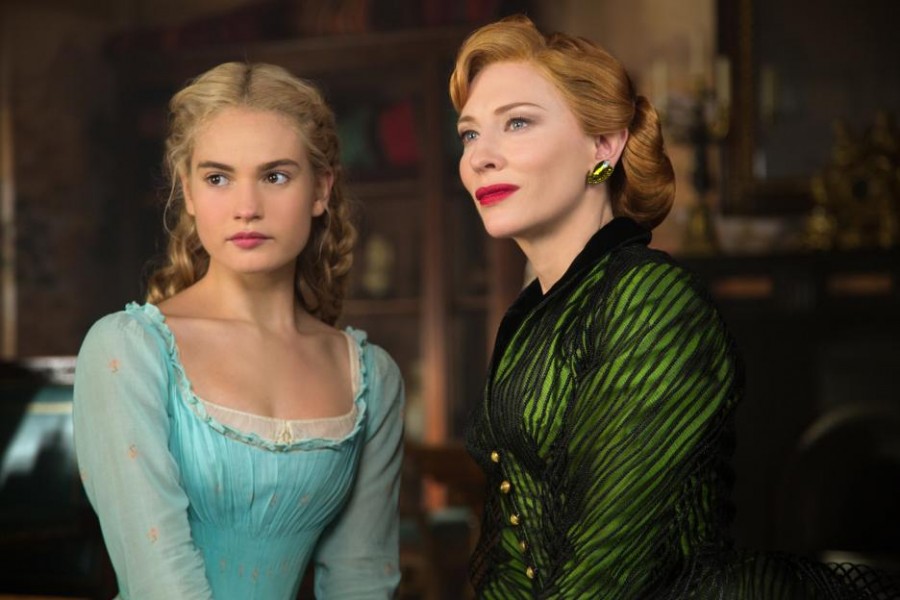 From the start, it is clear that there is a depth to each character, which makes the film for both adults and children alike. We first meet the young Ella (Eloise Webb) who lives a positively merry childhood with her adoring parents (Ben Chaplin, Hayley Atwell). A dark shadow is cast over their home as soon as Ella's mother grows sick and passes away. The years go by and Ella (Lily James) blossoms into a beautiful young lady, still filled with optimism; seeing the world through rose-colored glasses. But once her father welcomes a new 'mother' figure into their home, Lady Tremaine (Cate Blanchett), along with her two vicious daughters (Sophie McShera, Holliday Grainger), everything changes for the worst. And from here, most know how the story goes… Ella becomes Cinderella, the maid to her wicked step-mother.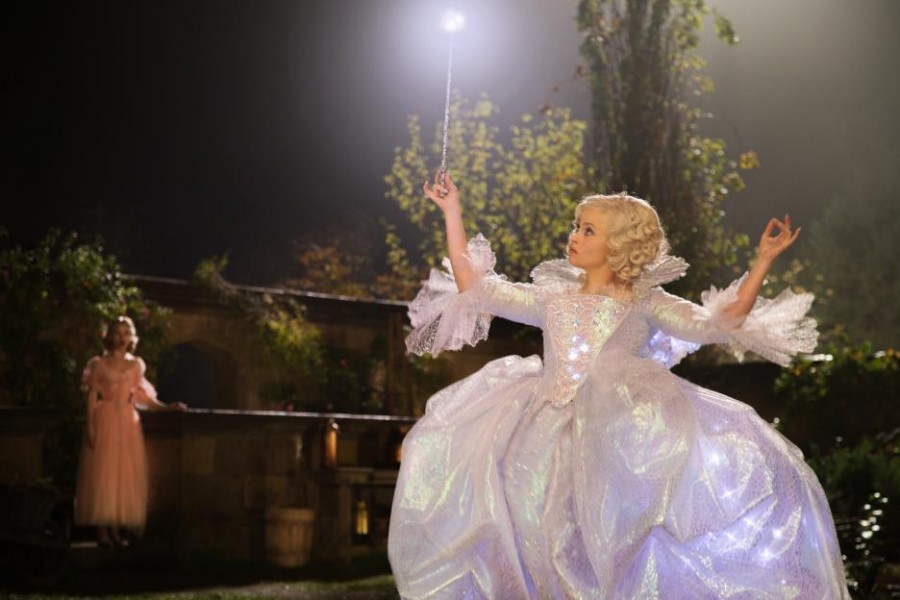 Good casting is always vital when a studio is reworking a tale that is already embedded in all of our minds. Disney and director Kenneth Branagh made all of the right choices. Newcomer, Lily James could not be more enchanting in the title role. She brings a delightful naiveté to Cinderella, embodying the character's inner and outer beauty, and kindheartedness. Once best known for the gritty TV series "Game of Thrones," Richard Madden has made another mark in his major feature film debut as Prince Charming. Branagh and Weitz gave Madden a lot more to work with; from the Prince's relationship with the King (Derek Jacobi), to his growing affection for Cinderella. Madden was not just a pretty face, but gave an equally meaningful performance. And while Cinderella is always the main draw, when Cate Blanchett fills the screen in the role of the wicked step-mother, heads will turn. For once, Lady Tremaine was given a backstory, which Blanchett electrified on screen. The supporting cast is just as wonderful, from Helena Bonham Carter's whimsical portrayal of the Fairy Godmother, to McShera and Grainger as the obnoxious Drizella and Anastasia. Branagh reunited with Stellan Skarsgard, who was wonderfully vile as the dishonorable Grand Duke.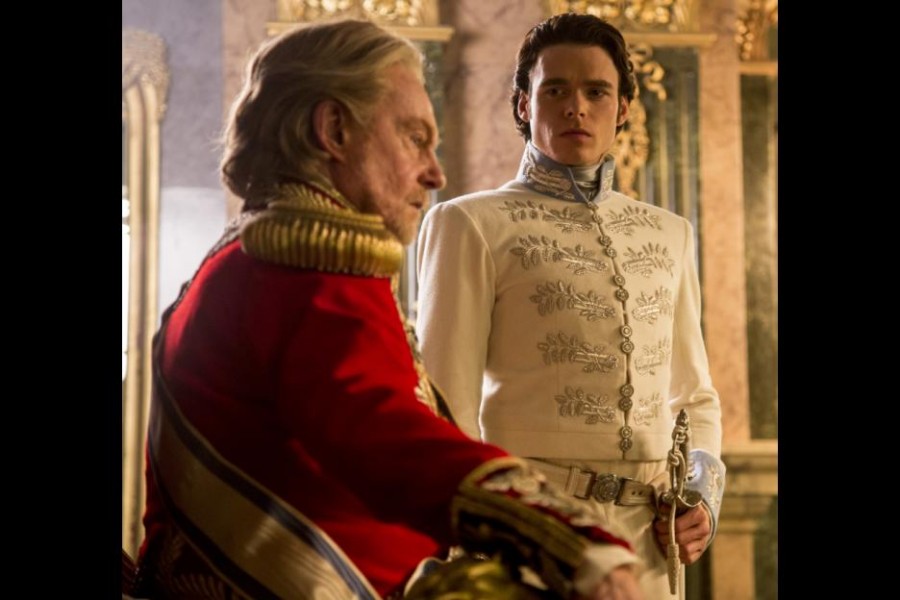 Every aspect of the film is the perfect recipe for a magical success. Together, Haris Zambarloukos' beautiful cinematography, Dante Ferretti's vibrant production design and Sandy Powell's costumes created a colorful kingdom that whisks the moviegoer away to another world for 112 minutes.
Disney's "Cinderella" is truly a fairy tale adaptation at its best. If you wish to smile from ear to ear, this is the ball to attend. In theaters March 13th.
By Pamela Price
Running Time: 112 Minutes
Rated PG for mild thematic elements