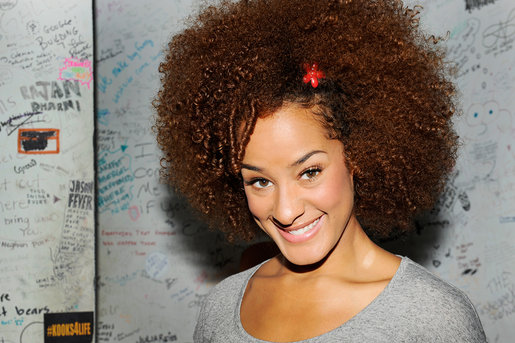 Photos: Jeffrey Thurnher/Oxygen
This week, LATF is counting down to the premiere of Oxygen's newest reality series, "Funny Girls," premiering Tuesday, April 7 at 9 PM ET/PT. As the show is all about women in comedy, especially in the Los Angeles scene, we are placing the spotlight on each star of this hilarious adventure – and we're doing it 'Instagram' style. Every day of the week, we've paired a 'funny girl' with an 'oh so popular' hashtag. First up on this fine #MotivationMonday… meet, Calise Hawkins! This stand-out, stand-up beauty is originally from Springfield, Illinois. She's appeared on TV shows, such as "Late Night with Jimmy Fallon" and "Totally Biased with W. Kamau Bell." As a writer, Calise's work was featured on Whoopi Goldberg's pilot, "Spoil Me Mad." Opening for comic superstars, from Chris Rock to Tracy Morgan, Anthony Anderson and Damon Wayans; Calise is now stepping center stage. Just like her comedy, her interview is refreshingly candid….
In the theme of #MotivationMonday, what motivated you to pursue comedy?
Calise: My motivation started off as a self-serving pursuit of instant gratification. I was depressed as a student actress with so many mass headshot mailings and so little hope of working. I liked the idea that with stand-up, I could write a joke, go to an open mic, perform and find out immediately if I was any good. I lived on transient feelings of validation.
I didn't care about my future, I just wanted to feel alive. I wanted to challenge people. I wanted to know why everyone else seemed so much happier than me. Then I wanted to tell them they are all liars. I just wanted to be an artist. I read everything I could find about Andy Kaufman and I became enchanted with the idea of living such a backwards, unpredictable, passionate and reckless lifestyle. So I did that. And I got pregnant. Of course I did. That's what people who don't plan things do. Unplanned parenthood. So far so good. Having a kid by myself hasn't been the end of the world. Actually, for the first time in my life I had a reason to care. A reason to make better plans. I've never cared much for myself, but I'm learning how through the actions of caring for my daughter. She was a clean slate that didn't deserve all of the anger I'd built up towards the harshness in the world. I softened. I made room for her feelings and other people got in. I realized we are all in this life together.
Now I just want to connect with people and ask them if they are scared like me. I'm scared I won't have money for rent, I'm scared I won't get my daughter the best education, I'm scared I can't afford to get her a good babysitter, and I'm scared she won't have the healthiest food. I'm scared of the responsibility of being a mom. So I try hard to summon some maturity and pull my sh*t together. I work at making myself a reliable person so that comedy can be an actual career and not just a hobby of distraction. My goal now is to succeed in whatever comes next. My motivation is being a good mom.
You worked with and took advice from a mentor on "Funny Girls." Who was it and what did you learn from the experience?
Calise: I was given advice from Loni Love. She told me to try to err on the side of doing a clean set because in Hollywood there's always someone in the crowd who might want to book you for television which needs to be clean.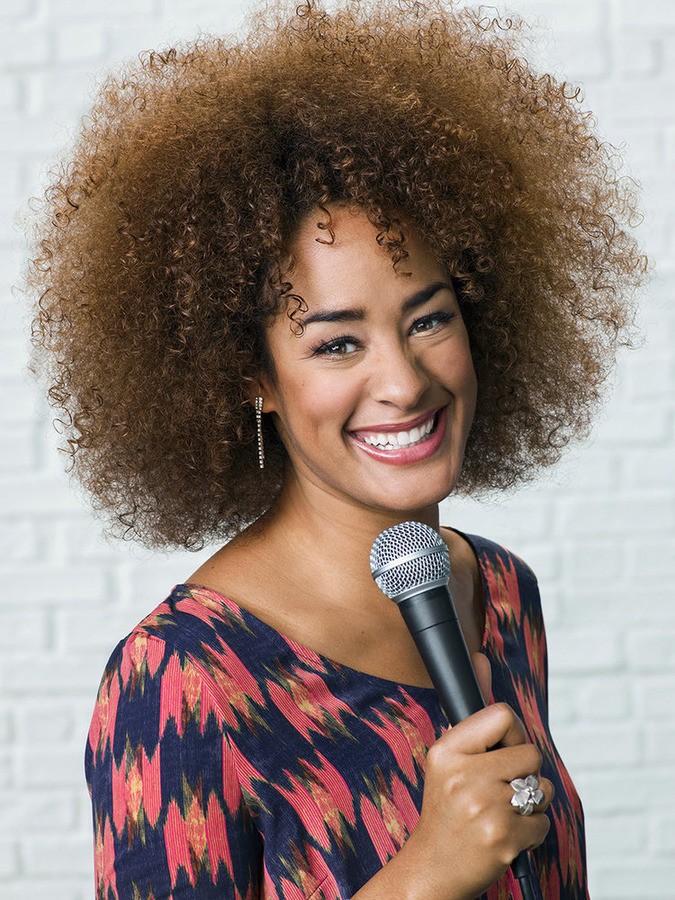 Comics and artists go through many phases in their craft and career. Can you describe the place in which you are at now in your comedy, as far as material?
Calise: I just feel it out. We all start off trying to make a point. I've gotten good at showing how I feel about something. People understand feelings a lot easier than points. They might not agree, but they laugh because they feel it.
It can't be easy to have cameras follow you around, what drove you to do "Funny Girls?"
Calise: I felt like I was at a standstill in my career. I genuinely feel that a guy as funny as me would be a lot further along. I'm not saying I'm a genius, I'm just saying I get the job done, so f*cking hire me. These people came along and said they heard the same thing I was feeling about myself and  about women in comedy. They said they wanted to change that. So yes, it was hard to agree to have a camera in my face. But failing to take a chance was too big of a risk.
Create your own Calise Monday hashtag for social media… It can be anything!
Calise: #selfishy — Definition: a #selfishy is a surprise selfie you take with a friend without giving them time to pose sexy like you. It's selfish 😉
By Pamela Price
Follow Calise: @CaliseHawkins
http://www.oxygen.com/funny-girls