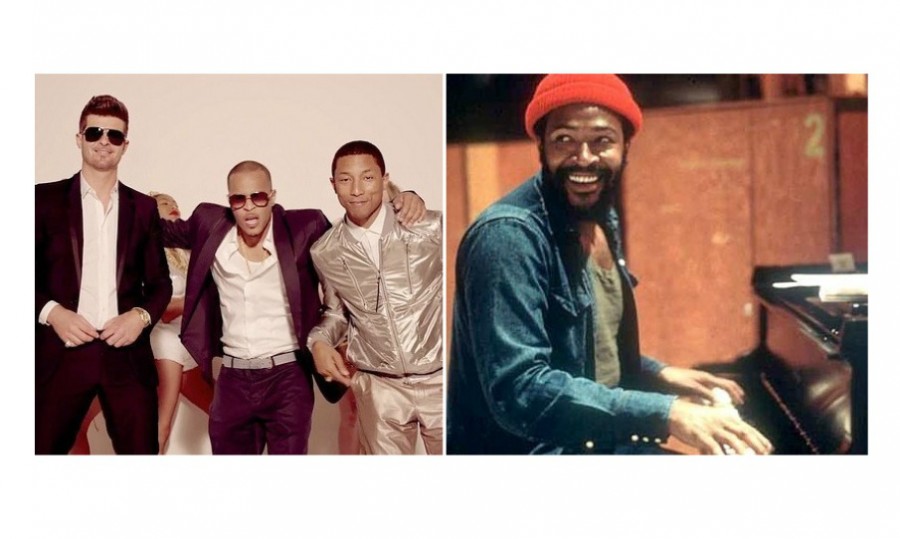 Good artists borrow. Great artists steal. On Tuesday, a California federal jury delivered its own message to artists everywhere that inspiration can rise to copyright infringement. The verdict was reached after eight days of trial testimony examining whether Robin Thicke and Pharrell Williams' "Blurred Lines," one of the most successful songs of the young century, was improperly drawn from a soulful hallmark from the prior one — Marvin Gaye's 1977 hit "Got to Give It Up."  
Ultimately, a jury comprised of five women and three men heard dueling opinions regarding "Blurred Lines" and decided to order Thicke and Williams to pay $4 million in copyright damages plus profits attributable to infringement, which for Thicke was determined to be $1.8 million and for Williams was determined to be $1.6 million. Richard Busch, attorney for the Gaye family, said he is seeking an immediate injunction to halt sale and distribution of the song "Blurred Lines." He said he will file the official paper work by next week. He said it is typical in these cases that leads to a settlement out of court. Howard King, attorney for Williams and Thicke, said because the jury did not find that any of the labels infringed, he thinks they will have hard time getting any such injunction.
The hardly predictable outcome over a song that made more than $16 million in profits will resonate in the music industry, where copyright lawsuits are commonplace, but few such suits ever make it to trial. Most never get past the summary judgment phase because judges carefully draw the line on any lawsuits alleging misappropriation of nonprotectable ideas. The highest-profile disputes like the one between Tom Petty and Sam Smith over "Stay With Me" usually settle.
Not only did the "Blurred Lines" case go the distance, but both sides brought esteemed entertainment litigators to convince the jury. In closing arguments, Busch raised the issue of Thicke's credibility, telling jurors, "What it boils down to is, 'Yes, we copied. Yes, we took it. Yes, we lied about it. Yes, we changed our story every time.' … It boils down to this: Who do you believe? … Are you going to believe Robin Thicke, who told us all he's not an honest person?" In what might now be the landmark legal controversy over songcraft, the jury decided that Thicke and Williams infringed both songs. The two were only punished $9,375 for "Love After War," but it will be the multimillion dollar verdict regarding "Blurred Lines" that will echo through the ages.