Photo: www.sfspca.org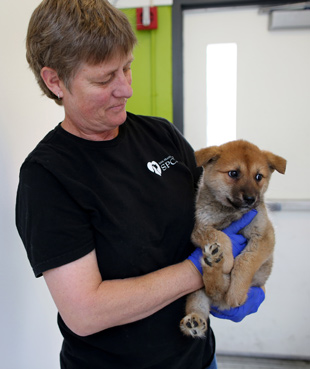 Fifty seven dogs and puppies have been rescued from a dog meat farm by Humane Society International and Change for Animals Foundation in South Korea.
The dogs are now on their way to new lives in Northern California. The dogs range from beagles, poodles, and Korean Jindos to large Tosas and have spent their entire lives in small, filthy, crowded cages exposed to all weathers on the farm, waiting to be killed for their meat.
The dogs began arriving on March 16 into San Francisco, and are being sheltered at the San Francisco SPCA, which will evaluate and treat the animals for any medical issues.
Many will be transferred to HSI Emergency Placement Partners East Bay SPCA, Marin Humane Society and Sacramento SPCA to find the dogs homes. Media members are invited to watch the transfer on Friday, details below.
Adam Parascandola, HSI's director of animal protection and crisis response, said: "These lucky dogs will live the rest of their lives as valued and treasured members of a forever family in the United States. These amazing animals are full of character, and will make loving and loyal companions. But millions more dogs back in South Korea will die for dog meat, so our work will continue, to shut down more farms and call for an end to this cruel trade. With the Winter Olympics coming to Seoul in 2018, we have a clear opportunity to end the dog meat trade as the world focuses on South Korea."
Jennifer Chung, vice chair of the SF SPCA Board of Directors, said: "These incredible animals have survived unthinkable conditions and suffering as part of the dog meat industry. They deserve to spend the rest of their lives in loving homes. We are honored to be part of this project, which will increase awareness of the cruel dog meat industry. Ultimately, we're hoping to completely end the practice of consuming dogs as food."
Allison Lindquist, president/CEO of the East Bay SPCA, said: "The East Bay SPCA is pleased to partner with other local animal welfare organizations to get these dogs any medical care they need, and into loving homes."
Nancy McKenney, CEO of The Marin Humane Society, said: "Welcoming these dogs who've endured so much falls right in to our mission of saving animals, whenever called upon."
Rick Johnson, Sacramento SPCA CEO, said: "We are honored to partner with HSI to change the lives of these specific dogs forever and hopefully bring change to those countries that choose to have dogs on their dinner plates instead of having them as valued companions and family members."
HSI worked with the farmer to shut his doors for good and remove the dogs for rehoming in the U.S. As part of the plan, he signed an agreement with HSI to permanently close down the dog meat property and move into a new humane livelihood in crop farming. HSI will follow the farmer's progress to ensure compliance.
In January, HSI and Change For Animals Foundation rescued 23 dogs from a South Korean dog meat farm, and worked with the farmer to convert to growing blueberries. All those dogs are now living in the United States with new families or undergoing rehabilitation with HSI's Emergency Partner Shelters.