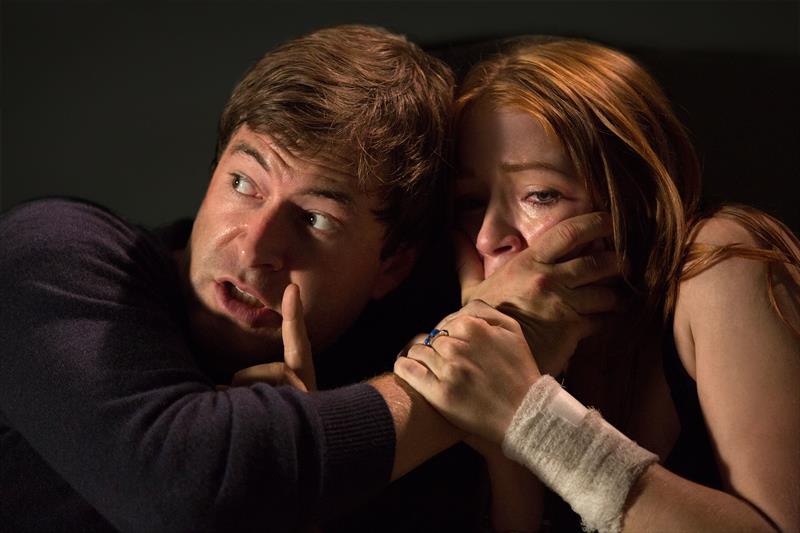 Photos by Relativity Media, Daniel McFadden
In last year's Luc Besson sci-fi summer thriller, "Lucy," Scarlett Johansson's character is able to access 100% of her brain after taking a substance called CPH4. Twist that concept into a science experiment; add some demonic traits and you have "The Lazarus Effect;" the latest horror film from Blumhouse Productions. Documentary director, David Gelb ("Jiro Dreams of Sushi") and co-writers, Jeremy Slater ("Fantastic Four") and Luke Dawson ("Shutter) properly follow the "and then there was one" scenario; hitting the blood-curdling bullseye. This 83-minute fright ride is well cast with impressive petrifying special effects, makeup and all the right scares around all the right corners.
In a culture obsessed with zombies and super-natural elements, "humans coming back from the dead" is an incredibly popular storyline. In this case, a group of researchers led by Frank (Mark Duplass) and his fiancée Zoe (Olivia Wilde) are working 24/7 on a revolutionary resuscitation grant experiment that essentially brings the dead back to life. Just as the young scientists finally succeed in resurrecting a dog, their project is unexpectedly shut down. Refusing to walk away from four years of painstaking work, the team of five sneak back into their lab to duplicate their victorious canine revival. But one electric shortage and an accidental electrocution changes them forever.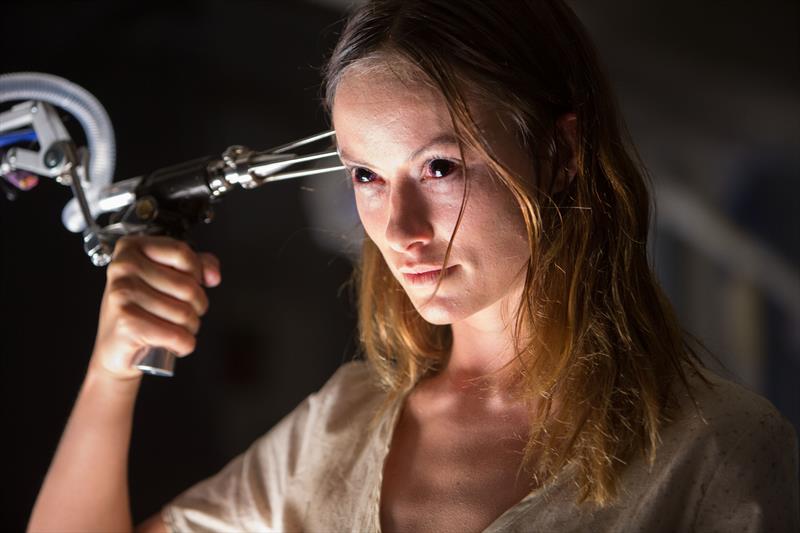 Who knew the stunning actress and face of Revlon could make for such a terrifying demon? After Olivia Wilde's character is electrocuted, her fiancé is determined to bring her back with their very own experiment. Moments later, Zoe's heart is pumping again, but her brain activity is abnormal. Reading minds, moving objects, transporting others into her nightmares. The lab is quickly transformed into a hunting ground for Zoe's new demonic persona.
"The Lazarus Effect" has everything a good horror film needs, from the comic relief, wonderfully delivered by Evan Peters ("American Horror Story") to the naive and heroic pretty girl, Sarah Bolger ("Once Upon A Time"). Indie king filmmaker and actor, Mark Duplass is great as the workaholic scientist. Donald Glover ("Community") does a fine job playing Niko, the sweet sidekick with good morals. But the real kudos go to Olivia Wilde for juggling "hot girl" and "horrifying demon." With the help of special effects makeup designer, Justin Raleigh, Wilde turned into a devilish fiend.
Director, David Gelb has all the right hair-raising tones, from the insane asylum neon lighting to the jump scares.
For some guaranteed screams, seat-jumping and sleep deprivation, "The Lazarus Effect" does the trick.
By Pamela Price
Rated PG-13 for intense sequences of horror violence, terror and some sexual references