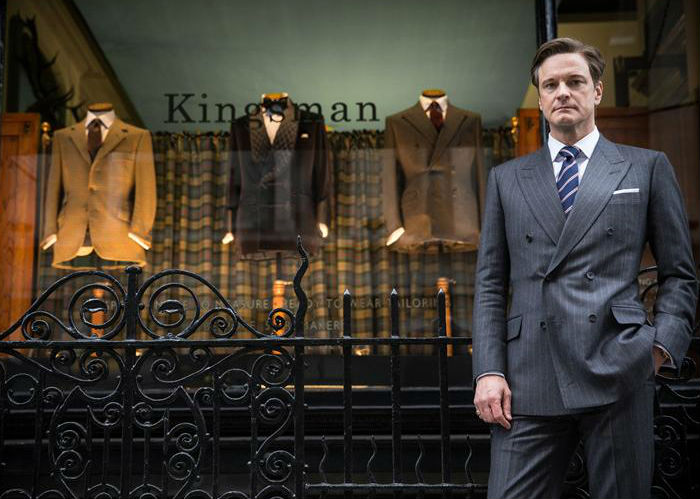 Photos: 20th Century Fox
After subverting the superhero stereotype with the exceptionally raunchy "Kick-Ass," writer-director Matthew Vaughn is now taking aim at the classic British spy with "Kingsman: The Secret Service," starring Colin Firth, Samuel L. Jackson, Michael Caine and Taron Egerton.
Based on the comic book by Dave Gibbons and "Kick-Ass" creator Mark Millar, this insanely enjoyable spy action comedy is a throwback to vintage Bond films, an origin story and a hyper-violent action romp all rolled into one. Whether it's the visually arresting action sequences, the sidesplitting dialogue and sight gags, or the go-for-broke performances from the largely British ensemble, "Kingsman" offers audiences plenty of reasons to indulge in this explosive genre hybrid.
Once you get past that silly title, you'll learn that Kingsman is an independent, super-secret spy agency that doubles as a tailor shop on London's ritzy Savile Row. Decked out in bespoke suits and wielding gadgetry that James Bond would drool over, the highly trained agents comprising this organization are a benevolent bunch out to save the world from evil forces.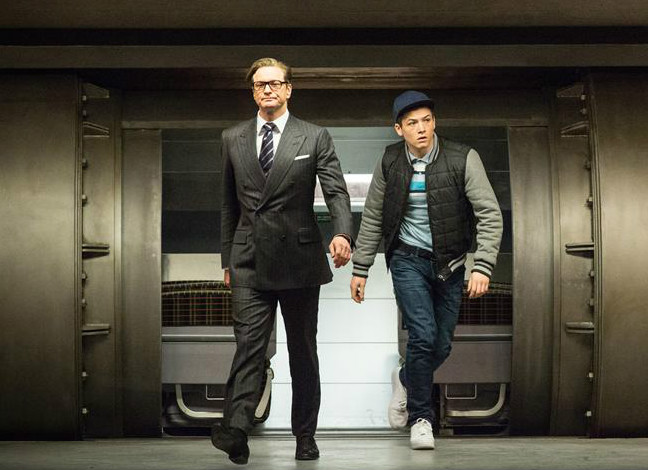 After a military training exercise leaves one agent dead during an electrifying opening scene set seventeen years earlier,  "Kingsman" moves to present day, where the agent's son, Eggsy (Taron Egerton), is now a dead-end kid living with his mom. When Eggsy ends up behind bars for taking a local punk's car on one hell of a joyride, he calls an emergency phone number handed down by Kingsman for his father's loyal service. That number belongs to Harry Hart (Colin Firth), a sophisticated spy who comes swooping to the rescue with an offer for Eggsy to join Kingsman – that is, if he can survive their rigorous training program.
While Eggsy undergoes a series of grueling tests, going head to head with some of Britain's most elite candidates, Harry dives into his latest bizarre assignment. Several prominent world leaders and academics have mysteriously vanished, and Harry strongly suspects the culprit is the infamous Richmond Valentine (Samuel L. Jackson), a diabolical tech-billionaire hell-bent on world domination. As Eggsy makes his transformation from slum kid to gentleman spy, Harry enlists his help in hopes of foiling Valentine's master plan.
With his fifth film behind the camera, director Matthew Vaughn proves himself to be among the edgiest filmmakers working in mainstream cinema. Starting off as a producer on Guy Ritchie's "Lock, Stock and Two Smoking Barrels" and "Snatch" before making his directing debut with the delirious "Layer Cake," Vaughn's latest showcases his vast genre knowledge and willingness to experiment, creating something uniquely his own. Along with cinematographer George Richmond and editors Eddie Hamilton and Jon Harris, Vaughn stages mind-blowing action sequences that are as logistically impressive as they are cartoonishly amusing. Standout scenes include a skydiving test gone awry, a darkly funny bloodbath at an extremist church, and the final showdown at Valentine's secret lair.
Vaughn's screenplay, co-written with Jane Goldman, may be a bit too cheeky and self-referential at times, but the doomsday scenario manages to keep audiences invested, however absurd it may be, and there are plenty of laughs and surprises along the way.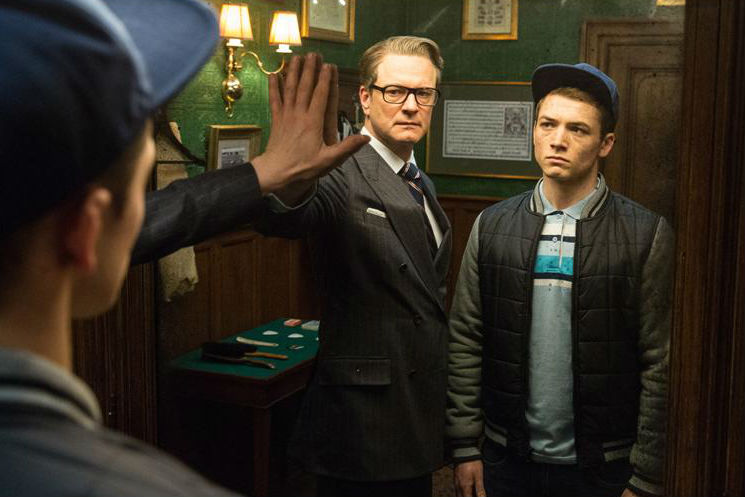 In a stroke of casting genius, Colin Firth is magnificent as suave spy Harry Hart. On the surface, it may seem like an obvious choice, as Firth is not just the prototypical English gentleman, he's also played a spy before ("Tinker, Tailor, Soldier, Spy"). What sets this role apart from the others is the sheer amount of martial-arts style butt-kicking the action scenes require, and Firth pulls it off like he was born with a black belt.
As the unfortunately named Eggsy, newcomer Taron Egerton is sure to turn heads with his rugged charm, spot-on comedic timing and impressive athleticism. Expect to see plenty of him in the future. And let us not forget American treasure Samuel L. Jackson, a man who has elevated the art of swearing to Shakespearean heights. Yes, you've seen him in similar roles to the bonkers billionaire he plays here, but not with a goofy lisp, and never this flat out crazy.
"Kingsman" is unlikely to win over the female demographic, so for all the single guys out there looking for a Valentine's Day antidote, this one's for you.
By Lucas Mirabella
Rated R for sequences of strong violence, language and some sexual content.
Running Time: 129 minutes