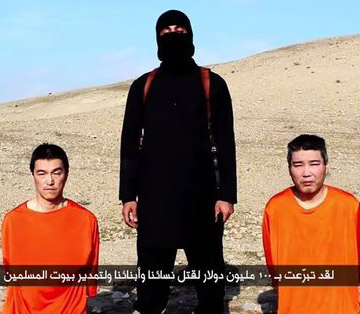 Photo: Youtube
Japan is the latest victim threatened by ISIL. On Tuesday, a video surfaced showing that familiar masked man in black garb speaking in a British accent, standing alongside two hostages in orange jumpsuits.
The Islamic State have threatened to kill two Japanese hostages if they do not receive $200 million in ransom pay within 72 hours.
In response, the Japanese Prime Minister Shinzo Abe said "Their lives are the top priority. It is unforgivable. Extremism and Islam are completely different things."
The militants blame the Japanese government for aiding the fight against the Islamic State. Shinzo Abe made a statement regarding helping Iraq's government and helping to aid Syrian refugees.
The video is a similar setup as when American hostages James Foley and Steven Sotloff, and British hostages David Haines and Alan Henning were brutally beheaded.

British photojournalist John Cantlie is still being held hostage by the Islamic State militants.