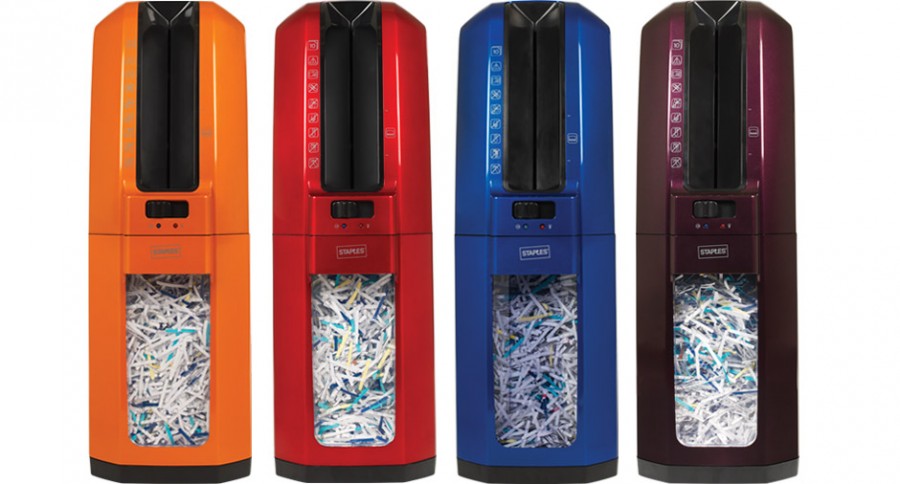 Don't forget about your New Year's resolution so fast (as many do). Sure, plenty of people set the common goals of losing weight, eating healthier, quitting smoking, etc., etc. but there's also the resolution of cleaning up that mess around your home and office. It's time to get rid of those piles of old papers sitting around!
Enter the ultimate solution to making more space: Staples® Space-Saver 10 Sheet Cross-Cut Shredder from Staples.
By reducing the size of the shredder, it is now possible to store right under your desk. The Space-Saver 10 Sheet Shredder can be integrated into any office space with five fashionable colors to choose from. There are so many shredders that add more stress to your life, rather than reduce. The 10 Sheet Cross-Cut element is worry-free so you don't have to fret about jams. 
– With a vertical paper feed and an easy-empty waste bin, Staples Space- Saver 10 Sheet Cross-Cut Shredder makes work easier for the on-the-go business person.
– The slim design and sleek profile makes it easy to place under a desk or in a small area of a business or home office.
– Choose from a wide array of color options including black, metallic blue, metallic red, metallic plum, or metallic orange to match your office space
Price: $149.99
To purchase, visit www.staples.com or your local Staples.