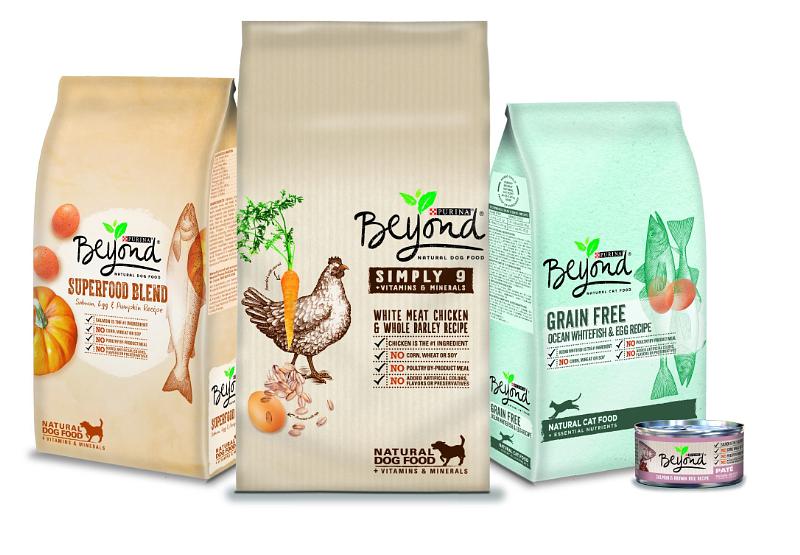 Purina is giving pet owners a new natural pet food option for their four-legged friends called Purina® Beyond®. Purina Beyond uses real, recognizable, natural ingredients you know and trust, plus essential nutrients. All Beyond dry recipes are made with real meat, poultry or fish as the number one ingredient. All Beyond recipes contain no corn, wheat, soy, poultry by-product meal or added artificial colors, flavors or preservatives.
Created by a team of in-house pet nutritionists, Purina Beyond offers limited ingredient recipes, superfood blend recipes containing nutrient dense ingredients like salmon, sweet potato, pumpkin or cranberries, and grain-free, protein-rich recipes to give pet owners a variety of high-quality natural food options for their dogs and cats.
"Deciding which foods to feed ourselves and our pets is one of the most important decisions that we make every single day," said Jan Dempsey, Purina Senior Pet Nutritionist. "Each Beyond recipe is formulated to optimize the way our real natural ingredients plus essential nutrients come together to deliver excellent nutrition to help pets live long, healthy lives."
Purina Beyond is available in a variety of recipes for dogs and cats, including:
Purina Beyond Simply 9 Dry Dog Food
Ranch-Raised Lamb & Whole Barley Recipe or White Meat Chicken & Whole Barley Recipe
Purina Beyond Superfood Blend Dry Dog Food
Salmon, Egg & Pumpkin Recipe or Barley, Egg, Sweet Potato & Cranberry Recipe
Purina Beyond Adventure Dry Dog Food
Grain-Free Tuna & Egg Recipe
Purina Beyond Dry Cat Food
White Meat Chicken & Whole Oat Meal Recipe or Salmon & Whole Brown Rice Recipe
Purina Beyond Superfood Blend Dry Cat Food
Herring, Egg & Sweet Potato Recipe or Barley, Egg & Cranberry Recipe
Purina Beyond Grain-Free Dry Cat Food
Ocean Whitefish & Egg Recipe
Purina Beyond Pate Wet Cat Food
Chicken & Brown Rice Recipe, Salmon & Brown Rice Recipe, Grain-Free Trout & Catfish Recipe, Grain-Free Wild Salmon Recipe, Grain-Free Chicken & Sweet Potato Recipe or Grain-Free Ocean Whitefish & Spinach Recipe
Purina Beyond Gravy Wet Cat Food
Tuna, Herring & Sweet Potato Recipe, Grain-Free Chicken, Beef & Carrot Recipe, Grain-Free Salmon & Sweet Potato Recipe, Grain-Free Tuna, Mackerel & Carrot Recipe or Grain-Free Turkey, Spinach & Sweet Potato Recipe