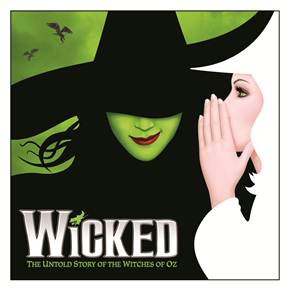 The Los Angeles return of WICKED begins performances on Wednesday, December 10 at the Hollywood Pantages Theatre for a 14 week engagement through Sunday, March 15.  The producers are announcing that a day-of-performance lottery for a limited number of $25 orchestra seats will be held daily.
Entries will be accepted at the box office beginning two and a half hours prior to each performance; each person will print their name and the number of tickets (1 or 2) they wish to purchase on a card that is provided. Two hours before curtain, names will be drawn at random for a limited number of tickets priced at $25 each; cash only. Only one entry is allowed per person. Cards are checked for duplication prior to drawing. Winners must be present at the time of the drawing and show valid ID to purchase tickets. Limit one entry per person and two tickets per winner. Tickets are subject to availability.
WICKED solidified itself as a Los Angeles favorite with its most recent, highly-successful engagement during the 2011 holiday season. WICKED celebrated a record-breaking L.A. premiere in 2005, which was followed two years later by an extended engagement that would go on to run two years, becoming one of the longest-running Broadway musicals in L.A. history.
Long before Dorothy drops in, two other girls meet in the Land of Oz. One – born with emerald green skin – is smart, fiery and misunderstood.  The other is beautiful, ambitious and very popular. WICKED tells the story of their remarkable odyssey, how these two unlikely friends grow to become the Wicked Witch of the West and Glinda the Good.
WICKED has been declared "A Cultural Phenomenon" by Variety and "The Best Musical of the Decade" by Entertainment Weekly. WICKED currently has nine productions around the world, in New York, London, Japan, Australasian Tour, South Korea, Latin America, a U.K. Tour, and two concurrent North American National Tours.  Since its New York premiere a decade ago, WICKED has grossed over $3.4 billion worldwide and has been seen by over 42 million across the globe. WICKED has been performed in over 100 cities in 13 countries around the world (U.S., Canada, England, Ireland, Japan, Germany, Holland, Australia, New Zealand, Singapore, South Korea, The Philippines, and Mexico) and has thus far been translated into five languages: Japanese, German, Dutch, Spanish, and Korean.
The regular performance schedule for WICKED is Tuesday through Friday at 8pm, Saturday at 2pm & 8pm, and Sunday at 1pm & 6:30pm. There is an added weekday matinee on Thursday, December 11th at 2pm. The holiday performance schedule for WICKED for the week of December 22 – 28 is Monday, Tuesday, Friday & Saturday at 8pm, Wednesday and Saturday at 2pm, & Sunday at 1pm & 6:30pm. The holiday performance schedule for the week of December 29 – January 4 is Monday, Tuesday, Friday & Saturday at 8pm, Tuesday, Wednesday & Saturday at 2pm, & Sunday at 1pm & 6:30pm.
WICKED is recommended for ages 8 and up.  (Please note that in consideration of audiences, no one under 5 will be admitted to the theatre.)
Individual tickets for WICKED start at $35. Good seats are still available. Prices are subject to change without notice.
For more information about the WICKED Day of Show Lottery, please visit www.HollywoodPantages.com/Lottery or call 323-468-3030 for recorded information