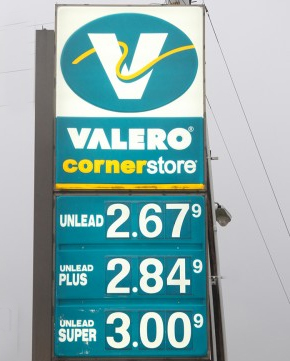 $4.89, $3.59, $2.99… Americans are relieved as dreadfully high gas prices have continued to drop over the past several months. As of December 16th, the state average for regular gas was $2.52, according to AAA's Daily Fuel Gauge Report. ABC news reported that the price of a barrel of oil has dropped below $56, which is almost 50% less than the summer price. The big question is, why are prices dropping and is this a good or bad sign for the economy? 
Oil production worldwide and decreased demand in Europe has helped to lower oil prices. In addition, the need for oil drops as more energy efficient vehicles hit the road and consumers invest in energy-saving lighting and home insulation. It's a struggle of supply and demand. And as the numbers go down, so does the stock market.
Wall Street is seeing a second week in losses. On Tuesday, t
he Dow Jones industrial average fell 111.97 points. European stocks are also suffering due to the fall of oil prices. Reuters reported that the
Russian rouble hit record lows against the dollar following oil's extended selloff. When oil demand and crude prices decrease, the Russian economy gets sliced. Russia is a major oil exporter and
depends heavily on oil for tax revenue.
Russian Finance Minister Anton Siluanov said in a press conference on Monday, "We're losing around $40 billion a year because of geopolitical sanctions, and about $90 billion to $100 billion from oil prices falling by 30 percent."
The call for oil should continue to diminish, according to The Energy Department, which predicts a slight decrease in gasoline demand next year, despite the lower prices.
EIA
(U.S. Energy Information Administration) reported that the
average U.S. household is expected to spend about $550 less on gasoline in 2015 compared with 2014, as annual motor fuel expenditures are on track to fall to their lowest level in 11 years.
At this point, it is an enigma how the world will fare with an economy that heavily relies on oil for economic stability and is, at the same time, evolving towards more energy-efficient production.