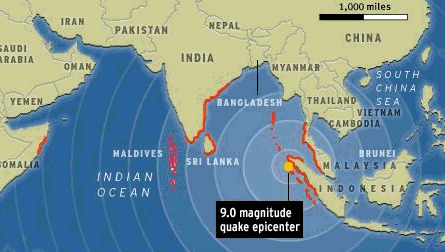 Ten years ago, on December 26th, 2004, a catastrophic tsunami hit Southeast Asia. It was one of the deadliest natural disasters that history had ever seen. The death toll hit 230,000, from Indonesia to Thialiand and Sri Lanka. The Tsunami struck after a 9.1 magnitude earthquake off the Indonesian island of Sumatra. Today, thousands gather to remember those who lost their lives and homes on the 10th anniversary.
Indonesian Vice President Jusuf Kalla said in a prayer ceremony, "Here in this field 10 years ago … we tearfully saw thousands of corpses lying," he said. "No words can describe our human feelings at that time — confused, shocked, sad, scared — in seeing the suffering of the people in Aceh."
He added, "But we could not remain in sadness, Aceh had to rise again, and all Indonesians in this archipelago helped, people all over the world offered their assistance."
Many of the areas affected are holding prayer ceremonies by the water. Thailand's Prime Minister Prayuth said, "This heavy loss serves as a reminder and lesson for everyone."
Since the disaster, Tsunami warning systems and emergency procedures have been implemented in attempt to minimise casualties in the future.