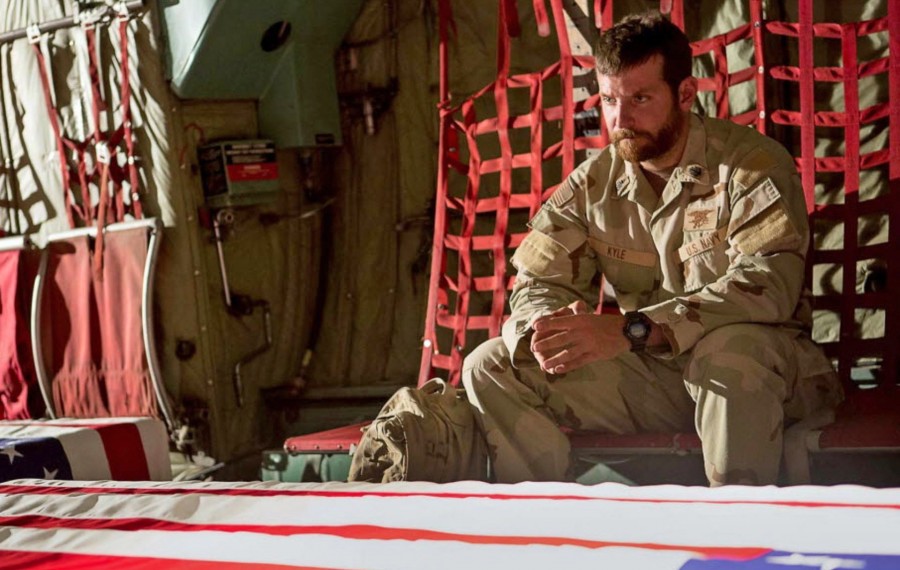 In a year that has already seen an embarrassing amount of award-worthy acting from leading men, two-time Oscar nominee Bradley Cooper shoots himself into the best actor race with his bullseye performance in "American Sniper," a biographical war drama about the extraordinary life of Navy SEAL Chris Kyle.
With his second film this year, director and screen legend Clint Eastwood ("Jersey Boys") proves a perfect fit for this powerful, deeply patriotic tribute to the deadliest sniper in U.S. military history. Based on Kyle's bestselling autobiography, screenwriter Jason Hall began developing the script with Kyle mere months after his honorable discharge, before tragedy struck and made this project as dutiful a mission as Kyle's four tours in Iraq. Between the riveting battle scenes, Tom Stern's expressive cinematography, and Eastwood's no-nonsense direction – not to mention Cooper's bravura performance – "American Sniper" is essential viewing over the holiday season.
Told in fairly straightforward chronology, this tough-as-nails war drama moves efficiently through Kyle's formative years in Texas, when his father ingrains in him the importance of living life in service to God, country and family; then jumps to his more directionless days as a beer drinking bull rider. While contemplating his next step, Kyle's sense of duty kicks in when he sees reports of the 1998 terrorist bombings of US embassies in Kenya and Tanzania, prompting him to enlist in the Navy.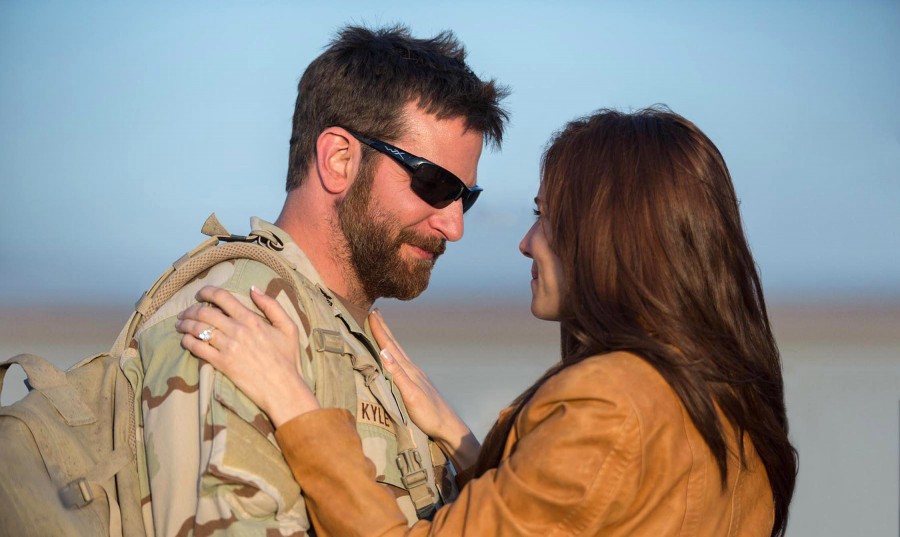 Stationed at the naval base in Coronado, one night, while Kyle and his comrades are taking a much-needed beer break from boot camp, he meets Taya (Sienna Miller), a sassy firecracker who thinks all SEALs are arrogant womanizers. But once Kyle turns on his Southern charm, it doesn't take long for Taya's opinion to change, and in no time they're married with a kid on the way. Meanwhile, Kyle quickly establishes himself as the most skilled sniper in training, and when the country is attacked on September 11th, he's ready and eager for deployment.
The bulk of the film follows Kyle's four tours in Iraq, including missions to capture or kill bin Laden loyalist Abu Musab al-Zarqawi, his henchman The Butcher (Mido Hamada), and a deadly Syrian sniper (Sammy Sheik) who joins the insurgency. Intercut with these tours are scenes of Kyle's deteriorating domestic situation back in San Diego, where he struggles to cope with civilian life and develops symptoms of PTSD (Posttraumatic Stress Disorder). Fortunately, through group counseling and friendships with wounded warriors, Kyle maintains a sense of purpose long after his tours end.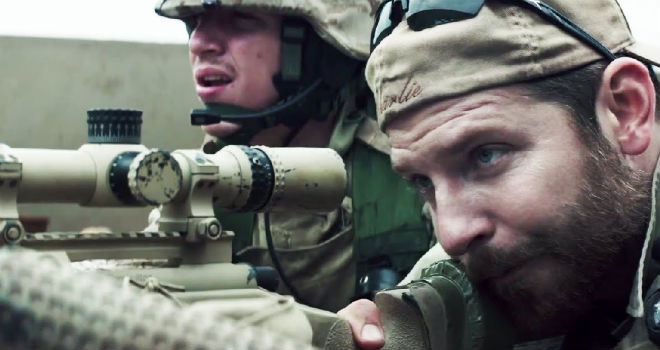 On top of being a genuinely well-made war film that more than honors its subject, Jason Hall's engaging screenplay also sheds some light on the psychological struggles faced by soldiers, which is too often given short shrift by the media. Some may find "American Sniper's" view of the War on Terror as simply too black and white, but it's a suitable stance given the fiercely patriotic protagonist at the story's center. Even when his fellow soldiers raise doubt about the pointless nature of their mission, Kyle is always resolute in his belief that they're fighting the good fight. Scenes of Sienna Miller and Bradley Cooper's characters speaking on satellite phones in the midst of battle are a touch too melodramatic, though they succeed in calling attention to the strain that wars places on not just the soldiers, but their families as well.
At 84 years-old, it's quite impressive that Clint Eastwood is still making such vital films. As evidenced in his WWII companion films, "Flags of our Fathers" and "Letters From Iwo Jima," he has an enviable talent for finding the right balance between the epic and the intimate, giving equal importance to the battle scenes and interpersonal relationships. The one moment in the film that feels like a definite misstep is when Kyle's incredible story is brought to a sobering conclusion with a shocking title card explaining how this highly decorated soldier's life came to an abrupt end. Granted, it's tastefully handled and would've been wrong to omit entirely, but it still leaves audiences unfulfilled given the amazing tale that preceded it.
That misfire aside, "American Sniper" is the kind of flag-waving film that audiences can really rally behind, making Americans proud to have people like Chris Kyle on our side.
By Lucas Mirabella
Running Time: 132 minutes
Rated R for strong and disturbing war violence, and language throughout including some sexual references.